Tahir Raj Bhasin looks back at his 'transition' in 2022
This is really the time of hybrid stardom, says the actor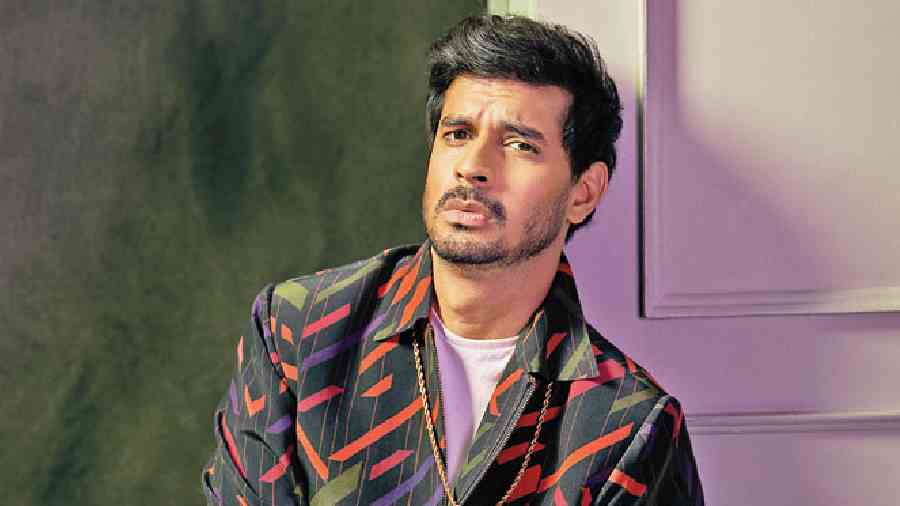 ---
Published 20.12.22, 12:28 AM
|
---
Year 2022 has been a good one for actor Tahir Raj Bhasin. After winning praise for playing Sunil Gavaskar in the critically acclaimed film 83, he followed that up this year with Looop Lapeta, the Indian adaptation of Run Lola Run, and the web series Yeh Kaali Kaali Aankhein, both of which released on Netflix and were successes. The Telegraph chatted with Tahir on the year gone by and his transition to romantic lead roles.
There was a time in early 2022 when there was literally a Tahir Raj Bhasin festival in theatres and on streaming, considering you had a release every few weeks. How do you look back at that time and at 2022 in general?
As an actor, I have always looked to push my own boundaries of the craft and to surprise the audience. What I really loved about both these parts was that they both marked my transition into a romantic lead. So if I was to look back at 2022, it would be my transition into playing parts which were different from what I have done before.
And both Looop Lapeta and  Yeh Kaali Kaali Ankhein lived up to that... in the way they projected the hero, the story, the timeline, all of that. Also, what worked was one was a film and one a series.
How much did the diversity of the present creative space aid this transition for you?
This is really the time of hybrid stardom where you can have a film in the theatre, a film on OTT and a series as well. And what it allows an actor is to reach out to the audience in more ways than one, and not be restricted to only one particular medium. I am fortunate to be in a space in my career where I can shift between both features and OTT.
It was challenging, to say the least, because both Looop Lapeta and Yeh Kaali Kaali Ankhein were shot almost parallelly. To be transitioning parts and to be transitioning my way of thinking as an actor as per the medium was quite a handful. To see that both were received so well is my massive payoff for 2022. 
The response was overwhelming, from the industry, from the critics as well as from the audience. Satya in Looop Lapeta was incredibly goofy and not very dependable as the boyfriend to go to in times of crisis. In contrast to that was Vikrant in Yeh Kaali Kaali Ankhein who is extremely vulnerable, he works from the heart and yet it is his own circumstance that makes him take matters into his own hands and explore his darker side. The most challenging thing for an actor is to convince his audience that he can play both these parts.
Most of audience feedback today comes in through DMs on social media. And I remember that most of my DMs were of different age groups saying just how much they were in love with Satya and that he's so goofy and vulnerable and out there. And at the same time, a different category of audience saying that they felt for Vikrant and that if they had been in his shoes, they would have perhaps done the same thing. It showed me how involved audiences were in the telling of the story... discovering loopholes in the plot or pointing out how if 'X' had not happened in a certain way, would 'Y' situation worked out in some other way.... Even now, people want to know when Season 2 is coming out... it's almost like they are in the writing room themselves!
Would you say that 83 that released late last year, and your turn as Sunil Gavaskar spurred off this phase for you? The film didn't do as well commercially but it did make a lot of noise and get unanimously positive reviews...
It was the catapult that started it all off. It was one of the first few big films to release in theatres after the lockdown and the subject, of course, which combined cinema and cricket, ensured that 83 got tremendous scrutiny from both film buffs and sports fanatics. It elicited the kind of attention that I hadn't experienced before.
83, for me, was an emotional decision. I wasn't born when India won the World Cup in 1983 but I have grown up hearing stories of that win. Just to experience and play what happened during that time and be part of that story. And to do it all as Sunil Gavaskar was a massive feather in the cap and something that I will always be massively proud to have on my filmography. How much has this transition to romantic lead roles reflected in the parts you are being offered now?
There have been a bunch of them. I have started shooting a lot of the projects that came my way after these successes. Unfortunately, none of them have been announced yet and so I really can't talk about them. But all of them have me in the lead space, whether it is drama or romance. These are also projects that I wouldn't have possibly seen myself do even two years ago.
You have also done a music video for Ritviz recently where the chemistry between you and Fatima Sana Shaikh is being spoken about. What was that experience like?
That was great! I have always been a fan of Ritviz's music and to do a video for him was a lovely experience for me. I have always admired Fatima as an actor and I was glad we could conjure some genuine chemistry on this video and also have a lot of fun.
Apart from work, how has 2022 been for you?
I gained a lot of perspective during the Covid-19 lockdown and that has really translated into how I look at life now. Travel, as you know, is a big part of my personality and I was happy to put in a solo trip to Istanbul this year. I love doing solo trips... they don't only help me discover many aspects of a place but also contribute massively to my worldview.