Tabu on her 'suitable boy'
The 48-year-old stunner on her love for Calcutta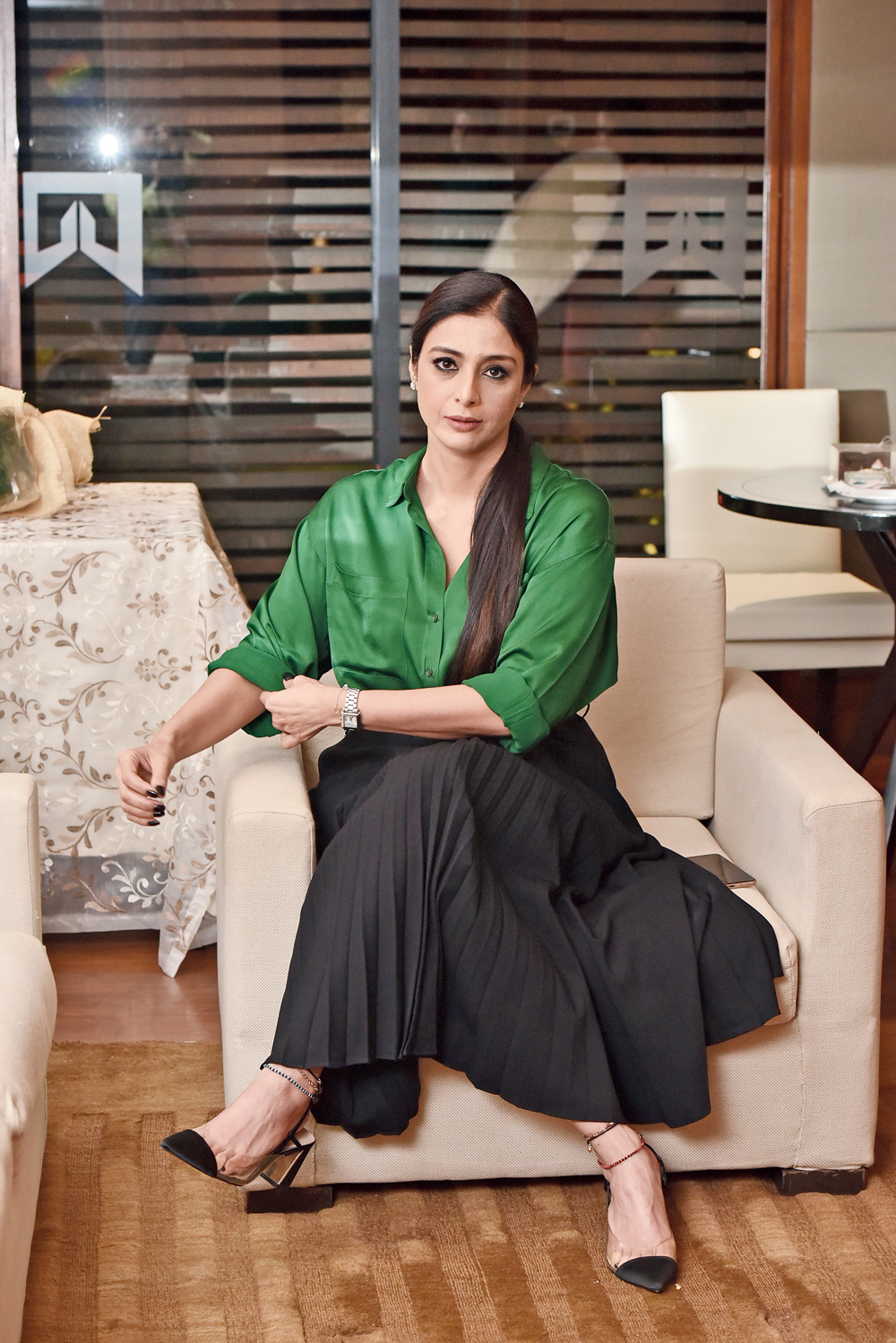 ---
---
Mention 'Calcutta' and Tabu's face will invariably light up. The actress's bond with the city — which started when she was shooting films like Abar Aranye and The Namesake — and has continued till the day, has only grown stronger over the years. Last Saturday, the 48-year-old stunner was back in the city as the star speaker at 'Breaking Stereotypes' at Infocomm 2019, an ABP initiative, at ITC Sonar. Before that, The Telegraph caught up with Tabu — statuesque in forest-green shirt and black skirt — in her ITC Sonar suite, when she spoke on her love for Calcutta, reconnecting with Mira Nair and finding a 'suitable boy'!
We had last met in May, in the peak of summer in Calcutta, and you had mentioned how you can't wait to come back in winter, because that means foggy morning walks, draping thick shawls and feasting on nolen gur. So here you are!
(Laughs) Oh, yes! My god! Uss waqt kuch aur bhi maangti toh mil jaata (laughs). But I am glad I have managed to come here at this time of the year…
So did you manage to tick off anything from your winter bucket list this time?
Kahaan, yaar? I flew in this morning and I am flying out tonight… by an unearthly 2am flight (rolls her eyes). I am going to Lucknow to shoot for A Suitable Boy. So, this time, unfortunately I won't have any time to do anything. But I am glad I am getting the evening to myself, which is a huge thing for me (smiles).
So no going out for nolen gur?
That's coming to me! (Laughs) I don't have to go anywhere. I have my contacts (winks and laughs)… sab ek ghante mein maine fix kar liya hai. Whenever I come to Calcutta, one thing that I carry without fail is my big icebox. I always have to take back many things… staples are nolen gur, mishti doi and gondhoraj lebu. Yeh teen toh hone hi hai list mein… nahin toh Calcutta aane ka kya fayda? (Laughs)
It was apparently shooting for Goutam Ghose's Abar Aranye many years ago that made you start eating fish. Is that right?
Absolutely! I had turned vegetarian for many years. We were shooting in some jungles in Bengal for Abar Aranye, with Goutamda. The only diet that we got there for days was rice and fish curry… and gulab jamun (laughs). As a child, I loved eating fish — I would practically eat it every day — but I gave it up for many years. After that shoot, I started eating fish again… every day for life! (Laughs) Of course, I eat the maximum amount of fish when I am in Calcutta, at my friend's place and her mother's place. I don't eat fish outside… I prefer the homemade stuff. So Calcutta gave me back my fish (laughs).
We know your visits, if not on work, are limited to being with friends and family. Any favourite haunts whenever you come here?
I love going on drives here. I love to go to those little-little galis, do shopping… there are some really cool boutiques… really nice and intimate. I can go in there and shop aaram se without being bothered. Then, of course, my friend's place and her mother's place are my favourites. Their terraces are our favourite spots at night. I think the familiarity is so much that I find myself at home almost everywhere in Calcutta (smiles).
In fact, I came here for Durga Puja in October. I just sneaked in to my friend's place and no one knew (laughs). It was lovely to see the city dressed up like a bride in all its finery. It was so beautiful….
You can either like the carnival-like atmosphere or completely hate it…
I toh love it! Also because I think I am used to it in Bombay… this carnival-like atmosphere every few months! (Laughs) Something or the other is always happening on the roads there, so I think I have just got used to it. Awaaz, shor, lights… sab ki aadaat ho gayi hai, you know.
See, every experience I have in Calcutta — whether it's for shoots, like when I shot The Namesake or personal visits — will always be special because of the connect I have with the city. Abar Aranye was the time when I made all these friends I have today. I learnt Bangla, I dubbed for the film in Bangla. When I did The Namesake, I was a little more established in the system because I already had these friends. Chaiti (Ghoshal, actress) and the other friends I have here really helped me learn the culture.
Shooting at the Howrah station was an experience in itself… north Calcutta… you just spoke about chaos and carnival (smiles)…. I loved shooting at the flower market, which I hadn't been to before. And from that shoot, I would always go home… so it never felt like I was in a city that isn't essentially my home. I once stayed at the Tollygunge Club… I am a member.
Calcutta will always be a different experience for anyone who comes from outside by virtue of having the strong character that it does. It has a feel that's removed from your usual cosmopolitan city experience. For me, this city has never ever been a light or a frivolous experience… like going to a city and coming back. For me, it's always been much, much more coming here. I can safely say that anyone who comes to Calcutta goes back with a certain kind of effect and impact, whatever that is. I, of course, also go back with nolen gur and gondhoraj! (Laughs out loud)
Maybe it's time to make Calcutta your home for a few months every year?
Oh, I am totally ready to! Maybe buy a nice apartment and chill… during winter! (Laughs) I must tell you that I love the champa that's always in season... for me, it defines the city. Of course, every time I come here, I see a huge change… there's a lot of infrastructural development. We are all resistant to change, but it's inevitable (smiles).
You had also told us last time that you keep telling Prosenjit that you want to do a film with him. Any progress on that front?
Arre, he's not listening to me… no one is listening to me! (Laughs) I only come for events all through the year, and never for a movie. It's time I did a Bangla film… high time!
You just mentioned The Namesake and you are shooting again with Mira Nair for A Suitable Boy. Did you two pick up from where you left off?
It's always so wonderful reconnecting with Mira. I think everyone who is connected with Mira has that equation with her… you just pick up from where you left, no matter how many years have passed in between. She forms really informal, impactful and strong bonds with people. She keeps working with the people she's worked with earlier, and I think that's a beautiful quality… to be able to form such bonds in today's world. I feel a sense of belonging whenever I work with her and her unit.
In A Suitable Boy, we have Ram Kapoor, Vijay Raaz who have worked with Mira in Monsoon Wedding… I have worked with her in The Namesake… so it's always wonderful, you know… that sense of comfort and going back… you don't get that with everyone. Of course, everyone knows about the aesthetics and the quality of work that she guarantees as a filmmaker. It's all her own, and there's no denying that.
So who's a 'suitable boy' for Tabu?
Boy?! (Laughs out loud) Woh din gaye! Chalo, main abhi boy dhoondne nikalti hoon….
Aren't all men essentially boys?
That's very, very true! (Laughs) And I think I will always be a girl… boy meets girl… pata nahin woh main kaise handle karungi!
You recently posted on social media about Chandni Bar turning 18. In a sea of very challenging turns, would you pick that as the role that challenged you the most?
Chandni Bar was actually a lot of fun to shoot, though it made for a heavy viewing experience. In hindsight, I feel that if the experience wasn't light, then the process of shooting it would have killed us. But thanks to Madhur (Bhandarkar, the film's director), every experience turns out to be light. The subject was very dark and there was no other way to portray it… that was the truth of her (Mumtaz's) life. I think it's one of the landmark films in my career (Tabu won a National Award for Chandni Bar). It uncovered a part of reality that I wasn't exposed to and I am glad I was part of a film like that... a film where you saw a beer bar dancer as a protagonist and not just as the villain's moll or the hero's pining love interest (smiles).