'Super 30' hits the right notes in portraying the work of Patna mathematician Anand Kumar
Hrithik Roshan — with his matted hair, dirty shirt and shabby beard — is the soul of the film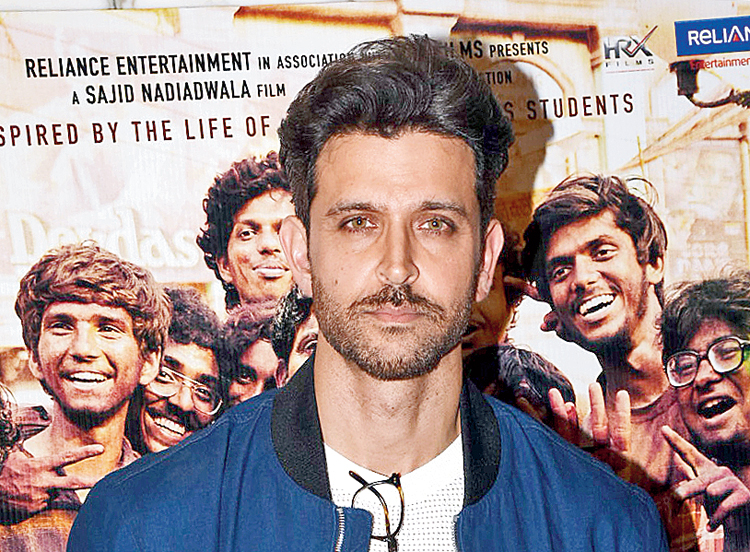 ---
---
A book mustn't be judged by its cover. The adage was reinforced after Super 30 managed to squash all the initial feelings I had after watching its trailer.
Hrithik Roshan — with his matted hair, dirty shirt and shabby beard — is the soul of the film.
A while after, you tend to look past the forced tan and the over-the-top Bihari accent. Now this is no Jodhaa Akbar, or even Luck By Chance, and this in no way is his career-best performance — but he does stand out as the real-life mathematician wizard Anand Kumar — a far cry from his usual Greek God looks.
But in an era where films like the hard-hitting Article 15 are trying to focus on the glaring caste-divide issues in our society, it remains a matter of debate on why the makers had to select an actor as gorgeous as Hrithik Roshan and then paint him several shades of brown to portray someone underprivileged. Considering that Hrithik looks nothing like the real-life Anand, the argument of casting him for his looks wouldn't hold water either. Having said that, a star like Hrithik portraying such a character in a mainstream film can also be considered as a turning point in the industry, definitely for the better.
Vikas Bahl's Super 30 echoes the sentiment of: "Ab Raja ka beta hi raja nahi banega. Jo yogya hai woh banega!"
Anand, who has changed the fortunes of hundreds of underprivileged kids with his Super 30 programme, where he selects 30 bright underprivileged children and coaches them for free, complete with free lodging and food, to crack competitive exams such as the IIT-JEE, is the kind of hero we need to talk about.
And what better way to do that than a big-budget Bollywood production with a leading star? For that, Super 30 should be worth a watch.
The film starts in the mid-90s Patna, where young and talented Anand gets through Cambridge University, but can't pursue it because of lack of funds and the untimely death of his father.
The winner of the prestigious Ramanujan Award, ends up selling papad to sustain his family.
It's the shrewd and calculative Lallan (Aditya Shrivastava, popular for playing Abhijeet in CID), who hires Anand as a teacher at his thriving IIT-JEE coaching institute, where he soon becomes a star coach. But it takes one drunken night's epiphany for Anand to realise his humble roots and he leaves it all to form Super 30.
In one particular scene, when Anand asks one of his students why he is carrying an empty wallet in his pocket: "Khali hai toh kahe rakhe ho?" he asks. The student cheekily replies: "Aadat daal rahe hai bas".
Moments like these make Super 30 warm.
Though it's Hrithik who carries most of the weight on his shoulders, it's the supporting cast of Virendra Saxena as Anand's supportive father, Vijay Varma as an ex-student of the Super 30 programme and Pankaj Tripathi as the sharp-tongued, smooth-talking, devious politician that gives the film its moments.
Tripathi, as always, breathes life into a small appearance and proves his mettle. He is in equal parts menacing and hilarious and that's no mean feat to balance. Mrunal Thakur (who was excellent in Tabrez Noorani's Love Sonia last year) as Anand's love interest and popular TV face Nandish Sandhu as Anand's brother Pranav, are strictly all right. Nandish seems uncomfortable with all the skin darkening bronzer and in the climax the tone even seems one-shade lighter. A talent like Amit Sadh is wasted in the role of an honest reporter.
At 154 minutes, Super 30 could've been a few minutes crisper and got done away with songs such as Basanti No Dance that somehow appears more manipulative than something that was clearly designed to warm the cockles of your heart. You also cannot help but draw parallels with 3 Idiots in the end when the students use their power of knowledge to innovate and tackle a crisis situation. But Bahl is no Rajkumar Hirani, so his emotional manipulation is visible, unlike Hirani who manages to blend the manipulation with ease into any narrative.
In the end, it's the song Niyam Ho — with its piercing lyrics and hauntingly soulful music — that churns out all emotions out of you in a heart-warming montage.
As the students run towards their mentor in the pouring rain to celebrate their success of cracking IIT-JEE, your eyes sting a little. There are silent tears, especially since you know that this isn't just Bollywood. This isn't a reel-life hero. It's a true story. A real-life superhero without a cape. And that's where Super 30 wins, the realisation that real heroes live around us and not just in elaborate cinematic universes.
Give this real-life hero a chance and go watch the movie.