Super 30 brothers: Hrithik Roshan and Nandish Singh Sandhu
A beautiful chemistry that translated on screen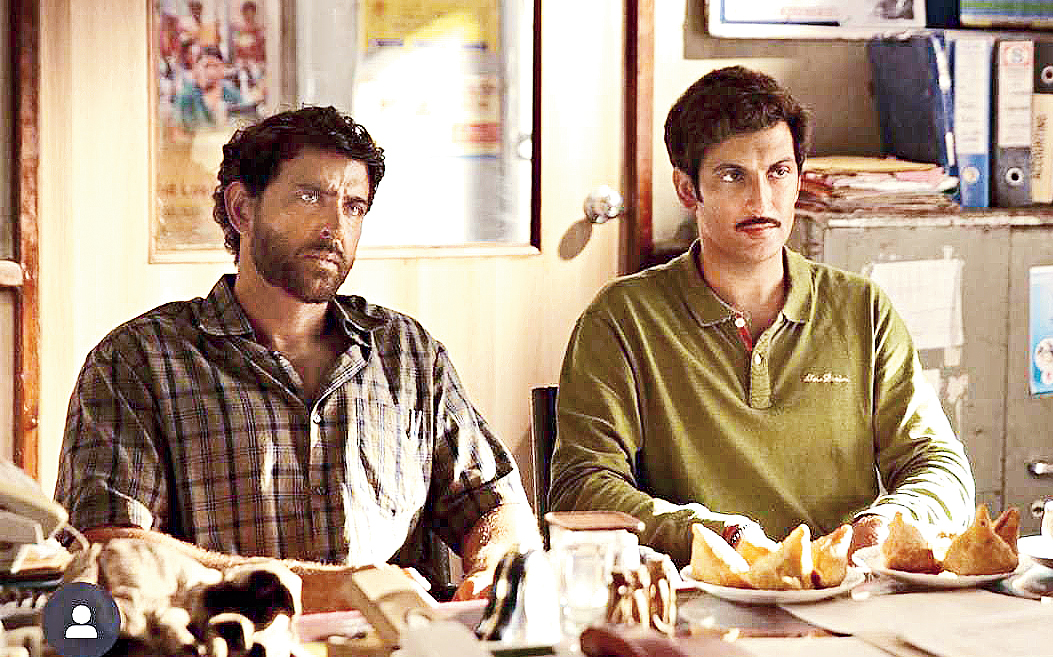 Nandish (right) and Hrithik Roshan in Super 30
(Screenshot from film)
---
Published 21.08.19, 03:38 PM
|
---
A known face in TV, Nandish Singh Sandhu, has made a splash with his debut as Hrithik Roshan's brother in Vikas Bahl's Super 30. The movie, that's based on the life of mathematician Anand Kumar and his educational programme Super 30, has made over Rs 140 crore at the box office. We caught up with Nandish for an exclusive tete-a-tete.
How was Hrithik Roshan as an on-screen brother? 
We had a beautiful chemistry even off the set. That's what is translated on screen because we developed an amazing understanding while we were spending time together. Initially, when we were shooting, we had to discuss those scenes because we were shooting with each other for the first time and we didn't know each other. But later, after three or four days, it was like an unsaid thing. We knew exactly what we were thinking, we knew how to complement each other. We got used to each other's space and being in each other's space. I was very fortunate that I got to work with him. He is a wonderful human being and that's why, probably, we could connect so well.
Any funny anecdote from the set?
Lot of things happened (laughs). Something happened with me on the first day of shoot. Towards the end of the film, there's a mela (fair) scene. I had just gone to Rajasthan to shoot that scene and the team had already started to shoot the film... they had already shot with Hrithik sir and Mrunal (Thakur). Everybody was in that space of shooting and I was pretty new on the set. I met very few people from the set till then, only Hrithik Sir, Mrunal, the director and few people from the direction team. So, most of the people didn't know me. When I reached the set, I was in my full get-up of Pranav Kumar with my moustache. I met Vikas and he told his assistants to show me the spot from where I should enter the mela. It was a wide shot, so Vikas and the cinematographer (Anay Goswamy) were on one end of the mela and I was supposed to enter from a completely different side. There was a huge gathering outside the mela from the local village, people had come to watch the shoot. They were all standing outside and trying to get into the mela thinking a real fair is on. The security was trying to tell them that it's not a real mela and a film shoot is going on. People were trying to push their way inside and security was trying to keep them out. Between all this chaos, when the director shouted 'Action' from the other end and I tried to enter the mela, the security pushed me outside thinking I'm from the gaon (laughs). The ADs were trying to tell the security to let me in and they said, 'Nahi hum isko andar nahi jane de sakte'. (No. We cannot let him in). They told me, 'Dikh nahi raha shoot chal raha hai? Bahar khade raho!'.(Can't you see there is a shooting going on. Stand outside). Vikas came running and asked me why am I not entering the fair. He had to finally tell the security that I am in the shot and they should let me enter!
What was it like to be completely stripped off your vanity as an actor and get into that unglamorous get-up of a simple small-town man?
It was an amazing process that I went through. Initially, I was very apprehensive whether I'd be able to do it or not. But Anandji and Pranavji showed a lot of confidence in me... and also the director and Mukesh Chhabra (casting director). They all told me not to worry and that everybody is there to help me out. The process started with the language, my different look tests, I tried out different clothes, they tried out different hairstyles, even my teeth are completely different in the film! Everything was being worked upon, right from how I'd walk to how I'd sit. This was happening for both the brothers simultaneously. Our dialect teacher was the same for both of us, he would go, take sessions with Hrithik sir in the morning and in the second half he'd sit with me. We worked on our walk, the way we eat sitting on the floor, practicing how to abuse each other just to loosen up. When you want to look good or conduct yourself in a certain way, you end up holding back. In order to de-glamourise and loosen up, my trainer and I would just go down and start running on the road like mad people, go to random buildings and talk to different watchmen. A lot of these watchmen are from Uttar Pradesh and Bihar, so we would just talk to them.
And what did you pick up from the real-life Pranav Kumar?
I met him a few times before we started shooting for the film. That was really helpful because he was always willing to help, was always available when I had any doubt about him or his life. Both Anandji and Pranavji were always available. He has a typical head shake that I incorporated in my character, he shakes his head sideways when he is happy with something or agrees with anything. If you compliment him he'd start blushing! They are very simple people. Small nuances like what he likes to eat, how he coughs, how he takes a pause between sentences, how he uses his hands when he's angry - I tried picking those up every time I met him.
Has life changed post Super 30?
I've been getting some amazing response. It's been very overwhelming to see the love and appreciation that I'm receiving. People are loving the character, the film and I've been getting a lot of messages from people I've not been in touch with for years... they've been calling and messaging saying they loved my work. It's really overwhelming that people are liking my work, the fact they're noticing me in my debut film is really nice.
How did the transition from TV to a film debut happen?
I was trying for a year when I was just going to all the offices and asking for work. Before that, I was on a break and working on my craft, training on my diction and dialects, working on my physique - all the things that are required for an actor. Mukesh Chhabra had seen my auditions that I had given for different things and I got a call from his office one day. They had shortlisted someone else for Pranav earlier but they wanted someone who is new, someone who would debut with this film as Pranav Kumar. They loved my audition, I was called the next day and I was given a brief about the character and a script to read. Then they made me meet Pranavji, Vikas Bahl and the entire team.
Have people told you that Hrithik and you are really looking like brothers on screen?
Everybody has told us that and I think that has really worked for us and the film! I've always liked his work and his films and I'm thankful that on-screen we really are looking like brothers. In real life too, we started feeling the same. There's been some sort of connect... we just loved each other's vibes and connected so well that we started feeling like brothers. I always treated him as an elder brother and he always treated me as a younger brother.
When you look back, how would you describe your professional journey so far?
It's been an interesting learning experience with a lot of ups and downs. I started in 2007 and did fiction on television till 2014. After that, I did reality shows but didn't do any acting. There was a long break of three years when I learnt new things. I got out of my comfort zone which was television. I wanted to do things I was not used to but it took longer than I expected initially. I wanted to do films and I thought it'd probably take a year for me to be prepared for films but it took me about two years. Then it took another one for people to notice me and it ended up being a long three-year break to get my first break in films.
What's next?
Family of Thakurganj has just released and I'm in talks for another film and a web-series.