Hrithik's brought both life and soul to the character: Anand Kumar
'Simple rehna hamari majboori hai… that's who I am'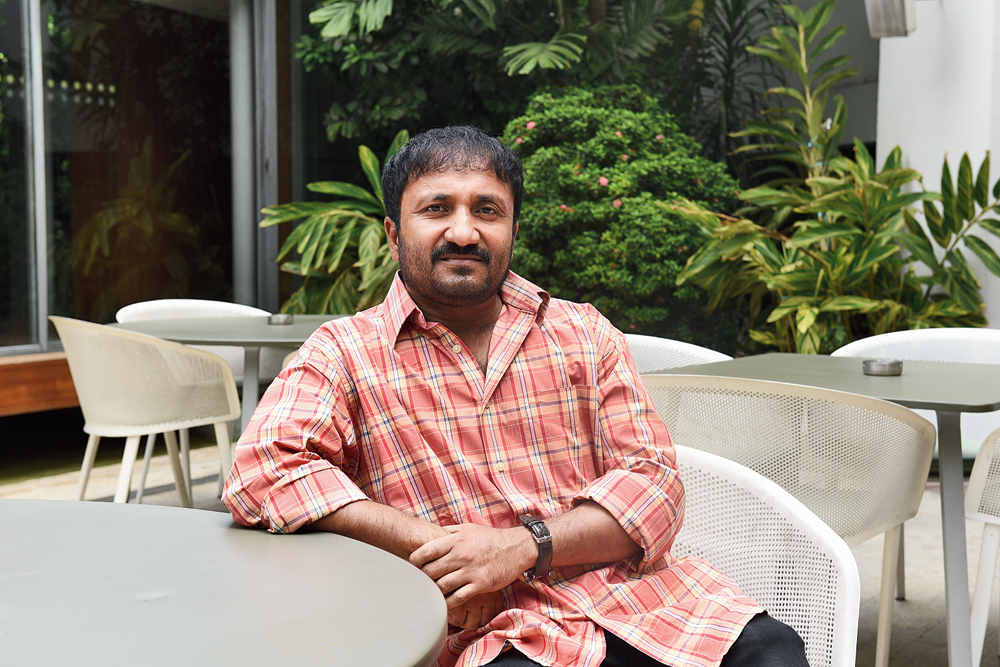 Anand Kumar
Picture: Pabitra Das
---
Published 12.07.19, 01:49 PM
|
---
Anand Kumar — the math whiz on whose life and work Super 30 is based — was in Calcutta to promote the film last week. The caught up with him.
On the response to Super 30 so far
Everyone has only had good things to say about the trailer. My old students from all over the world have got in touch with me saying that the look and feel of the film seems very authentic. When the songs were released, some people got confused ki ek master ke zindagi mein prem katha kahaan se aa gaya. Then when the Paisa song released, some people wondered that why are gangsters and alcohol being shown in a film as simple as this. Quite a few liberties have been taken in telling this story, but everything has been done with my permission and knowledge.
Everyone's very curious about the film, simply because the story is so powerful. The story had the same impact on Hrithik Roshan when he first heard it… he couldn't speak for 15-20 minutes… he was only shivering. This is a story not only about Anand Kumar but about all the teachers in the world who struggle to bring about a change and about young people who dare to dream. It's a very inspiring story.
I was not really involved during shoot and that's simply because that's really not my job. My job is to teach and their job was to make the film. I was satisfied that the script came out so well.
On Hrithik as Anand
Hrithik Roshan is one of the most dedicated people I have ever met. The way he embraced the story of my life as his own is remarkable. I sat with him and Vikas Bahl (the film's director) as many as 13 times to discuss the story and each time, Hrithik was as eager and earnest about the film as he was the first time we met. He's brought both life and soul to the character. There's a moment in the film where he says, 'Ban jayega' to a candidate who tells him that he wants to become an engineer. Everyone who knows me is shocked that how did Hrithik bring so much accuracy to that line… he says it exactly like I speak.
On the criticism regarding the film's skewed portrayal of caste and poverty
I feel that most of the criticism is politically motivated. Most people in my state don't want a film to be made on me kyunki ek gareeb aadmi ka ek image bann jayega. They have put me into a lot of trouble, including attacking me physically and also casting aspersions on my character. Last December, there was an attempt on my brother's life. Today, on the orders of Nitishji (Kumar, the chief minister of Bihar), I have four commandos with me at all times. So all the criticism that's being levelled against the film — whether it's the darkening of skin colour or Hrithik's accent — is coming from these people. These people are not being able to digest the fact that I have risen so much in life just on the basis of honesty and hard work.
On remaining true to his roots
Kabhi kabhi bahut darr lagta hai ki film itni badi ho gayi hai. There are so many people who come to me and ask me for help that isn't within the gamut of what I do. So, people's expectations from me have gone up and that scares me. But at the end of the day, I am still that small-town man who wants to bring about change, however small. Simple rehna hamari majboori hai… that's who I am. If I wear a suit and sit here and talk to you, I will no longer be the person I am, I will not be comfortable.
On the film's message
Life will always throw problems at you, but this film tells you that there is a solution for every problem… one just needs to look for it. Dedication and diligence is the key to success. This film will not only motivate students but even teachers. After this film, there will at least be some people who will want their children to become teachers.
On his Calcutta connect
I have a deep connect with Calcutta. My father was a postal employee and for a very long time, he had the duty of travelling between Patna and Calcutta and distributing letters. He lived in Howrah and was very close to his neighbours there. He not only learnt to speak Bengali, but could also read and write in the language. I remember him bringing me to Calcutta as a kid and showing me the Howrah Bridge and treating me to mishti doi.
I was selected to go to Cambridge, as the film also shows, but I couldn't because of lack of money and my father died suddenly. It was at that time that a social activist called Tilak Dasgupta helped me a lot. Then a journalist called Uttam Sengupta, who is also shown in the film, helped and motivated me a lot. I still have a strong relationship with Calcutta. I can't speak Bangla, but I still remember that my father used to tell me that chhipkali (lizard) in Bangla is called tiktiki!