Student of the Year 2 is all style, no soul
The film is like an Archie-Betty-Veronica story in a Jo Jeeta Wohi Sikandar template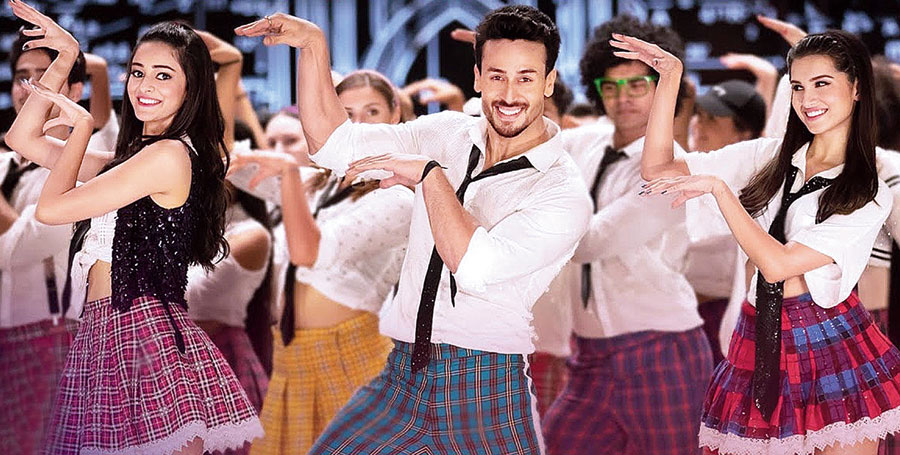 Tiger Shroff, Ananya Panday and Tara Sutaria in Student of the Year 2
A still from the film
---
Published 10.05.19, 01:19 PM
|
---
You know what you are in for when you sign up for a Student of the Year film. Glitzy locales, glamorous outfits, a hero whose rippling abs come into camera focus before his face and leading ladies with perfectly blow-dried hair and non-runny make-up in the middle of pelting rain, thunder and snowstorm.
The obligatory disclaimer at the beginning of Student of the Year 2 — "all characters, locations and incidents are fictional" — couldn't have been truer for any other film. The world of Student of the Year 2 — like it was in the first film seven years ago — doesn't come anywhere close to reality.
In fact, Student of the Year 2 — or SOTY 2 — is closer to the world of Jo Jeeta Wohi Sikandar than it is to Student of the Year. Like the Aamir Khan film released close to three decades ago that we rewatch even today, SOTY 2 is an underdog story, the tale of the clash between two promising students hailing from different colleges, the uber-rich vs middle-class divide, with the drama unfolding over two-and-a-half hours with its eye on one goal — the prized trophy for "student of the year". Or as an oft-repeated dialogue keeps popping up every now and then — "Din tumhara tha saal mera hoga".
Jo Jeeta Wohi Sikandar was a real and rooted story of hopes and dreams, proving one's worth in the world and playing for pride. SOTY 2 makes a token effort to touch upon ambition and aspiration, love and loss, but puts everything else on steroids. The sets look straight out of a paint brand brochure, everyone walks around as mannequins for the best designer wear in town and life is one big party. Quite literally, because not one student seems to be studying — or even holding a book — in this film.
Like the first film, the action in SOTY 2 plays out in St Teresa's in Dehradun. The template of two boys (Varun Dhawan and Sidharth Malhotra) vying for one girl's (Alia Bhatt) attention is tweaked here into an Archie-Betty-Veronica story. The Archie here is Rohan Sachdev (Tiger Shroff) who earns a sport scholarship to make the journey from the somewhat humble Pishorilal Chamandas college to the upmarket St Teresa's. But Rohan, a superhero of sorts who can run faster than Usain Bolt, contort his body in all possible directions, has kabaddi moves like no one else and leaps from the terrace of one house to another just for fun, enrols in the college just to be close to his childhood sweetheart Mridula (Tara Sutaria). But Mridula, who now goes by the more millennial-sounding Mia, quickly goes MIA from Rohan's life. The Veronica of the piece is the college bully Shreya (Ananya Panday), whose face-offs with Rohan abruptly translate into friendship when it's discovered that she's a poor little rich girl who is constantly at loggerheads with her brother Manav (Aditya Seal), the star student of St Teresa who fills in as the Reggie in this story.
Despite the frivolity, the first half of SOTY 2 is frothy fun. His limited acting chops aside, Tiger has a certain charm and he does look the part when he launches into those trademark Michael Jackson moves or wallops half a dozen guys in a single shot.
However, the fun and games grind to a halt in Half Two with the action shifting to bitter rivalry and betrayal and SOTY 2 — in the absence of heartfelt "ishqwaala love" moments — labours on endlessly, before hurtling towards a predictable climax involving a game of kabaddi. Does it come close to the cycle race in Jo Jeeta… that still has us rapt with our hearts in our mouths? Not a chance!
A couple of better actors could have elevated director Punit Malhotra's mediocre material. Tiger is earnest, but not much else and newcomers Tara and Ananya, saddled with roles that require them to be little more than glam dolls, are strictly one-note. Ananya still shows some promise in a few scenes. Aditya Seal, that laughable wig aside, has good screen presence. Unlike the first film that had quite a few hummable numbers, the soundtrack is dull with none of the 'songs' — Jawaani to Hook-up — having sticking power. Holly man Will Smith's 10-second cameo — he shows off some mean moves — is the only memorable bit of the jawaani song.
SOTY 2 isn't an upgrade over the first film, but isn't entirely unwatchable either. That isn't saying much. Or is it?