Srijit Mukherji's top 5 films and some that got away
On his 45th birthday, we look at the prolific filmmaker who has also won major National Awards for his works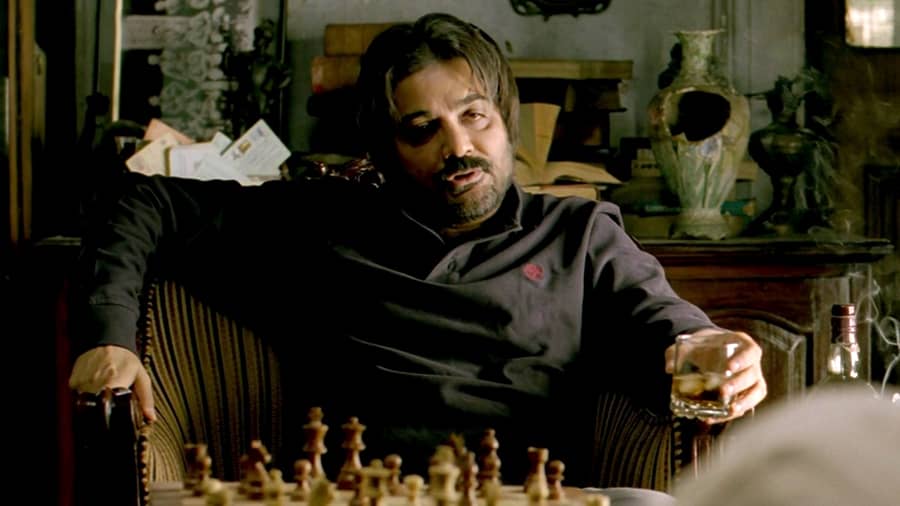 A still from Baishe Srabon
Twitter
---
Calcutta
|
Published 23.09.22, 12:38 PM
|
---
'You can either love him or hate him but you can't ignore him.' I can think of no other filmmaker operating today who lends himself to the adage better than Srijit Mukherji. There is no middle ground when it comes to opinions about him and his films. And this is not helped by the prolificity of his output. 
Over a span of forty-five days in June-July 2022 he had four releases, each drawing reactions in the extreme. If there were people calling Shabash Mithu a dud, there was also this legendary yesteryear star who asked me why the film was being panned thus, going on to list aspects of the film that no film critic had pointed out. 
With his Hindi film outings not working at the box office, the national film media too has gone hammer and tongs at him, as have many on social media. Which is fair, except that some of these opinions have been uninformed and blatantly prejudiced. And his swagger, the general aura of confidence he exudes, probably doesn't help. Not many would dare debut with a film like Autograph, given the enduring memory of Nayak, Satyajit Ray and Uttam Kumar. Or venture to give the stories of Satyajit Ray the treatment he did in the web series anthology, Ray. As a nation, we love going after confident people when they hit a rough patch. 
There is no doubt that he has been a tad too prolific of late and that has affected the overall texture of his films. But then, here's a filmmaker who made Jaatishwar and Chotushkone in the same year. And between them, the films won seven major National Awards. However, for me, the disappointment of his recent outings – and I am not talking about only the box office here; a flop comes with the territory – both as a lay viewer and a critic, stems from the fact that they come from the director of some of the finest films of the last decade, someone who has changed the narrative of the Bengali film. Films like Sher-dil and Shabash Mithu would possibly pass muster with any other filmmaker. But Srijit set the bar high with his early films. 
Here, then, is a list of my personal favourites, and the ones that made me want to tear my hair out, from the filmmaker's rapidly growing oeuvre.
The Best
Jaatishwar (2014)
For me, Srijit's best film by miles. Using the life and works of Anthony Firingee, the 19th century Bengali poet of Portuguese origin, the filmmaker crafts a masterclass that brings together two different time frames, a potted history of the evolution of Bengali music, a reincarnation drama with a terrific twist in the tale, and a soundtrack that is to die for. His mise en scene for the songs are a perfect tribute to the great Kabir Suman, and guaranteed to move even those unacquainted with the language. Baishe Srabon (2011)
Autograph would be a tough ask to follow. But Srijit, in keeping with his penchant for diverse genres, goes for something dramatically different. A police procedural, a gritty murder mystery dealing with a serial killer (a favourite theme with the filmmaker), a statement on language and the arts, the pleasure of Srijit Mukherji's film lies in the consistently bewildering strands of its narrative. In the way the director weaves 'disruptive literature' into the fabric of a noir, and while at it, pioneering a liberal use of profanities in films and a no-holds-barred exploration of the city's underbelly. 'Dedicated to all poets unsung', says the opening title. For a noir dealing with the hunt for a serial killer, it's a most unexpected dedication. Everything that follows is as fascinating. Chotushkone (2014)
Lazily slotted as a thriller, Chotushkone transcends genres. Though Jaatishwar is my personal favourite of Srijit's films because of its emotional graph, a more objective analysis would probably have me admit that Chotushkone is his best. It is as near-flawless as you could expect a film to be, with a stunning screenplay that operates on many levels and weaves together multiple sub-tracks. A quirky, often sly take on the creative process, with Sudeep Chatterjee's cinematography a standout, and like many of his best films, a climax that will leave you stunned. This is that rare film – one that is great fun to watch, a splendid entertainer, and that insists that you keep your thinking caps on. No wonder it went on to win three national awards, including best director and screenplay. Ek Je Chhilo Raja (2018)
Quite an epic, this, a favourite also because it came in the wake of a few films that left me underwhelmed – Rajkahini, Zulfiqar and Uma (though all three scored at the turnstiles). Based on a well-known court case that spanned decades and involved actual people caught up in a legal maze like no other, and addressing contentious issues like identity, nationalism and gender, this is a tough terrain to address. But the director does it with aplomb. 
Unlike many of his films which zigzag their way through multiple strands, Srijit keeps things simple here. Which is just as well, because the facts here are enough of a maze to satisfy the most demanding of viewers looking for a thriller, a period piece and a courtroom drama, all rolled into one. Possibly the most impressively mounted of all Srijit's films, this also boasts the best performances in all his films put together. Jisshu Sengupta's 'raja' is a king-size act, one of the finest of Bengali cinema ever. X=Prem (2022)
This could well raise eyebrows, ranking as it does among the biggest underperformers of Srijit's films at the box office. And for a while, I did contemplate replacing it with Nirbaak, his film dedicated to Salvador Dali. To call Nirbaak a hyperlinked series of four love stories each of which ends in death doesn't even begin to describe what is his most experimental and surreal film. But that film has over time developed a cult following, which is why I opted for X=Prem, which is in many ways a return to form for the director. 
Coming bang in the middle of his four-films-in-45-days phase, X=Prem probably became a victim of too many films releasing at the same time. It is his most atypical film, an out-and-out love story with a twist of sci-fi that tackles issues of what memory is, in particular what it entails when we talk of romantic memory. The characters in the film are people you care for, the film constantly challenges you with its sudden diversions, even if it does not, thankfully, take itself too seriously. And in the second half, it addresses some very pertinent and potentially problematic issues with a maturity that is affecting, even though, unlike many of Srijit's best films, the final scene is a bit of a let-down. Then there's some really striking poetry penned by the director himself. The Ones That Got Away
Begum Jaan (2017)
The one albatross around his neck that the filmmaker hasn't been able to shake off. A remake of his 2015 Bengali film, Rajkahini, Begum Jaan is the kind of film you don't want to make when you are debuting in another language. I had some issues with the original too. In a conversation where I had expressed my reservations about Rajkahini and Zulfiqar, Srijit had asked me, 'Can you put a finger on what didn't work for you in Rajkahini?' 
I listed a few things: the melodrama, the over-the-top nature of the narrative, the total lack of subtlety, the almost one-tone approach. Srijit retorted: 'What was subtle about the Partition, tell me. It was in your face. There was nothing understated about trains coming laden with dead, mutilated bodies. As far as I am concerned, the horrors could be communicated only with a scream, there is no way for it to be muted.' He then proceeded to make his case for Rajkahini, some of which did make sense. However, with Begum Jaan, the problems of the original are only multiplied manifold. Irredeemably bad, particularly given actors of the calibre of Vidya Balan, Naseeruddin Shah, Ashish Vidyarthi and Rajat Kapoor. Zulfiqar (2016)
Another major misfire, this is a 'messy' experiment with the Bard, not 'massy' as he prefers to call it. It is unfortunate that he bungles as badly with a film that opens as majestically as this does. The downward slide begins immediately after, with almost all the clichés of a bad Bollywood gangster drama, including a rip-off of Amitabh Bachchan's classic 'Jungle Ka Kanoon' (mendhak-saanp-nevla) monologue in Agneepath. A shapeless mess if ever there was one, this is also high camp: witness, for example, blood splashing over a Tagore photograph on the wall. Robindronath Ekhane Kawkhono Khete Aashenni (2021), web series
Robindronath Ekhane Kawkhono Khete Aashenni – film titles don't get more sumptuous than that. And this is one series I was looking forward to with high expectations. On the face of it, Mohammed Nazim Uddin's bestselling novel is just up Srijit's street. Unfortunately, the title only flattered to deceive. 
Of all things, it is his strongest suit, the screenplay, that lets him down here. And with two wooden lead performances, the climactic showdown and the 'shattering' revelation in the closing episodes are dead on arrival. This is without doubt the one Srijit film that disappointed me most.
Feludar Goyendagiri (2022)
Well, on the evidence of all the Feluda films in the last twenty years, and films inspired by and on the works of Satyajit Ray, I seriously believe that it is time we call a moratorium on 'Ray' as a genre. Unless, a filmmaker shows the guts to reinvent Feluda, most of these outings are little more than the page transferred to screen, devoid of all imagination and anything cinematic. 
Srijit's Feludar Goyendagiri is not bad per se. It is worse. It is dull and uninspired. Particularly coming from someone who also wrote what is talked of as the first, and probably only, non-canonical work on Feluda, the play Feluda Pherot. And who went out on a limb with his adaptations of two Satyajit Ray stories, 'Forget Me Not' and 'Bahrupiya', in Ray, the Netflix series. I loved the adaptations, and though many had reservations, no one can take away from what the filmmaker brought to his telling that veered from the originals substantially. With Feludar Goyendagiri, I almost felt what I would have thought was impossible: a sense of weariness and wariness about Feluda. 
In an interview five years ago, Srijit said, 'I am fast, hungry and manic… I have already crossed the intermission of my life. I have a lot of stories to tell and there is little time in hand.' As someone who has admired his films and his chutzpah, on his birthday, I can only quote the line from a song, 'Slow down, you walk too fast' and that hoary WhatsApp forward that keeps dropping in every now and then: 'There's always time for everything.'
Shantanu Ray Chaudhuri is a film and music buff, editor, publisher, film critic and writer