Srijit Mukherji: Taapsee Pannu had to fall in love with cricket for Shabaash Mithu
Starring Taapsee Pannu as cricketer Mithali Raj, the Srijit Mukherji-directed film releases on July 15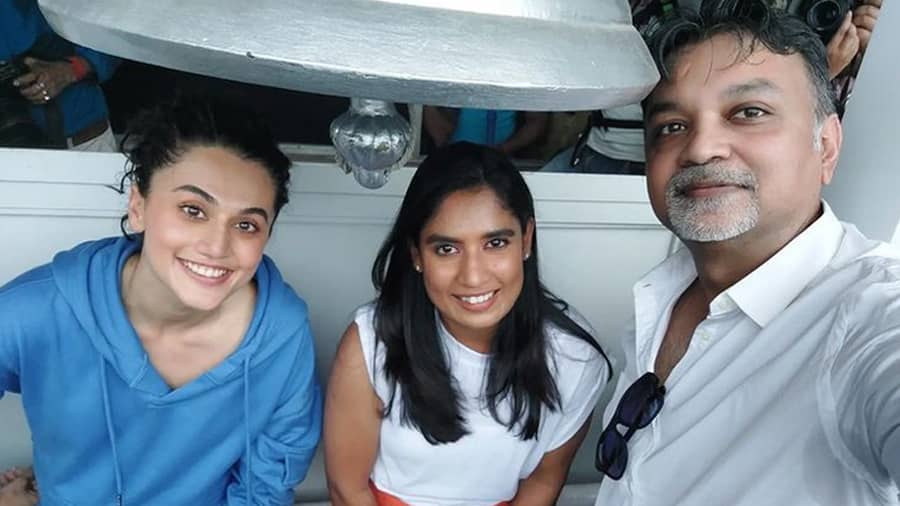 (L-R) Taapsee Pannu, Mithali Raj and Srijit Mukherji
@srijitmukherji/Instagram
---
Calcutta
|
Published 12.07.22, 10:56 AM
|
---
Filmmaker Srijit Mukherji ticked off another box on his wish list when he got together with Mithali Raj and Taapsee Pannu at Eden Gardens recently to talk about his upcoming film Shabaash Mithu. At the centre of the film produced by Viacom18 Studios is Mithali, the former captain of the Indian women's cricket team and the highest run-scorer in women's international cricket. The onus of directing Taapsee as Mithali fell on cricket buff Srijit, who shares with us the process of shooting this inspirational biopic.
What did you think of Taapsee Pannu as Mithali Raj?
Srijit: I think Taapsee is an excellent choice to play Mithali because she is a natural athlete. Being a natural athlete, it is much easier to pick up. There may be a specific cricketing skill she might not have but being a natural athlete, it was not very difficult for her to pick up the skills given the amount of time she had to train and she worked really hard to make it work.
Taapsee was already cast by the time you took over the reins of the film. How did it go for both of you?
Srijit: When I first met Taapsee, we sat down; Taapsee offered me tea and I said, first bring me a cricket bat. For us, it started off on a technical note that we have to get various things right, not just shots. Even Mithali's stance, which has changed over time. We tried to look at how Mithali faced spinners and fast bowlers, how things changed from bowler to bowler and how we would look to incorporate it in the film. Something that I told Taapsee was -- playing cricket won't suffice, you have to fall in love with the game and that is what she did.
Every day we would practise at 6 in the morning. I would pad up with Taapsee and we would bat in adjacent nets. Taapsee did the hard yards because all the bowlers she faced, apart from a few of the actors, were all state-level players. There was no shortcut or sugarcoating of anything.
I remember once she bruised her toe very badly facing a yorker. When she started hitting balls properly and middling them, playing cover drives, I saw the satisfaction on her face. That kind of satisfaction you can only capture on camera when it happens for real and that did happen for real with Taapsee. I remember once I said pack up and Taapsee was still playing. That sums it up for me because a person who had never picked up a bat before was playing even after the shot was done and that for me has been the incredible journey of this film.
What were the challenges of bringing together your two loves – cricket and filmmaking?
Srijit: Covid-19 was one of the biggest challenges we faced. I would have loved the opportunity to consult with Mithali while we were shooting. Having her on set would have made a big difference. At the time, Mithali was still playing international cricket and was part of various bio-bubbles in the build-up to the Women's World Cup. We got to connect over Zoom and she helped a lot but it would have been different having her presence on set.
Also, getting actors and junior artistes, especially for stadium shoots, was a challenge. Getting permission to shoot at various places, including some places outside India, was a challenge. Getting permission to shoot in stadiums outside India was almost impossible. So, these were a lot of our Covid-related constraints.
We were shooting in the middle of monsoons because we had a very tight deadline to finish. We had to finish within that because we didn't have Taapsee's dates. Monsoon made it very difficult for us because we had a lot of outdoor shoots remaining, so the rainy season provided another set of challenges for us.
Then, our eyes have become conditioned to see cricket in a certain way over years of cricket telecast. We see a game in a certain way with various camera angles and graphics used by broadcasters. Perfecting those camera angles, working with broadcast cameras and trying to even out footage between broadcast and movie cameras were some of the challenges. So yes, these various aspects made it a very challenging shoot.
Do you think telling Mithali Raj's story will help women's cricket in India and inspire more parents to allow young girls to play the sport?
Srijit: Absolutely. I think it's all about awareness. The ball was set rolling especially after the 2017 Women's World Cup finals and the Women in Blue's fantastic performance there. I think the ball was set rolling by Mithali and her team. Now it's up to us to pick up that baton and spread awareness so much that these changes are automatically brought into the game.