Speakers deliberate on the essence of Mee Raqsam
The film explores a lyrical father-daughter relationship in a small Uttar Pradesh town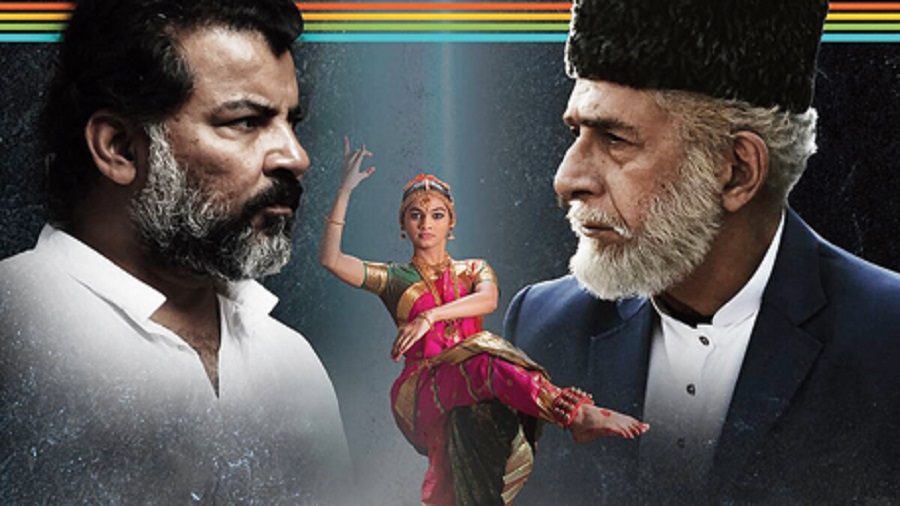 ---
Published 02.09.20, 09:54 PM
|
---
Shabana Azmi, Danish Husain and Aditi Subedi discussed their latest Zee5 release Mee Raqsam in conversation with Balaji Vittal as part of the Tata Steel Kolkata Literary Meet in association with media partner The Telegraph on August 23. Produced and directed by Baba Azmi and presented by Shabana Azmi, Mee Raqsam (I Dance) is about a young motherless Muslim girl whose desire to learn Bharatanatyam causes ripples both in her conservative community as well as those who live on the 'other side of the village'. Streamed live on Zoom and the Facebook page of Tata Steel Kolkata Literary Meet, the conversation came alive with trivia and anecdotes about the late Kaifi Azmi, his philosophy and, of course, the film's journey. Excerpts:

Tell us about Mijwan where the film was shot...
Shabana Azmi: Mijwan is such a tiny village that it didn't even have a pin code. It is around 40km from Azamgarh (UP). It was where my father Kaifi Azmi was born and was deeply attached to. He had to move out of course to earn a livelihood but when he came back later, he realised it was frozen in time, nothing had changed. He built an NGO called Mijwan Welfare Society to empower the girl child. Now, the village is replicable and scalable. Aditi hails from Mijwan and now she is a role model for many.

Baba Azmi said the concept of the film came to him a few years ago. How did the idea become executable?
Shabana: Baba has been a successful director of photography but he was looking to make a realistic film. When Kaifi saab's birth centenary happened, he thought of making this film in maybe Indore, Bhopal or Hyderabad where there's better infrastructure. But he remembered that Kaifi saab had asked him wistfully if it was possible to consider Mijwan so in Kaifi's birth centenary year, Baba decided to pay him the ultimate tribute.
Aditi, you hail from Mijwan. Was it easy or tough shooting in your hometown?
Aditi Subedi: I had heard of shooting but had never seen one. I faced the camera for the first time. I was excited and nervous at the same time. Everything was so new to me. But Baba uncle made me very comfortable. He helped me with the acting before every shot. He never scolded me and showed a lot of patience with me. I am thankful to him, to Shabanaji and Javedji for the opportunity.

Aditi, people are applauding your acting in the movie.
Shabana: Forget not knowing acting or facing the camera ever, this girl didn't know a step of Bharatanatyam. She had the courage to put in the hard work. She came to Mumbai and practised for six-eight hours.

How did Baba Azmi explain the pathos of Salim to you because even though your character goes through a lot of hurdles, there's no melodrama, no overdose of tears?
Danish Husain: One of the key things in playing Salim was basically the kind of people we have grown up with and from who we have learnt. When we look at people like Kaifi Azmi saab, there was a lot of dignity and grace in them. I believe when the chips are down, that's when your character really shows. That's the measure of a man. Baba had seen that in his father and family so when he conveyed that to me, it wasn't difficult to understand as I had grown up in a similar kind of an atmosphere. Nowadays, words itself are so powerful that you don't need melodrama to put it across.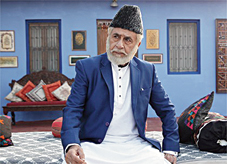 Share some anecdotes from shooting...
Danish: I am very influenced by Urdu poetry and so Kaifi saab is a legend for me. And to be on the same ground in Mijwan where he once lived, was a pilgrimage-like experience for me. The village had embraced us warmly. The residents were very co-operative. Even after a day's shoot, someone from the village would cook something for us, it was heart-touching.

Was it a pre-Covid shoot?
Danish: The film was shot between January and February, 2019. We had thought of a theatrical release but then the lockdown started. Now ZEE5 has given a glorious support to it.

What led you to choose Bharatanatyam as the theme of the film?
Shabana: Baba and writer Husain Mir decided that. You basically need to have a conflict. Bharatnatayam is considered to be a devotion to the gods. And being a Muslim tailor, there was bound to be this conflict. The film is about a humble tailor's complete support to his daughter in achieving her dream. But the story has many complexities interwoven in a way that it's not in your face. The film makes a distinction between religion and cultural heritage. India's composite culture, her pluralism, is her greatest strength. Kaifi Azmi's family has celebrated all festivals — Holi, Id, Diwali or Christmas.
Was the story specific to a small town? Would the young Muslim girl have faced resistance if it was Mumbai for example?
Shabana: It's more of a generational thing rather than a location-specific one. In the movie, the people supporting her are all her young friends, her cousin. It is a world view that is conservative against another that is liberal. Salim, in his own way, is a far cry from the toxic masculinity that we see today in terms of the gentle but strong support he gives to his daughter. Why can't masculinity be redefined as empathy, support and sensitivity?

Do you see this as a very progressive message that it is upon the younger generation to shatter the old biases and bring back Kaifi Azmi saab's work of composite culture?
Shabana: This is a basically a human story with an underlying message. But it has a lyrical quality to it. The message is important but it's not in your face. The story has to be true to its medium.

Aditi, have you taken part in dramas or dance performances in school?
Aditi: I haven't taken part in dramas but I have danced because I liked it. It was usually Bollywood dance. I had to work a lot on learning Bharatanatyam. My teacher has to be credited for that because she worked a lot on me.

Did you learn to sew and stitch because you looked absolutely in control?
Danish: That is what an actor's job is. I can't give away the trick of the trade (laughs). Some are method actors like Daniel Day-Lewis who learnt to cut, drape, and sew for Phantom Thread, while there are others like Sir Lawrence Olivier who had famously told Dustin Hoffman, "My dear boy, why don't you just try acting?" There was also a common synergy between three projects that I was doing. That helped.

Aditi, you said you want to be like Shabanaji. But apart from being an actress, she is also a social activist. Would you like to follow her on that path too?
Aditi: Yes, of course. She does a lot for people and that inspires me. I want to be like her.

How difficult was it for Baba to shoot this film devoid of exotic locales and larger-than-life characters?
Shabana: It was just the force of his conviction that helped him tell the story. And he had very few resources. Initially he had thought of shooting it on an iPhone owing to the budget. I know he had to make do with five lights. He had to embrace that change.

Shabana Azmi drew the curtains on the web event by reciting a poem of her father, the late Kaifi Azmi —
Pyaar ka jashn nai tarah manana hoga, Gham kisi dil mein sahi gham ko mitana hoga