Sparkling performances, loud angst and quiet rebellion define Dolly Kitty Aur Woh Chamakte Sitare
For both, however, the half-finished structures stand as a tangible reflection of their half-realised dreams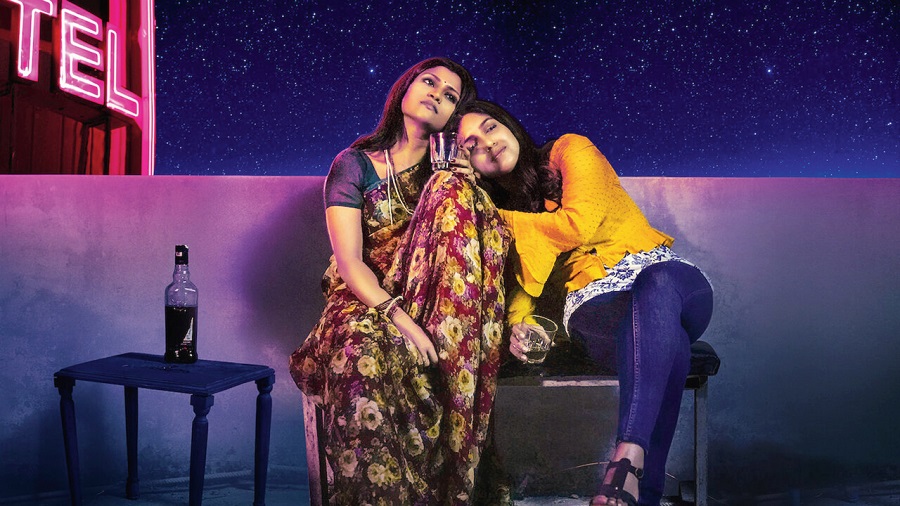 ---
---
Half-constructed buildings — their unfinished edifices holding out both hope and heralding heartbreak — is a running metaphor in Dolly Kitty Aur Woh Chamakte Sitare. Symbolically, they may stand for new beginnings, but in the case of the film's protagonists — Dolly and Kitty — they mean different things. One loses her entire life savings after being duped into buying one, the other loses her virginity in another. For both, however, the half-finished structures stand as a tangible reflection of their half-realised dreams. The setting, significantly, is Greater Noida, the face of a rapidly developing India on the surface, but where women are still unable to walk the streets alone at night. At one point, a character, living proudly in a bubble of patriarchy and prejudice, describes it as "the new Shanghai".
Almost everyone in Dolly Kitty Aur Woh Chamakte Sitare lives in a bubble. Dolly (Konkona Sensharma), a seemingly happy mother of two ("Main bahut santusht hoon," she keeps repeating through the film, mostly to convince herself) , fights shy of acknowledging that husband Amit (Aamir Bashir) has more than just a roving eye. When Kajal aka Kitty (Bhumi Pednekar), Dolly's cousin from small-town Bihar who lands up at her doorstep to make a living in the big city, tells her that Amit has been making unwelcome overtures towards her, Dolly embarrassingly laughs it off saying that it's Kitty's "raging hormones" at play. Kitty, herself often talks about being "confused", wanting to break free and carve her own corner but makes life decisions that end up shackling her even further. Both women are in search of their respective "chamakte sitare", but the road ahead is fraught with patriarchy, moral policing, sexual stereotyping and gender bias.
Dolly Kitty Aur Woh Chamakte Sitare is, in a way, a companion piece to its director Alankrita Shrivastava's clutter-breaking breakout film Lipstick Under My Burkha. Like the women there, Dolly and Kitty crave agency and ownership of their sexual freedom. Shrivastava, like the protagonists of her celebrated 2017 film, portrays Dolly and Kitty as flawed women, shining through their warts and all. They steal, they cheat, they live in denial. More importantly, they are competitive with each other, their dynamic largely defined as hate-hate. Until they turn into allies from adversaries and ultimately liberate each other. The film, through Dolly and Kitty, doesn't really tom-tom a huge feminist triumph, rather it celebrates incremental victories.
Playing out exactly at two hours, Dolly Kitty Aur Woh Chamakte Sitare immediately sucks the viewer into this world that at once feels familiar and alien. Dolly, the far more interesting woman of the two, is wily even while being free spirited, and she knows how to get things done, even if the means are sometimes dubious. Konkona is the glue around which the rest of the film, including Kitty's coming-of-age journey, revolves and the actor, balancing the coquettish with the naive, is the primary reason why Dolly Kitty Aur Woh Chamakte Sitare, currently streaming on Netflix, needs to figure on your watchlist. In contrast, Kitty is more wide-eyed and a tad unidimensional, with Bhumi's act probably layering Kitty more than the writing does.
As long as Dolly and Kitty are on screen together, the film sparkles. They don't pull any punches in slut-shaming each other, but moments later, they find a common sisterhood sharing their stories of loud angst and quiet rebellion over glasses of whisky under the stars.
However, a large part of Dolly Kitty Aur Woh Chamakte Sitare plays out with Dolly and Kitty carving out individual stories, and for a film this tight in length, too many subplots and conflicts make their way in, most of which are not done justice to. Dolly's heartbreaking scene with her estranged mother (Neelima Azeem) left us wanting more of that dynamic on screen, while her denial of her younger son's sexual orientation isn't given the depth it deserved. Kitty's decisions partly being coloured by her belonging to a backward caste are superficially dealt with. The end seems almost a cop-out, where characters are conveniently put paid to, and which doesn't really sit well with the rest of the film.
While Dolly and Kitty have to forge their own paths to self-acceptance and freedom, a few other characters also contribute to keeping the film watchable. Aamir Bashir is suitably repulsive as the misogynistic Amit, Vikrant Massey, saddled with a relatively shorter role, sinks his teeth into the deceitful Pradeep, while Amol Parashar is fittingly well-intentioned as the naive Osman.
Dolly Kitty Aur Woh Chamakte Sitare ultimately works on the back of the two women in the middle. Women who have each others' backs, women who wrest agency from the men, women who assert themselves by saying, "Thak gaye hum muskurate muskurate". Dolly and Kitty may not triumphantly drive themselves off a cliff like Thelma and Louise, but they sure as hell hop on to that ride of freedom. All the while looking for their chamakte sitare.

I liked/ didn't like Dolly Kitty Aur Woh Chamakte Sitare because... Tell t2@abp.in