Soni Razdan sees life differently today
By her own admission, she has lately become 'very Zen'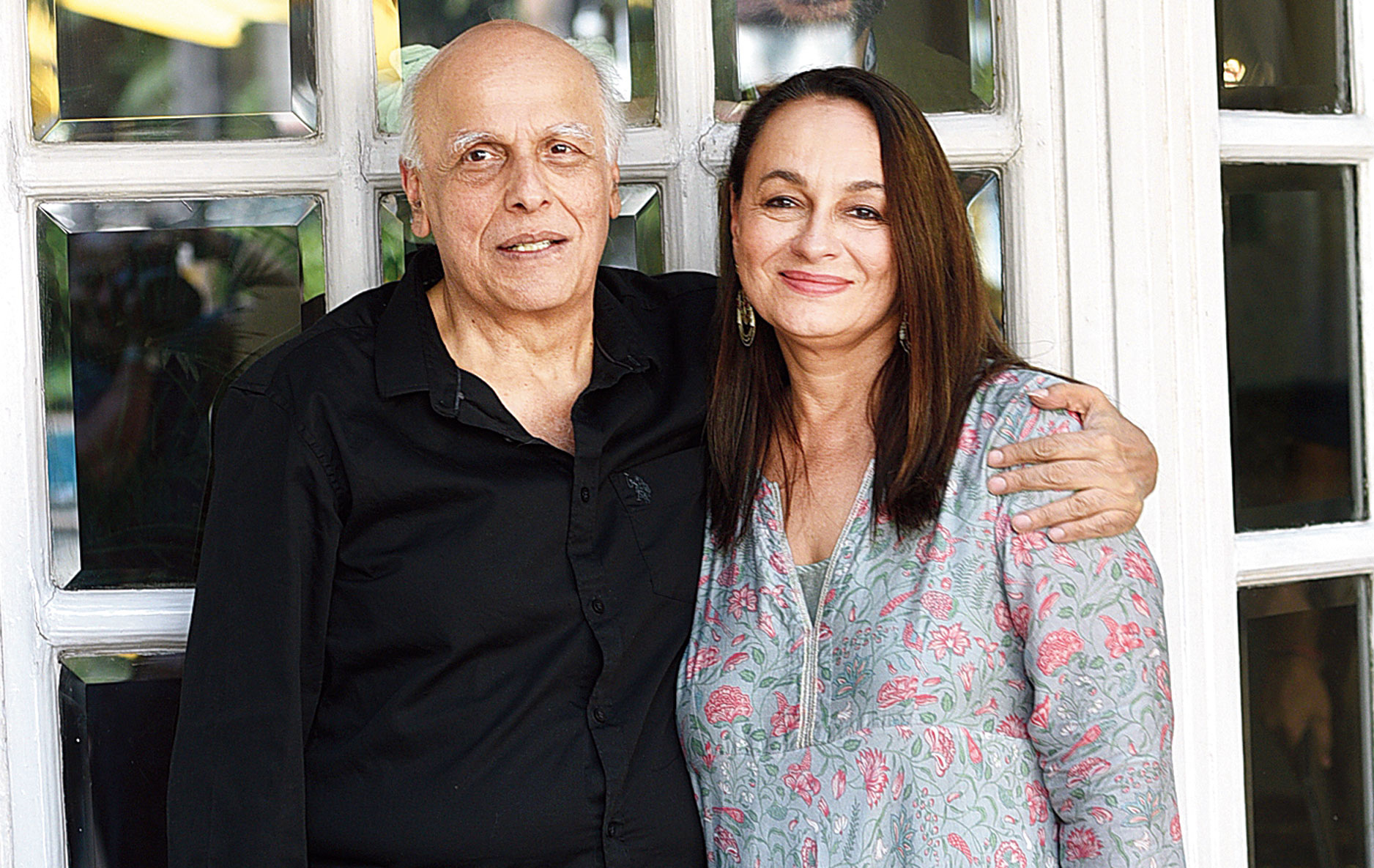 "Mahesh (left) and I are very strong people in our own rights and we like our space also. I think we have arrived at a cool understanding between us. We are such good friends," says Soni Razdan (right).
Picture: Rashbehari Das
---
Published 20.11.18, 07:53 PM
|
---
Sit with Soni Razdan for five minutes and you'll feel refreshed. Her energy is so soothing, so calm. By her own admission, she has lately become "very Zen". In town for the screening of her latest movie, Sanjoy Nag's Yours Truly at the 24th Kolkata International Film Festival, Soni sat down for a chat with t2 by the poolside of The Oberoi Grand.
Your character Mithi Kumar in Yours Truly is a complete departure from how you otherwise are… in terms of the attire like the cotton saris, the body language. How difficult was it to get the look and the mannerisms right?
The look was taken care of by the production and direction team. I didn't give too much thought to mannerisms. While doing that role, I was shooting all the time and I just threw myself into that space. Everything just came out of there. I didn't plan anything. It suddenly started to come out of me rather than me trying to put it into myself. It came from somewhere inside. I think that was rather interesting. When I was doing this role, I wasn't nervous or stressed because Sanjoy is a very relaxed director. He made it very comfortable for me. Therefore, I just felt that I could be this person without any encumbrances or expectations even from a director. He never gave me the feeling that I'll have to push myself to live up to something. That was liberating for me as an actor.
I'm saying all this in retrospect... while it was going on I didn't know what the hell was happening. I was just doing my job. I went and put on the clothes… half the things get sorted when you put on that garb, it's very different from who I am. I became somebody just by wearing those clothes. Somewhere it was like a plant, it just grew. That was incredible and probably the first time that it has happened to me. I can't claim anything, it just came from somewhere, I don't know where.
I'm so grateful to Sanjoy for considering me for this role. Nobody considers me for work like this. They have always considered me for someone who's sophisticated, more Westernised type of person. I just want to tell people that given the right role and right clothes, I can become somebody that you're not expecting me to become. I think that's what an actor is and that's the kind of work I would love to do. But I think people don't think of me that way and I've to break that. What is that one thing about this role that excited you as an actor?
The fact that the film was all about this character and where the story was taking this character. That's what excited me. It was so unusual and so different than any other story that you come across in reality. And the fact that you get the chance to get into somebody else's life, just her normal, boring, mundane spaces of day-to-day life… which filmmakers don't take the time to explore ever. We don't have time, we are always rushing around with plots and I understand why. There's nothing wrong with that at all. That is how films are. But it's rare that you get this chance to explore. So it was like a journey, an exploration.
What did your daughter Alia say after watching the film?
She was very taken with it. She felt that she was in the middle of a story. It was really sweet and a nice way to put it. I think probably for her, she has not seen such cinema. She has probably not had the time or the chance.
It's been quite a year for you… you acted with Alia in Raazi and now your husband Mahesh Bhatt has a cameo in Yours Truly. How does it feel when you get to work with family?
I am always feeling blessed actually. The last couple of years have been really nice. I've done a lot of different work, so I'm hoping that it only gets better. Things are evolving. I've also done another very interesting film called No Fathers in Kashmir directed by Ashvin Kumar. He has done a couple of documentaries before called Inshallah, Kashmir and Inshallah, Football. He knows Kashmir really well. It's a bright, brilliant script and I play a Kashmiri woman in it, grandmother to a 15-year-old girl. It's a fascinating story. The whole story is told from the perspective of this girl who comes from England to Kashmir and it shows the dichotomy of the two cultures. She starts questioning what happens around her and she starts taking pictures with her mobile phone. You get to see Kashmir from an innocent, young girl's eyes, in a different and interesting way. It has a lot of humour, affection and a lot of love for Kashmir. It's a sensitive area and Ashvin has handled it beautifully.
You've directed before. Any plans of donning the director's hat again?
Yes, I do. I'm working on two interesting projects right now. Both of them are for the web — one of them is a period subject.
Netflix has changed the game for directors and actors. But do you think it has also taken away the joy of the larger-than-life movie-viewing experience in the theatres?
I think it's a blessing in disguise that we have another option to feature films, to be able to explore certain stories which perhaps would not get explored as films. Films have lots of caveats attached — you've to have a famous person attached to it, you've to have a story that will bring people to the cinema halls out of their houses. When it's on the Internet, they are sitting and watching it anywhere, in the buses or the doctor's clinic. You already have an audience ready and waiting for content, as opposed to getting up and going towards it... it's coming into their lives. You can say things or make content that you otherwise can't make.
Do you stream content?
Of course. I love House of Cards and Game of Thrones. The Handmaid's Tale is one of my favourites, particularly because it's based on such a brilliant writer's book... you kind of have a standard there. Right now, I'm bingeing on Suits because I have never watched it earlier. It's pretty demanding in terms of your attention, it's not fluff as I thought it would be. It's very interesting with all the legal stuff.
Which are your favourite films of Alia so far?
If I have to pick, I'd say Highway, Udta Punjab, Dear Zindagi and now Raazi. These four would top the list but I also loved 2 States, actually.
What's that one thing that leaves you emotional?
I'm really a sucker for soppy love stories. I watched La La Land and cried. You name it! I have watched Hindi movies and cried. If there's any kind of happy ending, I cry.
Mahesh and you have such contrasting personalities. How do you define your relationship?
I wish I knew. It's a constant source of amazement to me. We are very strong people in our own rights and we like our space also. I think we have arrived at a cool understanding between us. We are such good friends. I like the fact that I can say anything to my husband and he won't take it the wrong way and, of course, he can also say it to me. But lot of the times, I'm also mothering him.
There are so many layers to our relationship. He gets very upset when I go away on long trips because that means he's alone. Before coming to Calcutta, I was in Uttarakhand for 10 days. I love the mountains and I had some work in Delhi. He hates it when I go off.
What happens on a typical day at the Bhatt household? Is it a state of complete chaos?
Sometimes it is. Sometimes it's a really quiet, peaceful sanctuary where everyone is in their own rooms doing their own things... eating their own food in their rooms, watching their own TV. Sometimes it's like that and sometimes it's coming together and complete chaos. There was a time when Alia was still living at home, so both my kids were at home, and lots of things used to go on. There were times I used to feel I'll just disintegrate because I couldn't find my centre. There was just so much happening! But now I think I've become very Zen. I think I just switch off and let things take their course. I'm bit of a control freak and like to run a very organised household, so maybe that's also bit of a problem. I like things to be on time and be clean, properly served... all that stuff.
Now that Alia has moved into her own house, have things changed between Mahesh and you?
Well, now we have to spend more time together than we ever did (laughs)! It's quite nice. We are re-discovering our own relationship. We probably didn't have time for each other earlier. I was always fractured, I was too busy looking after so many things of Alia's, of Shaheen's (elder daughter), and then the house. He was always busy with his stuff.
Now we are still busy but after Alia moved out, I decided I'll take whatever work comes my way. Otherwise, I'd go into depression. There's no one there, the house is empty. I thought I'll go mad. That's why I did a TV serial that came at a really good time. It was called Love Ka Hai Intezaar that we shot last year for STAR Plus. I played a raj maata... it was very different, it was fun.
What's the best advice you've given to Alia so far?
Show up on time; just because you're an actress doesn't mean you can take other people's time for granted. Respect everybody's time and your own as well, then they will respect yours. I didn't give her too much advice. I don't believe you can give too much advice when it comes to acting. Acting is something that you discover for yourself. It's a personal journey. So I just told her to remember that less is more. As actors, we tend to be very insecure. We try to show too much. But it's not so much about showing, it's about feeling. I think she has got that quite well, much better than anybody else that I know, including myself (smiles).