Should you give Akshay Kumar's Cuttputlli a miss and watch its Tamil original Ratsasan instead?
Cuttputlli, starring Akshay Kumar and Rakul Preet Singh, is streaming on Disney+Hotstar; Ratsasan starring Vishnu Vishal and Amala Paul is streaming on Amazon Prime Video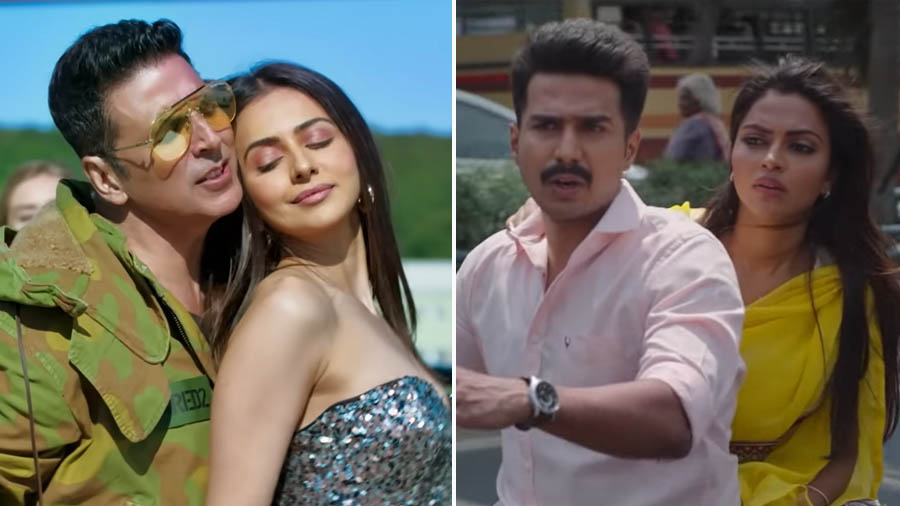 Stills from Ratsasan and Cuttputlli
IMDb
---
Calcutta
|
Published 09.09.22, 12:03 PM
|
---
Had I watched Cuttputlli first, I would definitely have given Ratsanan a miss. Since I watched Ratsasan first and couldn't get off till the last scene, I also wanted to check out its Hindi remake Cuttputlli, starring Akshay Kumar and Rakul Preet Singh. 
Both films share the same premise — a sub-inspector sets out to catch a serial killer who targets and murders schoolgirls. But while Ratsasan — a 2018 thriller in Tamil —  runs with the story and its telling, Cuttputlli succeeds only in living up to its name (pun intended!). Both films are streaming on OTT, so which should you watch? 
Ratsasan's edge-of-the-seat vs Cuttputlli's flat storytelling
There is one plot point that makes us question both Ratsasan and Cuttputlli — when the antagonist suffers from a debilitating disease like Progeria, which causes fast aging, how can he be so fit and quick on his feet? 
If you set aside this logical loophole, there's not a single moment in Ratsasan — 
directed by Ram Kumar — that will take your attention away from what's unravelling on the screen. The runtime of 2 hours 25 minutes feels like a breeze, so taut is the narrative with twists and turns.
In comparison, Cuttputlli falls flat. It neither has Ratsasan's stylish storytelling, nor its brilliant climax where the serial killer's big reveal occurs. 
Vishnu Vishal's common cop vs Akshay Kumar's star presence  
What makes you feel for Vishnu's sub-inspector Arun Kumar straightaway is the conflict between his passion and profession. Arun works as a cop because of circumstances but nurses a dream to become a filmmaker someday. Nobody has confidence in him, but he's thorough about his research on serial killers.
In contrast, Akshay's Arjan Sethi is treated like a knight in shining armour by his family members as well as the police department. Within a few days of his job as a cop, Arjan starts to ride big cars and his seniors follow his lead. 
Vishnu also looks the part and comes closer to his character's age. So, when the schoolteacher (Amala Paul) tells Arun that he doesn't look like the father of a 15-year-old, it feels okay. 
But when the schoolteacher in Cuttputlli (Rakul Preet Singh) says the same to Arjan, suspending your disbelief becomes really hard. And the secret of his youth? 'C for Chyawanprash.' (C for cringe too.) 
Akshay maintains almost a stoic expression throughout the film, and it seems Arjan has put his dreams to become a filmmaker on the backburner. 
Ratsasan's stellar vs Cuttputlli's forgettable scenes 
Ratsasan has a few heart-piercing scenes that Cuttputlli fails to pull off. For instance, the emotional breakdown of a victim's family, the scenes where Arun gets to know about the fate of her niece at the hands of the serial killer and the way he handles it. Also, Ratsasan's penultimate chase sequence keeps us on the edge of our seats, while Cuttputlli just fails to take off. The scenes in Ratsasan that show how the serial killer draws people into a world of illusion, through magic tricks, help build the drama, which is entirely missing in Cuttputlli. 
Ratsasan's supporting cast adds value, while Cuttputlli's looks on
In Ratsasan, the egoistic ACP Lakshmi (played by Suzane George), who makes Arun's life hell, helps to move the narrative by showing the young sub-inspector's passion despite the obstacles he faces. In Cuttputlli, Arjan is allowed by his boss SHO Parmar (played by TV actress Sargun Mehta) to lead, thereby weakening the narrative. 
In a scene in Ratsasan, Vishnu's Arun gets arrested and one of his hands is cuffed, but he works with his other hand to find a definite clue. Sadly, Akshay never gets a chance to perform this scene. 
Punjabi actor-comedian Gurpreet Ghuggi's constable Mahinder Guleria dies before making an impact, unlike Kaali Venkat in Ratsasan. And unlike Vishnu's brother-in-law (played by Munishkanth), Arjan's brother-in-law (played by Chandrachur Singh) gets overshadowed by Akshay Kumar.  
Subtle romance in Ratsasan vs Cuttputlli's over-the-top gestures
In Ratsasan, there is not a scene between Vishnu Vishal and Amala Paul that doesn't push the narrative. Their budding relationship moves forward without going overboard. Whereas in Cuttputlli, Akshay gets into song-and-dance mode with Rakul Preet Singh in a parallel world (which you can fast-forward of course). Among the many instances of inane and unnecessary banter between Akshay and Rakul, one is a gem. Arjan says he has no interest in films. But isn't he an aspiring filmmaker? Uh, oh!