Shaan and Richa Sharma on judging kids'reality show
Sa Re Ga Ma Pa Li'l Champs airs Saturday and Sunday at 9pm on Zee TV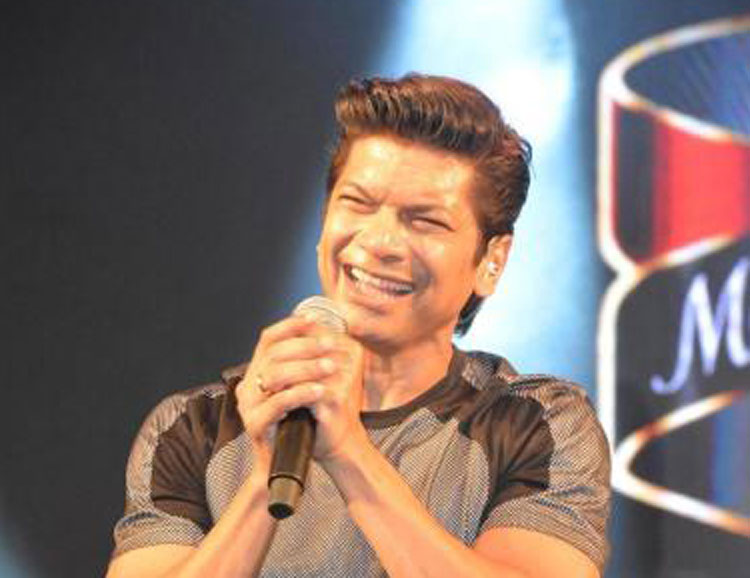 ---
---
On his return after four years as a judge on Sa Re Ga Ma Pa Li'l Champs (airs Saturday and Sunday at 9pm on Zee TV), Shaan opens up to The Telegraph on the sidelines of the launch in Mumbai, about how things have changed in children's reality shows ever since he swore off anchoring them after the first season in 2006.
How are you coping with the children?
I anchored the first season of Li'l Champs in 2006. But after that, though I was anchoring other shows, when I was approached again for a children's show elsewhere I did not want to return as anchor. I had seen in the first season of Li'l Champs how kids wept on being eliminated, saying 'Maa amay maarbe'. The comments of the judges were harsh. The channel said it could not discontinue the show even if I did not want to do it since children's music shows were very popular.
In 2014, Zee wanted someone as judge who understood children's issues. I too realised that this was a new way to guide young singers. We neither make false promises that we would do shows or record songs with them nor go overboard with comments like a child is the voice of Maa Saraswati or he is the next Kishore Kumar. We are also not mean to them under the garb of giving tips.
At the launch, the judges shared the background of each of the children who performed. Will this be done to create audience sympathy?
That is not our intention. But when you hear a child perform, some questions arise in the minds of the audience — who is the child, where is he coming from… But unless a contestant sings well, their background will not affect the listener.
How many children were shortlisted?
We started with 75 contestants. The plan was to start with 15 but the quality of talent was so good we could not bring the number to less than 16. Two kids have been kept on standby. It was a very difficult process.
What are you looking for in a contestant?
We have already got a Shreya Ghoshal or a Sunidhi Chauhan. So we don't need copies. If someone can come up with an original interpretation, we would welcome it as long as one doesn't destroy the song. You heard Astha Das of Assam present Bappi Lahiri's composition Intehaan ho gayi differently. It could be done because the song lends itself to that interpretation.
Has the attitude of parents changed over the years?
Earlier, the belief was that once a participant comes to a reality show he will become a star and this will open an avenue of earning. But this is a platform to learn, not to earn. It took time to make parents understand that. In the first season, which Debojit Saha won, the show went on for eight months. Now they wrap up in four-five months. What a season it was! Such bitter quarrels! I was in one room reasoning with one judge, then running to another.
Ismail Darbar, Himesh Reshammiya (the mentors in that season)… both could be temperamental.
And Aadeshji (Srivastava)! Remember they were strong rivals in the film industry. It bothered (them) that Himesh, a new lad, was… (prospering). All the things building up inside used to come out. Things heated up. The arguments got personal. Shoots continued till 3am-4am.
Earlier one could tell a Shaan apart from a Sonu Nigam. These days singers sound alike.
I should not comment on that as it would sound like I am belittling the current lot. The tips we give to participants are not to be a commercial singer but to be a better singer. We would never tell them: 'Ekhon naak cholchhey, naak diye gao.' Trends change. Of course, if one is versatile and has the proper technique, one can utilise one's nose or chest to produce a tune or use a falsetto voice if required. One of the performances you heard was by a boy who has been performing at jaagrans. That's why he has developed that tone. If I force him to sing Kishoreda's songs, it won't happen. In Punjab or Haryana, you see men sing on a high scale and women on low scale. That way they can reach a greater distance. In the east, people don't shout much. When Bengali women sing, they have softness but not strength which is vital to perform today. They need training for that. Any voice can be created anywhich way. It is a matter of conditioning.
What about your sons?
My elder son has reached my height. He is producing music. The second is almost my height. He is learning to play the guitar and piano. He also sings. He has a different tonality.
What's coming next from you?
I have just released a video, titled It's Natural, in which I have done salsa. It is in a Spanish format. Do watch it.
Richa Sharma, the voice of the Holi song in Padmaavat and Show me your jalwa from Aaja Nachle, on her first full-fledged show as reality show judge.
That was a power-packed and expressive performance you just gave. Were you so bubbly from childhood?
(Laughs) My father used to call me 'Jhansi ki rani'. But my acting started the day I started understanding the lyrics of songs. When you go to the studio for recording they tell you the situation of the song. If it is Billo rani type, phir thoda nakhda toh karna padega; if it's a sad song then you got to let emotions well up. People spend two hours in my show. I have to give them something extra in my live performances. Otherwise they will sit at home and listen to my CD.
You started doing shows from an early age.
Yes, but my father, late Pandit Dayashankar Upadhyay, was very strict. He allowed me to do two shows a week, that too only on Saturdays. And he would warn the show organisers that I would need to sleep for eight hours so they better send me home on time. My first guru was my father.
You do regular live sessions on Facebook.
That is because I want youngsters to know about the hard work that goes into a singing career. Even after 23 years I do riyaaz daily. I like to make them a part of my riyaaz. At times I start at midnight and continue till dawn, yet people stay up and post comments like 'You hit this note so well'. Social media is great for these one-to-one connections. Basic training is vital. After that, one can decide whether one wants to do light music or classical music or thumri. People pointed out that I sing Sufi long after I started singing in Bollywood. Earlier, the term did not even exist. Maine socha: 'Achchha, main Sufi singer hoon? Mujhe pata hi nahin tha!'
Today one hardly remembers film songs for long.
I have sung more than 350 songs. Not all became hits, right? So many mangoes fall off before maturity. Only those that stay on the tree ripen. Most songs that are being made are party songs. Few have melody. Three years ago, I started a trend of releasing singles. A famous model was contacted to dance. She demanded a lot of money. I thought I'd sing, I'd pay but in the video her face would show. Toh rehne do. Hum hi hai Katrina Kaif, hum hi hai Aishwarya Rai. Jaise hai aise hi aayenge. Agar kisi ko hamara gaana pasand aye, toh unko isse matlab nahin hoga ki hum kitne motey hai ya patle.
Your first show was Dhoom Macha De on NDTV Imagine. How old were you then?
That was eight years back. If I tell you how old I was, then you will figure how old I am now! Aap ko pata hai na main intelligent judge hoon? Dil toh bachcha hai ji (hums). I was a participant then. I did some episodes as guest judge later in other shows but I am a full-fledged judge now for the first time.
How have things changed in these eight years?
Reality shows have become grand. Big sets, superior technology, musicians of a higher level… These days there are special episodes with a string section or guitars or grand piano!
Any singers you have been influenced by?
Kishore Kumar. Mujh mein aap ko lady Kishoreda dikhai dega. Also Manna da (Dey). Also ladies mein, Ashaji (Bhosle). Unke gaane mein natkhatpana, ek namak hai.
What's your take on the #MeToo movement?
Jab kuchh hota toh tab bhi bol do. Kisse darna? Main aisi hi hoon. Bade music directors ko jo mann chaha bol diya. Woh kaun thhe, kya thhe, sab wahi time clear kar diya.
You replaced Sona Mohapatra in the middle of the season in the recently concluded Sa Re Ga Ma Pa. Did you communicate with her?
I know her like I know all other singers. I am sure she had done a good job. A day before (coming on) the show I messaged her that I would try to take forward the team that she had picked. She also messaged back.