The Telegraph recounts its favourite moments from Ozark so far
Season 4 of the hit series is now streaming on Netflix, for more of the gory entertainment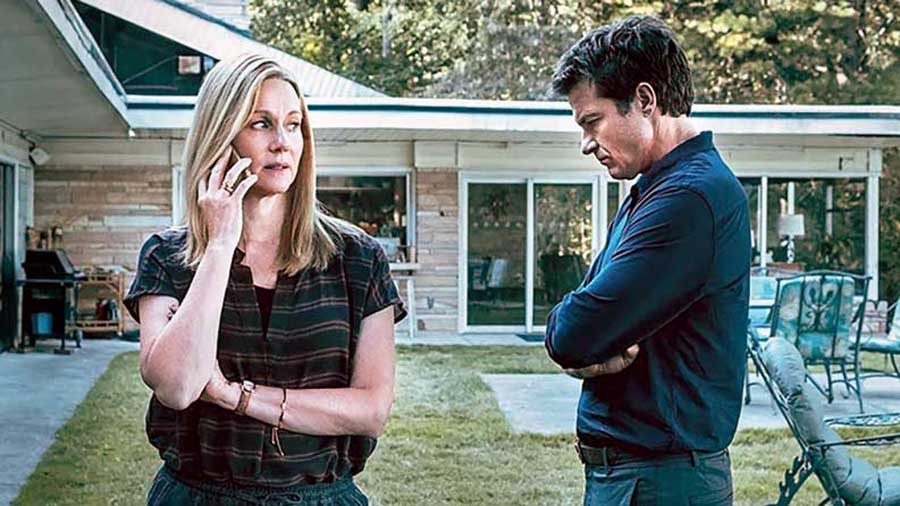 Laura Linney and Jason Bateman in Ozark.
---
Published 31.01.22, 03:44 AM
|
---
Over the seasons, Ozark has served up everything — murder, kidnapping, drugs, and torture. Netflix's money-laundering crime series, which mostly plays out in the scenic Missouri interiors, is shadowy and clouded with a carefully controlled sense of peril. As Season 4 Part 1 touches new ground for Marty Byrde (Jason Bateman) and his wife Wendy (Laura Linney) to navigate their way through it all, here are our picks of the 10 deadliest moments from the last three seasons.
Wendy's lover's death
(Season 1 Episode 1)
You saw it coming in the first trailer for the show, and yet nothing quite prepares one for the thud that hits the ground as Marty Byrde approaches a building, fuming over his wife's affair. It's the official introduction to the gruesomeness Ozark is capable of. No lengthy spin-offs or flashbacks... it cuts straight to the deal.
Ruth electrocutes her uncles
(Season 1 Episode 9)
Ruth Langmore's (Julia Garner's Emmy-winning performance is flat-out brilliant) loyalty to the Byrdes is tested when she finds out that her uncle Russ has been an informant to the FBI. Both Russ and Boyd are electrocuted at the dock, in the same way she had once planned for Marty. Ruth knows what's more important for her, for better or for worse. Darlene kills Del
(Season 1 Episode 10)
As the ruthless leader of the drug cartel, Del (Esai Morales) meets his end in a shockingly instinctive finale. Even when Del attends the ongoing negotiations and agrees that their cartel will distribute the Snells' heroin. But that's until Del calls Darlene (Lisa Emery) a "Redneck". Darlene, without a second thought, shoots him that instant.
Snell farm burnt
(Season 2 Episode 5)
Buddy (Harris Yulin), the basement tenant living with the Byrdes, torches the poppy farm of the Snell's by vacating the family's on-site liquid fertiliser facility, and igniting it through a roadside flare. "Burn, baby, burn!" he says. No one imagined that it would be Buddy who would take charge. Mason and the baptism in the lake
(Season 1 Episode 10)
Terrible things happen to the pastor, whose church never gets greenlit, his pregnant wife gets murdered and he is left with a stillborn child. Left without anything to hold onto, he walks to the lake and submerges his son, in a moment which feels like forever. Then he lifts the baby up and it cries out. It is then we realise that Mason was performing his own ring of baptism for the child.
Agent Petty's death
(Season 2 Episode 10)
FBI Agent Roy Petty's (Jason Butler Harner) turn with money laundering lands him in dark waters in ways more than one. But in Season 2, Roy takes in Cade (Trevor Long) to snitch on his own daughter, who ultimately sides with Marty. When Roy insults his daughter, Cade hits back at him, leaving a huge bleeding mark. He then bashes him with his own box until he dies. Carl's wife is 'accidentally murdered'
(Season 3 Episode 3)
This is surely one of the most surprising yet low-key deaths in the series so far. When Carl (Adam LeFevre) and Anita (Marceline Hugot) take a walk in the woods, they end up fighting over their involvement with the Byrdes. She points at his head with a finger and states that she should have married his brother instead. He brushes her off. But little does he know that she would lose her balance and tumble down the hill into the river!
Darlene and Wyatt's relationship
(Season 2 Episode 10)
In a truly uncomfortable turn of events, Darlene ends up sleeping with Wyatt Langmore (Charlie Tahan). Ozark never really shies away from shock but the way these two unlikely characters come together in tragic circumstances — Darlene, without her husband and wanting to be a mother, and Wyatt mourning the loss of his family — it surely did raise eyebrows! Mommy issues, much? Wendy's brother's death
(Season 3 Episode 9)
Wendy's brother Ben (Tom Pelphrey) never listened to her or anyone who tried to talk sense into him. Eventually, he made a lot of mistakes for his own good... breaking down publicly at the opening of the casino, filmed with Jonah's (Skylar Gaertner) drone and got him messed up, and lastly, revealed details to Helen's (Janet McTeer) daughter. Wendy had no choice but to silence him. But we all know that he dug his own grave.
Helen Pierce gets shot
(Season 3 Episode 10)
Helen had bitten way too much when she meant to take over everything from the Byrde family. Yet, both the Byrdes and Helen had placed a choice for drug head Omar Navarro (Felix Solis). Ultimately, it is Helen who takes the bullet, as Navarro embraces the blood-soaked Byrdes in a surprising yet ultimately satisfying finale to Season 3.
I am an Ozark fan because... Tell t2@abp.in