Sanya Malhotra and Varun Sharma bust taboos in 'Sasural Wonder Phool'
Their 10-episode podcast centres around a progressive family that runs a sex clinic tucked in the bylanes of Delhi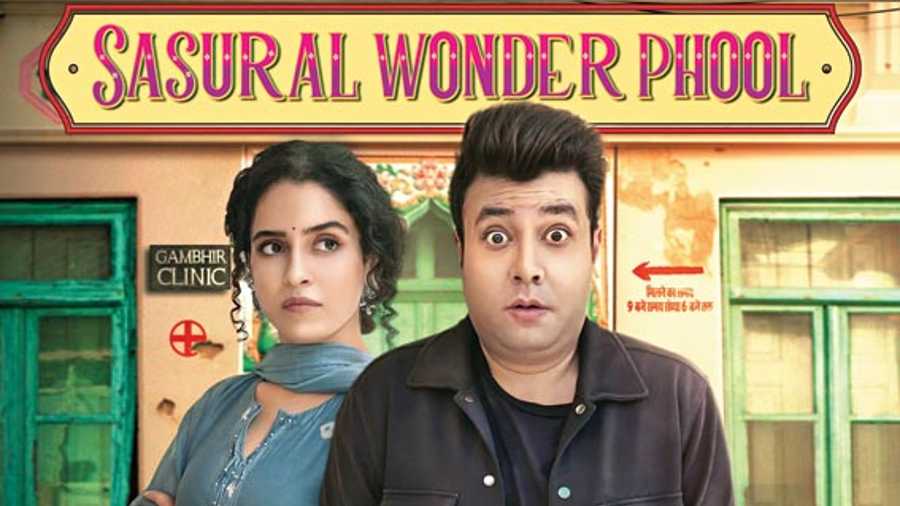 ---
Published 27.10.21, 04:32 AM
|
---
Actors Sanya Malhotra and Varun Sharma have teamed up to lend their voices for an Audible original called Sasural Wonder Phool. The 10-episode series is the story of a progressive family that runs a sex clinic tucked in the bylanes of Delhi. Prashant Gambhir (voiced by Varun), the youngest doctor in the family, is looking for a suitable bride but no respectable family wants to marry their daughter to a sex therapist. After getting rejected several times, Prashant finally meets Ashima (voiced by Sanya). While Ashima is happy with this match, she is unaware of Prashant and his family's profession, leading to both comedy and complications. The Telegraph caught up for a chat with Sanya and Varun on this all-new experience and what they admire about each other as actors.
Sasural Wonder Phool had me at the title itself. Was it the same for the two of you? What made you primarily sign up for this?
Varun Sharma: This is a new medium for me, as well as for Sanya. My sister really follows Audible and I immediately jumped on to it. This is a very progressive story and has some great messaging. It's something very new and challenging for me. We recorded from our houses during the lockdown, aur har cheez nayi thi. From how to make one's room sound-proof and recording it through a Zoom call with seven other actors.... We needed to figure out how to sync our performances. It was very interesting.
And as you said, the title is very catchy. When I told my mother I am doing a podcast called Sasural Wonder Phool, she was also intrigued. It has a certain zing to it. Aur Sanya ke saath record karne ka mauka mil raha tha... toh main kaise chhodta? (Laughs)
Sanya Malhotra: Same for me, Varun! I have always wanted to work with Varun. We have now done a show on Audible and I hope we get to work on a film very soon. Sasural Wonder Phool has been beautifully written by Bodhi Tree Multimedia and directed by OfSpin Media Friends. It's a great collaboration. Last year, I was really missing going on set and acting. And this was a refreshing take for me as an actor.
Audible sent me a very fancy set-up to record from home. I recorded the show for about seven days, for about five-six hours in a day.... And I would tell my parents, 'Sssh! Ab paanch-chhay ghante koi kaam ya awaaz nahin karega ghar mein!' (Laughs)
It was such a wonderful experience. Dil khush ho gaya tha. As an actor, I was so satisfied. It's very similar to acting. You have to act, you can't be flat.... It's just that you don't have a camera in front of you, but you have a mic for which you have to perform. We recorded the show with seven wonderful actors and audio artistes, and to see them work was a very enriching experience.
Varun, what is it with you and sex clinics, at least on screen? Before this, you were a part of the 2019 film Khandaani Shafakhana, with Sonakshi Sinha, which also dealt with a similar theme...
Varun: Oh ya! (Laughs) Sasural Wonder Phool has a totally different story from that film, but I am glad I am part of such progressive stories. We should shed light on such so-called taboo topics. We have tried to bring in awareness, but in a very entertaining manner. Agar hanste-hanste kisi ke dimaag mein woh cheez register ho jaaye, then it's great. As an industry which is so loved and accepted all over the world, we have the power to change perspectives.
How different is this experience from dubbing for a film?
Sanya: During dub, one has a video reference. But in this one, this was acting without any visuals. While I was recording, I felt something was good, but when I would hear it again, it would appear flat. It is somewhat similar to dubbing but just because you can't see yourself doing it, it's challenging too. It requires a lot of imagination.
Varun: When you are dubbing, you have already done that scene on set. Your reactions are also based on the reaction that your co-star gives you while filming. But with a podcast, this is the first time you are emoting and experiencing it. For me, it did take a day or two to understand my way through this medium.
How self-reliant and technically sound has this experience made you?
Sanya: Not at all! (Laughs)
Varun: These are terms that are very far off from our lives! (Laughs)
Sanya: Actually, before we started, we did do a couple of rough recordings. I am quite a dumbo when it comes to using technology! (Laughs) So for the first two-three days, it was always like, 'Record hua?! Shayad yeh record nahin hua!' But by the end of it, we were so good at it that we decided that we should come up with our own music album! (Laughs)
Varun: Hundred per cent, ya!
So when is that happening? Or is that just limited to your imagination?
Sanya: In my case, even if it happens, a lot of auto-tune will be needed (laughs).
Varun: I am just a listener, I am not a singer at all. But after every session, I would sing. If you have a mic in front of you, everyone will invariably sing, no matter how bad your voice is! My mom even told me, 'Bete, main tumse bahut pyaar karti hoon, lekin yeh tum mat karna!' (Laughs)
Do the two of you listen to audiobooks and podcasts?
Sanya: I usually listen to psychological stuff. I am now listening to Letting Go by David Hawkins.
Varun: I will listen to mine first, and then I will listen to other stuff!
Hopefully a film with the two of you together should happen soon. What do you admire about each other as actors?
Varun: Sanya is a phenomenal actor, ya! In fact, yesterday itself I was discussing with an actor friend that the kind of career graph she's had so far and the kind of films she's done, it's commendable. Even as a person. she's so sweet and down-to-earth. She's very kind. Anyone who has to do a scene with Sanya has to come very well prepared. She's so good! She has a huge range as an actor. And I am a big fan of her dancing!
Sanya: Varun, I was on YouTube yesterday, and I saw your Chacha Nehru scene (from Fukrey), and it was a riot! You have said you are a good listener, and I totally agree with that... it's also a sign of being a good actor. Listening to your co-actors is a great quality to have. I was watching that scene and thinking, 'He's such a good actor!' And I am not kidding! If anyone is reading this, please cast us together. And, of course, your comic timing... you are so good! Comedy is the toughest to pull off on screen.
Varun: In fact, I never even knew I could do comedy. Before films, I would do theatre and I would act in hardcore drama like Ashwatthama and Anton Chekhov's Seduction. I always thought comedy was tough, and Fukrey was my first attempt at it. I had no idea what I was doing, I was just happy that my mum would get to see me in a film (smiles). I was just happy about the fact that I was getting to debut in a film made by a production house (Excel Entertainment) that had made Dil Chahta Hai and Zindagi Na Milegi Dobara. But when I finished doing the film, I realised, 'Arre, log toh hans rahein hain, unko mazaa aa raha hain.' But even today, I don't know how I pull it off!