Bibi Russell: The fashion queen of gamchha
The original champion of sustainable fashion, Bangladeshi fashion designer Bibi Russell relives her journey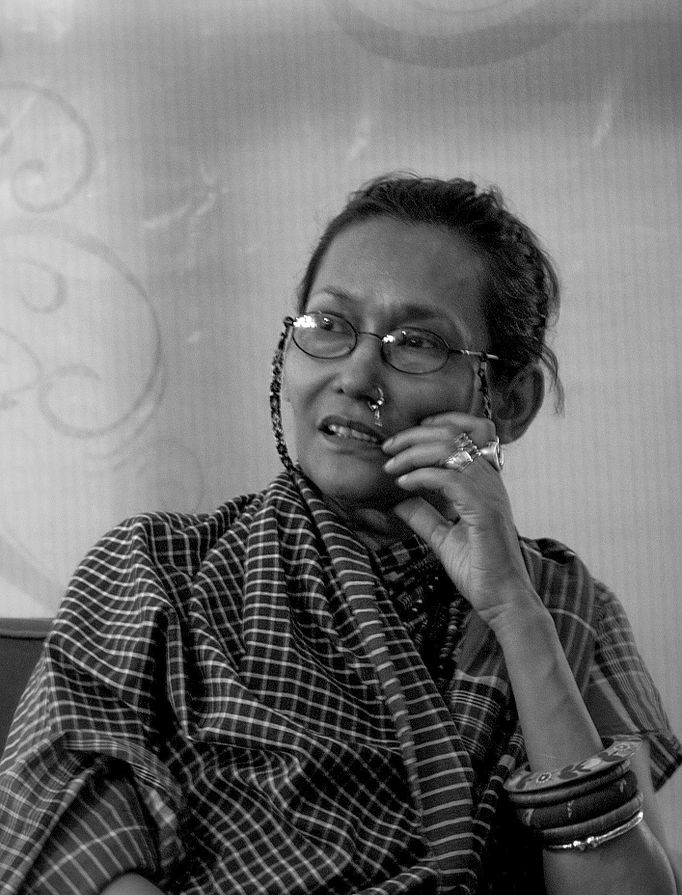 Bibi Russell: The Bangladeshi fashion designer credited for raising the status of the humble gamchha (cotton towel) to the domain of fashionable clothing
Wikimedia Commons
---
Published 06.04.19, 08:50 PM
|
---
A model by accident…

For my graduation show, my teacher asked me to wear the last outfit that I showed. They said I'll be able to pick up a lot of technicalities that way. I said 'no'… emnitey (anyway) my parents have to hear that the daughter has gone to become a darzi. Modelling kora aamar shopnoi chhilo na (wasn't my dream). I was lucky that top fashion agents were there. My first work was 14 pages of (Harper's) Bazaar. I always say that the college taught me the basic grammar and then my modelling and travelling helped me mature. I would take in every detail while fittings.
I modelled for many years… from 1978 till 1993. I was very lucky. I have done a lot of car ads… Jaguar, BMW, Rolls-Royce. My last modelling assignment was for Toyota Corona. I was based out of London. From 1985 to 1993, my base was Italy. That was a good experience. Modelling made me confident, gave me respect, taught me about different cultures.
One of my favourite photographers was Norman Parkinson. He was the greatest photographer ever. He had told me they love me because aamar duto chokh du rokom katha bole (my two eyes speak of different things). If the girl is all perfect, she is very boring. Models should know their angles. I have been in front of the camera; I understand all angles. Vogue always said you could put two cups on Bibi's cheekbones. That was why I was famous.
The one designer from whom I have learnt a lot, the one who put Japanese fashion on the global map, was Issey Miyake. My first show was for Valentino. I had Jerry Hall on one side and Iman on the other. Iman told me: 'Just be natural'.
Fashion for development…
I had designed for a lot of my fashion fraternity friends before I did my first collection in 1996, for a show in Paris. It was supported by Unesco and was held at their headquarters. Of course I showed gamchha. I decided to support the weavers of Bangladesh right from my first collection. From that first collection till date, whatever I have done has been handmade. I didn't change the traditional weaving. I simplified it.
I have worked with various types of handlooms. I launched Fashion For Development in 1996. It was built on the idea that fashion could facilitate social, economic and sustainable development. Today it's the biggest thing across the world, the cause of ethical fashion. I feel great... I have been doing it for years. This has been something close to my heart forever and this is the only thing I do.
When I decided to give up everything and come back (to Bangladesh), the transition was difficult for me. I have studied abroad and it would have been very easy for me to design something out of jersey or chiffon. What I am doing today entails a lot of research and thoughtfulness, but it is very satisfying. I still make a lot of mistakes, but this is something I wanted to do.
When I came back, the first two years were spent in the villages. I came back in January, 1994. It took me two years to settle down and then I didn't look back. I wanted to have enough funds to be self-sufficient when I came back. Till date, whatever I have done is with my own money. I don't have time to write proposals and ask for money. My mental satisfaction is priceless. I do enough to sustain my office.
The idea is to motivate the younger generation. To tell them, don't make it so complicated.
'G' for gamchha…
I have seen gamchha right from my childhood, different kinds of gamchha. It was kind of stuck in my mind. I was amazed by the colour combinations. The gamchha taantis in Bangladesh were below the poverty level and gamchha made me dream. Gamchha diye banayni emon kichhu nei (There's hardly anything I haven't made with gamchha). I am happy that a lot of people are doing gamchha now. Not only in India and Bangladesh, gamchha is big in Vietnam and Cambodia too. Gamchha is cool.
I started with gamchha scarves. It is an extension of the heritage. My gamchha creations are still one of the biggest exports. It was a hit from the beginning. Queen Sofia of Spain and Antonio Banderas have worn my gamchha scarves, among others. Banderas picks up Christmas gifts from me. Madonna has worn gamchha bangles. I have shown at Galeries Lafayette (in Paris) and Harrods (in London).
Rickshaw art...
Gamchha'r porei jeta chokhe bhashto sheta holo (After gamchha, the only thing I could focus on was) rickshaw art. Rickshaw is a part of Bangladesh's culture too. Owing to development, more and more rickshaws are pulled off the road. I wanted to channelise their art into another direction. It's one of my bestsellers. They don't even need to draw. They directly paint. Incredible!
The Bibi look…
I wear all handmade and I wear it my way. Jegulo aamar shokh chhilo (Whatever was my interest while) modelling time e, jegulo portey parini (what I couldn't wear)… like a nose accessory... I wear those . I love stacking it up on my wrists. I always wear silver.
Twenty three years and counting…
Kemon korey ketey gelo, na? (How time has flown by, right?) You know I am working day and night and it is not a complaint. I have also taken motivational classes in universities. I could have perhaps made many collections in that period and made money, but I am not going to give this up. I don't do shows unless they are important. I don't do too many shows in India. I am very fussy. It's taken me a lot of time to build this.
Coming up…
I will be working in Hyderabad, Telangana, which is so wonderful. I work in many different countries which have a history of handlooms. I was focusing on Asia but I will be starting work in Europe soon again.
I will be working with a lot of recycled things. I am doing a lot of tunics… plain, striped and checks. I am playing around with stripes and a variety of tie-dye and hand crochet. I want to work in Calcutta too.
Behind the scenes…
I lead a very simple life. I live in a rented house. My sons work in Google and BBC. They speak perfect Bangla. Tumi teen haath dur thekei bujhtey parbey aamar chheley (You can understand that they are my children from afar)! 
A mop of hair. Her trademark rickshaw-art glasses perched right above her silver nose ring. Stacks of colourful bangles on both wrists. An earthy sari. Very cool, the Bibi Russell way. The Bangladeshi fashion designer credited for raising the status of the humble gamchha (cotton towel) to the domain of fashionable clothing, greets us warmly as we meet her at a Ballygunge address recently when she was in town. The London College of Fashion graduate who modelled with the likes of Jerry Hall and Iman, is also a true-blue Bangali who celebrates the first day of the Bengali New Year without fail, and who loves walking "khali paay (barefoot)". She is a nomad with roots. The Telegraph heard her story.
Bibi, the name…
My father gave me the name and I would get very angry right from childhood. 'Kar Bibi (whose wife)?!' 'Shaheb Bibi Golam!' Aamai khepato (they would tease me). When I went abroad, I realised how easy it was to pronounce my name.
From Dhaka to London College of Fashion...
I was born in Chittagong and grew up in Dhaka. My dad had a cultural bent of mind. I was very small when I saw Tripti and Sombhu Mitra's Raktakarabi. I have been to S.D. Burman's house to listen to music. He was my baba's friend. Except my father, everyone else in my extended family were majorly into politics. Only we five siblings didn't get into politics. I wasn't academically oriented. I got a sewing machine when I was 10. The vegetable sellers would come dressed in lungis and gamchha. It was fascinating... such lovely colour combinations!
When I was 13-14, my dad got me a Chanel book. That really made me realise that you have to know the grammar of fashion. My dad got me the prospectus of London College of Fashion; this was in the '70s. When I went there, they turned me back because I didn't have an O-level in art or fashion. In July they called me saying an American girl had dropped out of an interview and I could sit for one. The interview was at 11am. I reached at 10am. The secretary told me I had zero chance but 'you have troubled us so much, the principal said to call you'. She told me the English have a dry sense of humour and that I should not take anything personally. The panel knew my name. 'So you are that girl!' I had written to them so many times! They asked me to spell Bangladesh… asked me about basic, primary colours, what's a triangle or a square... aami kintu uttar diyechhi (but I did answer them)!
When they asked me about technical things, I couldn't answer even one. I was wearing a tunic I had made, with jeans, and had thrown in a scarf too, which also I had made. They loved it. The secretary said they wanted me to wait. Later they told me: 'We haven't come across anyone who wants to study in a college so much, yet knows nothing'. They agreed to take me on one condition, that I would have to do all the evening classes. They also asked me if I could afford it, because it was expensive. I said I would manage. I worked as a postwoman for six months. They also told me that if I didn't fare well in six months, they wouldn't want me to waste their time.
London College of Fashion taught me to keep my eyes open. They selected me to represent the college in a prestigious contest and the entire college helped me. I stood first. That scholarship helped me to get through with the expenses. My teachers used to love me. They would tell me: 'Here comes the sunshine'.