Ritabhari Chakraborty on love, rejection and moving on
Life lessons that have helped the actress cope and look back not in regret, but in high spirits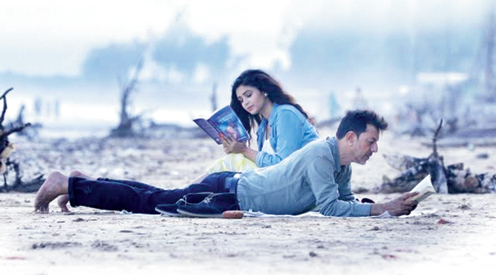 Ritabhari Chakraborty and Rajat Kapoor in How About A Kiss?
Still from the film
---
Published 30.04.20, 05:12 PM
|
---
Ritabhari Chakraborty laughs out loud while chatting about the genesis of How About A Kiss?, a short film now showing on Zee 5, that she has written and her mother Satarupa Sanyal has directed. She plays Pari in the 24-minute watch, a student down in the dumps. Anand, her professor, played by Rajat Kapoor, lends a helping hand and a bond is forged. How both of them perceive the bond makes the short.
Heartbreak and finally acceptance are at the core, life lessons that have helped the actress cope and look back not in regret, but in high spirits.
The Telegraph chats.
How About A Kiss? is out after two years...
(Laughs) Yes, it took that long. The plus side of being a producer (co-produced by Friends Communication and Ritabhari's Scud) is that I get to call the shots. But if I get busy with my own work, then things get delayed because I like to supervise everything. This is my first short for which I have received zero negative response. It is a slice-of-life kind of a story.
It is relatable...
It is a common problem that we are all going through... the existential crisis, especially because of social media... we all tend to compare our lives and feel the other person has a better life. Having a normal life doesn't feel like much any more.
I might not have gone through that... I was the worst comparison for anybody who was trying to compare themselves with me. They had more time to spend with their friends and I wish I had it too....
We don't really go into what kind of an existential crisis Pari is going through, because it is a short, but the idea is that she is going through it because she doesn't seem to fit in anywhere. Anand tries to help in his own way, and he actually makes her feel better by rekindling feelings. We have become so superficial that we don't risk feeling feelings.
The film also talks about forgiving yourself, acceptance and moving on. Are you forgiving to yourself?
I try a hell lot, but the conditioning is of thousands of years.... As a woman it is hard to forgive yourself when everyone around you is so amazing! I am super sensitive and over the years, I have tried to come to terms with the fact that it's okay... it is almost a trophy to be sensitive, but also most of the psychological setbacks I have had are because I am sensitive.
Pari had to come to terms with the fact that Anand doesn't love her. But at the end she had lost her fear of not being able to relate to new people.... she was going to university.
When I started working in the industry, I couldn't relate to people. And, you are working with different teams all the time. Eventually I have come to peace with the fact that it's fine.... I don't force myself to become friends and also don't assume that they are my enemies. I just let it flow. Also, I'll never be a 'socialite' to get work, which is also fine.... I can't be texting Anushka (Sharma, her Pari co-star) just because I have worked with her. Gaaye pore bondhutyo ta thik hobe na aamar dara.
Moving on in life is also important...
Very! I think we are stuck with both good and bad things. When I did Ogo Bodhu Shundori, Lolita was so popular, but I was glad that I was young and naive not to stay stuck with her. I didn't want to get typecast.
You also have to move on from your ego. In Calcutta people know me, but I still don't take it for granted. In Bombay, most of them still don't know me... so, you have to introduce yourself. And every time you do that, your ego takes a back seat. 'Dude, you are not as important as you think you are'. I didn't have to work hard to do this. I travel so much that I am constantly introducing myself!
What about relationships? Are you good at taking rejections?
I am terrible at taking rejections. I am the worst loser in the world. Because of the demand and supply issue, it is never difficult for women to get men! (Laughs) And, neither is it difficult to move on. The difficulty lies in the fact that we all get attached. You want to commit and you want him to miraculously transform and 99 per cent of the time, that doesn't happen. (Laughs out loud) I feel when your expectations are not met, that is also a kind of rejection. I have, touch wood, not exactly been rejected by any guy and I don't have sour equations with my exes.
How About A Kiss? is inspired by a true chapter in your life...
He was guy I went out with and really liked, but there was a long-distance issue. He lived in the US and I had no intention of moving there. He was like, 'We have no future... so we shouldn't be doing this'... I took that rejection so bad (laughs). I had stormed out. So mature!
I wanted to move to the States and prove him wrong! Of course he thought I was insane and I cannot blame him for that! It wasn't like I was in a relationship. It was great chemistry which you think can be potentially a good relationship!
Has the definition of love changed then over the years for you?
I am a hopeless romantic. When I was a teenager, I would only focus on how good I would feel being with that person. Now I let that particular phase settle, because maybe it is not love... you just needed to feel special.
You should be in the same boat. I am too young to have figured out love... but love can consume you, so, it should come to us when we are a little wise!