Riddhi Sen on his upcoming film Bismillah, his stagecraft and plans for Swapnasandhani
The Nagarkirtan actor plays a shehnai player who loves the flute in Indraadip Das Gupta's August 19 film 'Bismillah'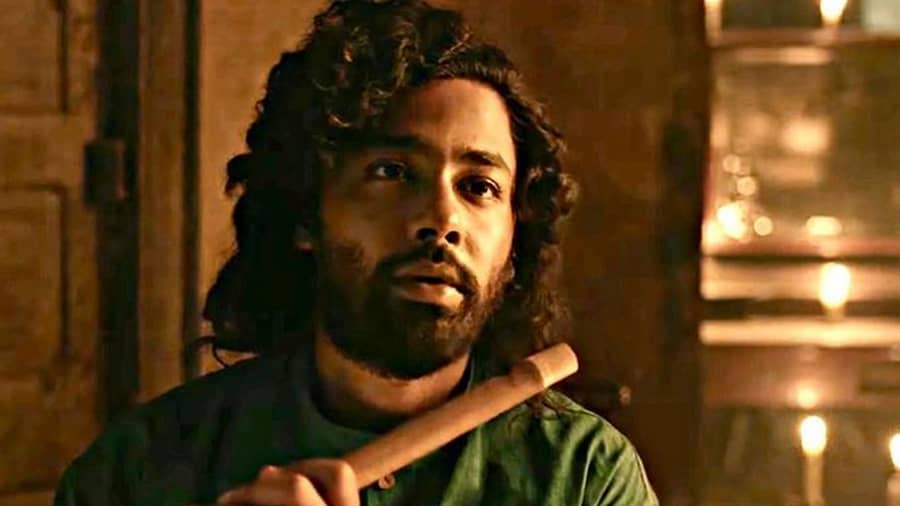 Riddhi Sen in 'Bismillah'
@riddhi_sen_/Instagram
---
Calcutta
|
Published 05.08.22, 04:22 PM
|
---
National Award-winning actor Riddhi Sen is set to enthral us once again with Bismillah, releasing on August 19. Directed by Indraadip Das Gupta, the film also stars Kaushik Ganguly and Subhashree Ganguly. In a freewheeling chat, Riddhi tells us why he chose to be a part of Bismillah, his journey with Swapnasandhani and his plans for theatre. 
Tell us about Bismillah and your role in the film. 
Riddhi Sen: This film is very important, considering the time we are going through. Bismillah talks about the journey of a musician. Music does not subscribe to any religion because art is a religion in itself and any art form unites people.  
I play Bismillah, who is a shehnai player. The tradition runs in his family, which is depicted through the character of Bismillah's father (played by Kaushik Ganguly), a veteran shehnai player who introduces him to the world of shehnai. Bismillah also loves to play the flute. Thus, he steps into this world of music to find happiness, love and spread communal harmony through music. The hardships he faces along his journey form the crux of the film.
How was it working with Kaushik Ganguly, Subhashree and Surangana?
Riddhi Sen: Kaushik Ganguly was my director in Nagarkirtan. We share a beautiful bond and professional ease. He is not only an amazing writer and director but also an amazing actor. I trust his instincts blindly when I work with him. The same equation got repeated in a different way when I was his co-actor in Bismillah. I enjoyed every bit — learning from him and what he was doing on the set as an actor.
Surangana and I have known each other for 10 years now and we share a lot of professional space on stage, web series and films. There's a huge comfort zone, but I feel that is also a disadvantage. Since we know each other too well, sometimes we have to unlearn everything on set. That is the fun bit because our viewers are used to seeing us around a lot. Portraying that we don't know each other and are falling in love, or are getting to know each other for the first time, has to be authentic.
I worked with Subhashreedi (Ganguly) for the first time and she is such an amazing person to work with. She gives a lot of scope for improvisation, which I love. The relationship we share in Bismillah is also unconventional. It has an allegory of the Radha-Krishna relationship. It is, interestingly, placed in a cross-religious way that I think people are going to enjoy, and it also makes an important statement at this point in time.
Any on-the-set moment that you'll always remember?
Riddhi Sen: The entire shehnai-playing part was extremely interesting, difficult and a nightmare at the same time. Shehnai is a difficult instrument and we don't get that amount of time to actually learn a particular instrument. For example, in La La Land, Ryan Gosling literally learnt how to play the piano; he was training for a year for the film. We don't exactly get a situation like that. Just to replicate or pretend to play a shehnai player was very difficult. I had to practise my hand gestures and movements. I also had to work on my physicality. I had to maintain a strict diet and exercise every day in between shoots.
What made you take up this film?
Riddhi Sen: Bismillah holds a very important message that I feel should be hammered now more than ever, especially when our country is in a situation where communal harmony is constantly disturbed, very tactfully and politically, I must say. And also we are going through a time when one section of society is trying to make a larger section of people forget our roots. It is very important to actually remind them of our rich history of cultural and religious diversity that Bismillah showcases in myriad ways.
Are there any similarities between Bismillah and Riddhi?
Riddhi Sen: Not really. But, from a philosophical aspect, how Bismillah sees the world in terms of the idea of harmony — that is something I definitely believe in.
You are very involved with your theatre group Swapnasandhani. What do you love about the group?
Riddhi Sen: The most beautiful part about Swapnasandhani is how it has constantly changed over the years — catering to the times and rediscovering the relevance of theatre during turbulent times. Last year marked our 30th with our latest production, William Shakespeare's Hamlet. People watch our plays not because of the rich theatrical heritage but because they are relevant and have something new to offer.
What is your role in the theatre group?
Riddhi Sen: I am an avid admirer and audience of Swapnasandhani. As an actor, I absolutely enjoy performing on stage. We have recently staged Hamlet, where I played the titular role. That has been a life-changing experience for me because every actor, all over the world, wants to perform Hamlet at least once in their life.
We were lucky and extremely privileged that actor Naseeruddin Shah came down to watch our first show. He inaugurated Swapnasandhani's 30th year, watched Hamlet and absolutely loved it. He wrote a review that we are going to publish very soon. He had said to my father (Koushik Sen), 'You should stage Hamlet once because Riddhi is in the right age to play Hamlet'. That was a huge honour for our group and a memorable experience.
I would like to direct a play someday for sure. I already directed one (Blank Fire) last year for Swapnasandhani. I interact with the new members of the group and conduct many rehearsals and workshop sessions with our existing team members.
What are the future plans for Swapnasandhani?
Riddhi Sen: My father has been really thinking, and we both have had a discussion to take theatre beyond proscenium, experiencing intimate space, and to establish theatre as a life skill in remote areas. It's a long-term plan.
Do you always give inputs before staging a play?
Riddhi Sen: That I do. I often end up being a little critical during rehearsals, design, music or during the writing of a play. I am very particular about music. During the making of a play, I have a lot of ideas about the directorial part, like how a scene should be carved out in terms of composition. That is something I and my father keep debating about. My father, mother (Reshmi) and I sit down and analyse after rehearsal, telling each other where we are going wrong and what can be done to improve.
What are your directorial plans when it comes to theatre?
Riddhi Sen: I don't know as of now, but I am preparing for a film. I shot Coldfire in 2020 in a very elaborate way and that has been an eye-opening experience for me. I definitely want to tell more stories, but I don't want to rush because I need to learn the craft first. So, let's see, by this year or next year I'll definitely end up directing something.
If there are three adaptations that you would like to do for Swapnasandhani, which ones would they be?
Riddhi Sen: My father wrote a play during the 2020 lockdown that we premiered, it's called Kobir'r Bondhura, where Suman Mukhopadhyay played the protagonist. It is a play which is done, but I would like to change it in certain ways and present it in a different way.
The second is Jean Paul Sartre's No Exit, a version of which was done by Anirbanda (Bhattacharya) which was called Berobar Poth Nei. No Exit is a play that has always fascinated me, and there are a myriad of ways to interpret it, something I would like to do if I direct a play someday.
And then there's a musical that I want to do, which is Billy Elliot. It's a famous film, and then the stage adaptation happened, of a boy wanting to become a ballet dancer in an extremely orthodox north England. The musical fascinated me when I watched it in Toronto. I want to adapt it in an Indian context.
If you adapt a book into a film, which would it be?
Riddhi Sen: I would definitely adapt one of the novels of José Saramago, who won the Nobel Prize for Literature (1998). He has some groundbreaking work, two of which are Seeing and Blindness. I want to adapt either of these two books.
Which are your favourite on-stage moments with dad and mum?
Riddhi Sen: My father and I haven't shared much of the stage together; we have shared screen more than that. The thing that I like about me and my father is how we become great friends on stage. We are critical of each other, tell each other what can be done better, brainstorm and enjoy the process together like friends.
I have always been an ardent admirer of my mother (Reshmi Sen) as a stage actor. I share a lot of stage with her. It has been quite a memorable experience for me this time (during the staging of Hamlet) because she played Gertrude and I played Hamlet.
What's next from Swapnasandhani?
Riddhi Sen: We have not decided yet. We have just started off with Hamlet and it has been four shows, and we want to continue with this production for quite some time.
There is good news for Swapnasandhani fans. It is the tenth time that we have got to the Bharat Rang Mahotsav at the National School of Drama. Our play Taray Taray on Vincent van Gogh got selected and we are going to perform it in Delhi this year.
What films do you have in the pipeline?
Riddhi Sen: I have been in talks for a Hindi project, a web series, which might unfold in November or December. I have done two Bengali films with Pavel — one is called Mon Kharap, in which I have shared screen with my father. It will release sometime at the end of this year. The other is Daktar Kaku, in which Bumba kaku (Prosenjit Chatterjee) and I play father and son. This is slated for an early release next year.