Revisit these Bengali films frontlined by Nandita Das on the actress's birthday
Nandita Das worked with three icons of Bengali cinema – Mrinal Sen, Soumitra Chatterjee and Rituparno Ghosh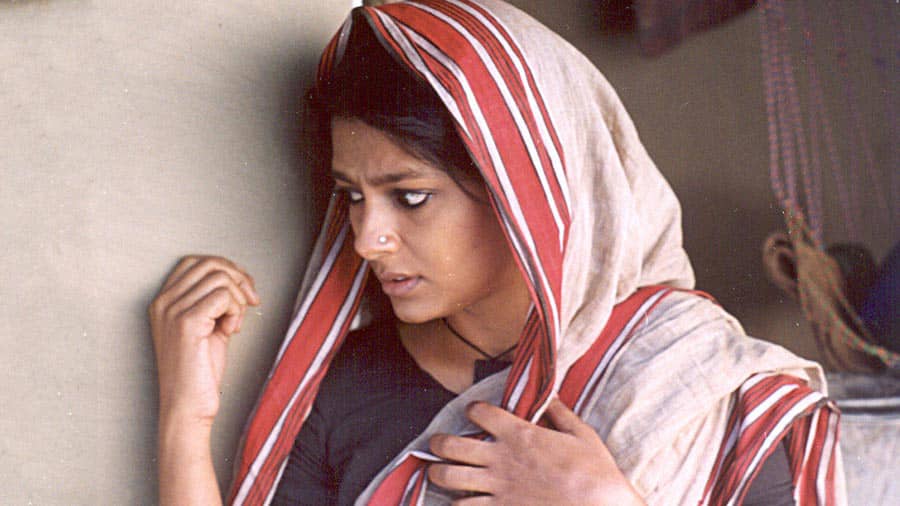 Nandita's performance in Aamaar Bhuvan won her the Best Actress Award at the Cairo International Film Festival, 2002.
Nandita Das
---
Calcutta
|
Published 07.11.22, 12:31 PM
|
---
Is Nandita Das a Bengali?
That's something that figures high on the most frequently asked questions about Nandita Das on Google. Well, she's not – she's from neighbouring Odisha – but that hasn't stopped her from doing Bengali films or being close friends with three dear and departed icons of Bengali cinema – Mrinal Sen, Soumitra Chatterjee and Rituparno Ghosh. In a career spanning three decades, Nandita has acted in over 40 feature films in 10 different languages. On her 53rd birthday, we narrow-focus on three Bengali films she frontlined.
Aamaar Bhuvan (2002)
Mrinal Sen's swansong as a director, Aamaar Bhuvan does away with conventional storytelling. A relationship triangle involving Nur (Saswata Chatterjee), Sakhina (Nandita Das) and Meher (Kaushik Sen), the film is a social commentary on gender equations and more, set in a small village of India.
Sakhina's first husband Nur, who had divorced her and migrated to the Gulf, has now returned to the village with his new wife and new-found wealth. His return causes ripples in Sakhina's life as she is torn between her embarrassment over her past relationship and her present bond with Meher and their three children. Nandita portrays this dilemma with an understated sensitivity, a performance that won her the Best Actress Award at the Cairo International Film Festival.
Shubho Mahurat (2003)
One of the best adaptations of an Agatha Christie novel in India, Rituparno Ghosh's Shubho Mahurat is much more than just a whodunnit. Ghosh delves deep into the psyche of his characters, to explore the dark recesses of what makes a person commit a crime. Inspired by The Mirror Crack'd from Side to Side, the film revolves around a veteran actress who dies while giving an interview to a journalist, Mallika Sen (played by Nandita Das). Mallika is both a catalyst for the plot and the bridge between the characters as her Ranga Pishima (Rakhee) goes about solving the murder mystery with yesterday's diva Padmini Chowdhury (Sharmila Tagore) at the epicentre. Nandita plays your girl-next-door in this taut drama about relationships and revenge. Mallika's dynamics with an investigative officer and a photographer spice things up further. Ghosh's casting coup of Sharmila Tagore and Rakhee aside, Nandita delights in a charming portrayal of a reporter on the hunt. 
Podokkhep (2006)
Directed by Suman Ghosh, Podokkhep traces the unusual friendship between a senior citizen (Soumitra Chatterjee) and a little girl. Also central to the film is a strained father-daughter relationship and how she finally stands up for him in a moment of crisis. Nandita slips effortlessly into the role of a working woman balancing her career and her personal responsibilities. Adding a tinge of complexity is her relationship with a Muslim boyfriend. Podokkhep went on to win Soumitra Chatterjee his first Best Actor National Award, and also two young friends for life – Suman Ghosh and Nandita Das.