Review: Season 2 of The Family Man
Nine episodes of adrenaline rush that not only takes the best from Season 1, but also betters it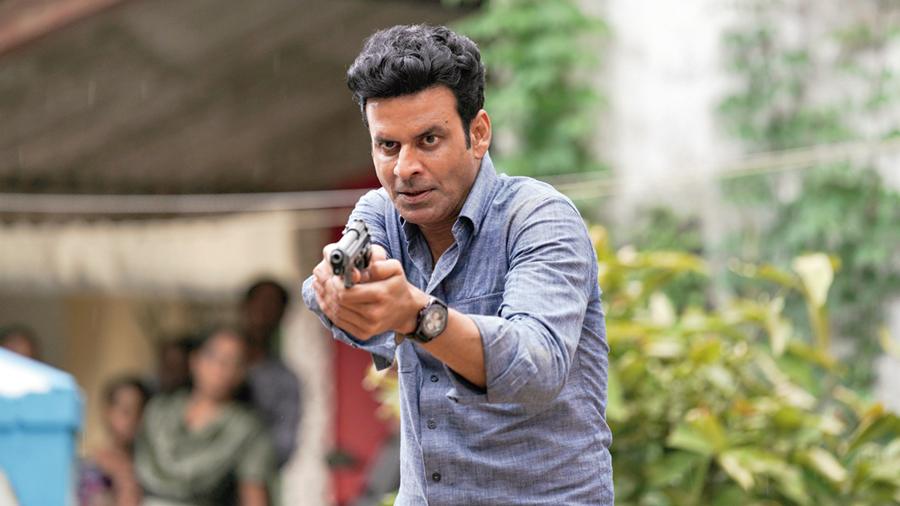 Manoj Bajpayee is the beating heart of the show, bringing humaneness and humour, volatility and vulnerability to his part. He plays Srikant in the way only a seasoned actor like him can.
Sourced by The Telegraph
---
Published 04.06.21, 09:49 PM
|
---
When it burst into the Indian original streaming space two years ago, The Family Man scored, among many other things, for turning the genre of the espionage thriller on its head. Creators Raj & DK — always known for throwing a curveball with their content on screens big and small — gave us a super agent unlike any other.
Srikant Tiwari — played by the ever-chameleonic Manoj Bajpayee — didn't swing from skyscrapers like Ethan Hunt or pull off cool lines and cooler gadgets like James Bond. An average Joe tasked with foiling attacks to annihilate the country, Srikant's ticking time-bomb of a brain turned out to be his most valuable asset, giving us a desi hero we could root for, even as his inability to negotiate his way on home turf brought on the laughs, and to a large extent, The Family Man's relatability factor.
With Season 2 that dropped this weekend, Raj & DK continue the trope and tradition of surprising the viewer by not immediately focusing on what's kept us on tenterhooks ever since the first season ended. The nerve gas attack in Delhi, that Srikant and Co. were desperately racing against time to thwart, becomes a backstory, with the fallout of that incident skilfully being used to underscore the mood and motivations of its key players in Season 2.
So we see Srikant, in Season 2 being well, 'the family man'. Giving up the thrill of chasing terrorists and saving the country, the man now spends his days being reprimanded for being a "minimum guy" by his overly rude boss, cooking daily meals and trying his best to bond with his family, even as his marriage with Suchi (played by Priyamani) continues to disintegrate.
"It's no longer your job to save the world," Srikant's close buddy and colleague JK (Sharib Hashmi) reminds him towards the beginning. But it's not long before Srikant has to step up to be the "maximum guy" he's always been, getting back on the field as a covert operative and battling a new enemy even as an old adversary rears its ugly head.
A storm is literally brewing on the shores of Chennai, with its roots stretching from Sri Lanka to London. The Sri Lankan Tamil struggle for independence may have ended, but some of its rebels, scattered across the globe and aiming to get their government in exile recognised by European super powers, are looking to hit back, with India's support to Sri Lanka being a reason to prompt them to attack this country and signal the resurgence of their movement.
Buoyed by Pakistani support, their chief operative is the highly-trained Raji (Samantha Akkineni, making her digital debut) who will stop at nothing to carry out her mission.
What results is nine episodes of adrenaline rush that not only takes the best from Season 1 but betters it. This season, the show expands its ambit as well as its ambition to function in a geopolitical climate where the stakes are much higher. For Srikant not only has to be the super agent he's always been terrific at being, but also put his family first, a struggle he's perpetually faced with, when the enemy comes knocking at his door. Suparn Varma, brought in in Season 2 to direct a script written by Raj & DK along with Suman Kumar, hits the ground running. There's never a dull moment as the action shifts to Chennai, with Srikant's frenzied race against time to foil a 9/11-styled plot expertly juxtaposed against the rising tensions at home, ending in a twist that brings the father in him to the forefront.
Balance is what defines this season of The Family Man. The show exposes a ruthless enemy, but also humanises her, with Samantha Akkineni, despite the unnecessary brownface as Raji, delivering a chilling but  compassionate act. We also witness a balance, similar to Season 1, where serious moments are offset by unlikely humour, a lot of which comes from Srikant himself and his interactions with his kids and with JK. After making one cringe initially, the stereotyped north vs south and the predictable idli-sambhar jokes, are thankfully bid a quick goodbye.  
A winning combination of action and tension blend seamlessly in Season 2, enabling the makers to bombard the screen with some breathlessly choreographed shootout sequences, which are expertly shot semi-guerilla-style by Cameron Eric Bryson. The most striking among them is the feverish single-take shootout at a countryside police station, similar in pace and pressure to the hospital shootout scene in the first season. The chase sequence at the end, even at the risk of reminding you of an Akshay Kumar Khiladi franchise scene, is another standout.
The breakneck tempo finds an equipoise in moments of high emotion, with Srikant and his colleagues' single-minded mission to protect, tempered with an almost existential and a clear ideological crisis about whether they really are the good guys and who are they really protecting. It's a question that's highly relevant in the circumstances we as a country find ourselves in today.
Authenticity plays a key role in making Season 2 stand out, and that's illustrated by how the makers, delivering what is a global show now streaming in over 200 countries, choose to go with Tamil for a large part of the nine episodes. The show also gets most of its politics right. Point to be noted: the Prime Minister is a woman called Basu, who mostly refers to herself in third person in Bengali-tinged Hindi. Played by Seema Biswas, she is never really likable.
Manoj Bajpayee is, of course, the beating heart of the show, bringing humaneness and humour, volatility and vulnerability to his part. He plays Srikant in the way only a seasoned actor like him can, his impeccable acting helping us overlook the show's rare shortcomings. Sharib Hashmi and Priyamani pitch in with solid acts and so do the rest of the cast, even if the Srikant-Suchi marriage gets short shrift in Season 2.
In true The Family Man style, Season 2 ends on a double-edged cliffhanger. One takes place in a kitchen and one in Calcutta, indicating that a grittier Season 3 is afoot, most probably in this city. Game on!