Prince Harry bares his soul to Oparah in 'The Me You Can't See'
The docu-series is the torturous emotional journey not of a prince or a singer; it can be any of us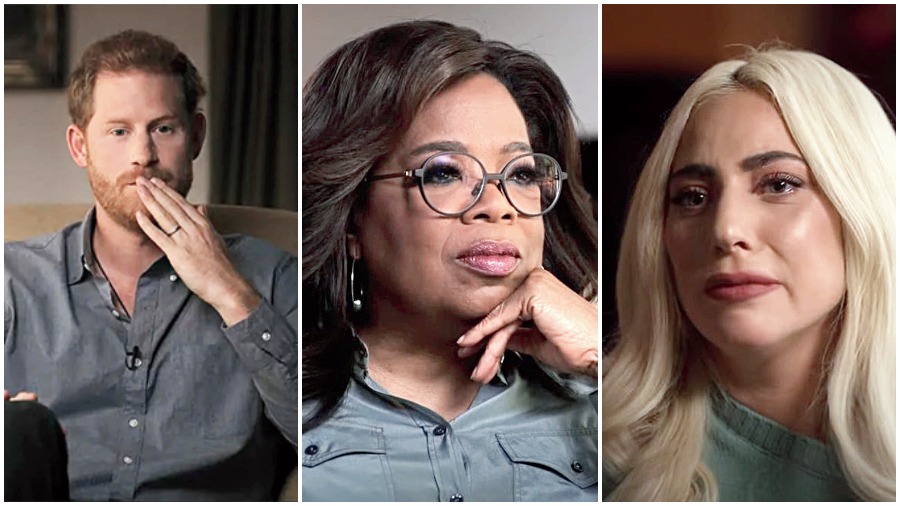 Prince Harry has been in therapy for four years while Oprah Winfrey and Lady Gaga have also had their share of trauma. Hear them on the new Apple TV+ docu series, The Me You Can't See.
Pictures: Apple TV+
---
Published 24.05.21, 01:00 AM
|
---
The sun usually came out in full force over the rolling gardens of Buckingham Palace but the surreal scene kept failing to sweep away the muck of bleakness clouding Prince Harry's mind, during his teenage years and later. What could be so wrong with the prince? Everything.
"I was willing to drink, I was willing to take drugs, I was willing to try and do the things that made me feel less like I was feeling," he says in a new documentary series exploring mental health and emotional well-being. Day after day, he travelled "strapped in the car, seatbelt across, with my brother in the car as well, and my mother driving", chased by paparazzi on mopeds. "She was always unable to drive because of tears. There was no protection," he says in The Me You Can't See, which is showcasing on Apple TV+.
It's been four years he has been in therapy, which may not seem like a long time to those on the other side of the screen, but that's judging him. Had he not seen a therapist, he would have lost everything — his wife Meghan Markle, a life that now has some semblance of reality and, very importantly, a chance break a hamster-on-a-wheel cycle of telling his son, Archie Mountbatten-Windsor, to be strong by burying his head in the sand.
Images of his father Prince Charles giving him a glassy stare are not uncommon. Equally common are videos of Prince Harry looking uncomfortable, beads of sweat dripping down his temples while in public. "Just because you suffered doesn't mean that your kids have to suffer. In fact, it's quite the opposite. If you suffered, do everything you can to make sure that whatever negative experiences you had, that you can make it right for your kids," he says.
Perhaps too much is being read into the relationship he now shares with his brother Prince William but the image of the royal household being unfriendly — to say the least — cannot be discounted. After Meghan Markle and Prince Harry's recent bombshell interview with CBS, one realises that things really haven't changed and lessons really haven't been learned by the royal family since Princess Diana's death in 1997.
But The Me You Can't See is not about Prince Harry. His presence is more of a catalyst; it makes us realise that we really don't have to put on a show. We are all vulnerable. The Apple TV+ show, in fact, doesn't want you to cling on to just a prince's words. Celebrity chef Rashad Armstead had his share of demons when he was depressed and dealing with anxiety. He barely ate and could hardly pick himself up from the mattress.
Equally moving is Lady Gaga's story, who in the documentary is simply Stefani, the girl who was raped and left pregnant at age 19. "I was 19 years old, and I was working in the (music) business, and a producer said to me, 'Take your clothes off,'" she says. She didn't. And then she was threatened that all her music was going to be burned. "They didn't stop asking me, and then I just froze and I just... I don't even remember." The moment will obviously not go away from her memory and she is still not confident enough to name her attacker. "I understand this #Metoo movement, I understand that some others feel really comfortable with this, and I do not, I do not ever want to face that person again."
Years later, the singer was diagnosed with PTSD. "First, I felt full-on pain, then I went numb. Then I was sick for weeks and weeks and weeks and weeks after," she adds. "And I realised it was the same pain I felt when the person who raped me dropped me off pregnant on the corner, at my parents' house, because I was vomiting, and sick. Because I'd been being abused, I was locked away in a studio for months. The way that I feel when I feel pain is how I felt after I was raped," says the singer.
By the time the first episode heads towards its final moments, when you think the journey can't get any darker, Oprah Winfrey herself breaks down, saying that young girls are never safe. One of the most influential women globally, she spoke of how she was whipped by her grandmother, was made to sleep on an outdoor porch by her mother and how she was raped by a 19-year-old cousin at age nine, when she didn't even know what sex and rape were.
And these same incidents are being played out in every other neighbourhood. The Me You Can't See simply makes viewers appreciate the people we can trust… with them we don't have to pretend to be somebody else.
The Me You Can't See is now available on Apple TV+