'Ranveer was in Murad mode throughout the shoot': Vijay Varma
Vijay Varma who plays Moeen in Gully Boy talks about his character, acting with Ranveer Singh and the Indian hip-hop scene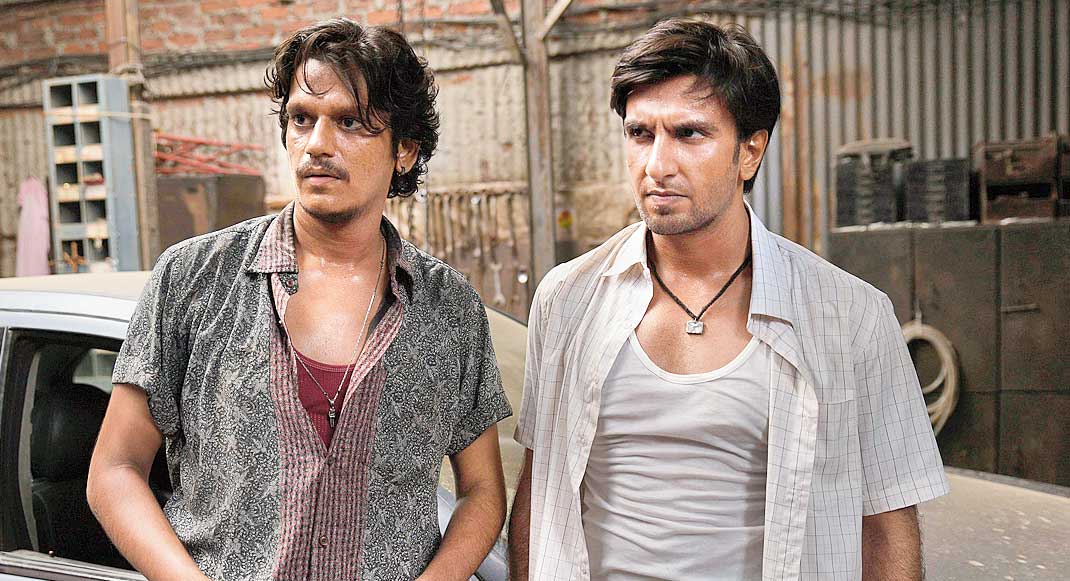 Vijay Varma with Ranveer Singh in Gully Boy.
(Still from movie)
---
Published 20.02.19, 01:27 PM
|
---
There are reflections of Gully Boy in the real-life story of actor Vijay Varma, who plays Moeen in the film. Born in a Marwari family in Hyderabad, it was expected that Vijay would join the family business. Only he wanted more from life. In a family that didn't give any importance to education, he went on to complete his graduation.
"I was perhaps the first in seven generations to step into a college. Most of my relatives were either 10th pass or 10th fail," he says. Still looking for his dream job, he tried his hand at selling phones, modelling and working in a call centre.
Vijay had never acted before he applied to study at the Film and Television Institute of India in Pune. He didn't get through, but while workshopping for the auditions there, he found his passion. "Those four days of acting were the happiest days of my life," he says. He joined a theatre company once he returned to Hyderabad and two years later applied to FTII again. This time he got through but his father refused to support his dream. "A friend stepped in and paid my fees."
This is not very different from the central narrative of Gully Boy that tells the story of Dharavi native Murad (Ranveer Singh) who dares to dream of a life different from his family's.
Having made his big-screen debut in the 2012 film Chittagong, Vijay, 34, has been looking for that elusive breakout role. t2 chatted with the Pink actor about one of Gully Boy's best scenes, working with Ranveer and what his family thinks of his career choice now.
Congratulations! Has it been a weekend of celebrations?
(Laughs) Thank you. It should have been, but I had committed to a photoshoot in Alibaug so I was mostly without network all of Saturday. On Sunday, I went with a few friends who wanted to watch the film in the theatre and then joined Zoya (Akhtar, the film's director) at Gaiety (a theatre in Bandra where Zoya watched films all her childhood) to watch the second half. It was insane to see the crowd's reaction. I have never experienced anything like this for any of my films. Also, the reactions are what masala films get — the whistles and people singing along; I didn't think people would react like this to a film about hip-hop.
Moeen is someone who carjacks and uses kids as couriers in his drug business, but he is also a nice person. What was your sense of him?
There are just so many layers to him. He steals cars but helps out a friend in need. He sells drugs but feeds and looks after young kids who have no one. For me, Moeen was the other side of what could happen to a young man living in those circumstances. While Murad had dreams, Moeen was just surviving. He did whatever he could to keep his head above water. It was important for the audience to see that if Murad didn't have dreams, he could very easily become Moeen.
That jail scene between Murad and Moeen was heartbreaking. What did Zoya tell you about that scene?
Thank you. One important character trait about Moeen is his false bravado. That needed to come through in this scene. Even though he is in jail, he wants to show that he is fine. It was a very small set and there were very few people around. Ranveer and I hadn't rehearsed the scene before. We had just run lines together. So, I didn't really know what he could bring to the scene. I sat quietly in the jail, psyching myself and trying to remember where all I had got hurt so I would walk appropriately. And Ranveer was sitting in a corner outside, with his headphones plugged in.
Once Zoya called 'Action' and we started, I realised the kind of emotion that Ranveer was bringing in. It was something I will never forget. I had suggested a small change where at the end Moeen says, 'Kaam bhaari karne ka, Moeen bhai ka bill bharne ka, rap ho gaya chhote'. I thought even though it was a very emotional scene, Moeen is not someone who would break down. He'd do something to lighten the moment.
What was Ranveer like on set?
He was Murad. Even when the cameras weren't rolling, he was mostly quiet, just observing things around him. I saw the person we see in pictures and in interviews only at the wrap party. I remember when we were shooting in Dharavi and there were crowds around to see Ranveer the actor and all they saw was Murad, sitting in a corner quietly. I thought to myself that this superstar would shut this place down in an instant but instead he is hiding here in plain sight.
How aware were you about the Indian hip-hop scene before this film came your way?
So, I am a huge fan of American hip-hop. I have been since I heard Eminem's (The Real) Slim Shady album in the '90s. In my hostel, I had a poster that had Snoop (Dogg), Tupac (Shakur) and Eminem. But I knew nothing about the desi scene until I got cast in this movie. I started listening to the tracks and watching the videos. And though it's not as refined as western hip-hop, you have videos that have been shot on phones, but the emotions and the rhythms are there! I am a fan now.
Has your family seen Gully Boy?
Yeah, they have all seen it in the theatre and they have been very supportive. They really liked the film. My father hasn't seen it though… he's going to be a tough nut to crack.