Ranjit Mallick: Experiences gained during shoot for Mrinal Sen's film will stay with me forever
The veteran actor released the script of his 1971 movie Interview, directed by the auteur, at the 46th International Kolkata Book Fair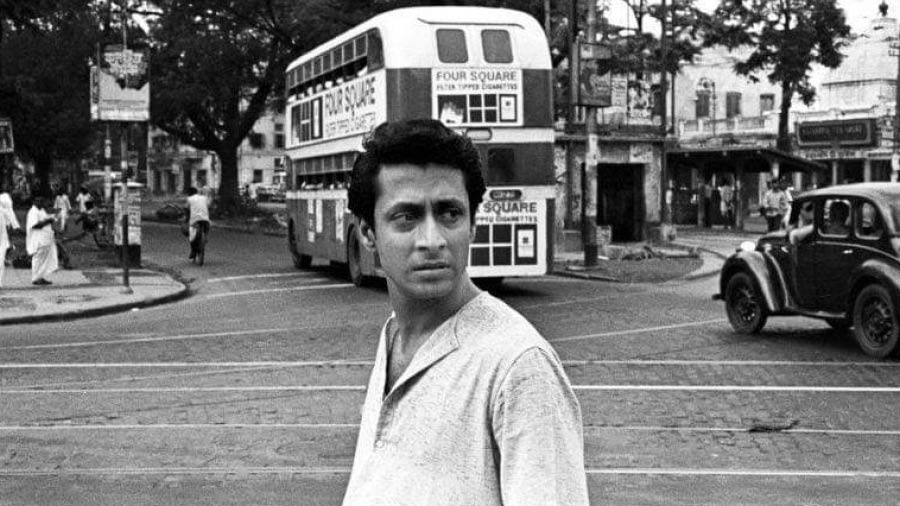 A still of Ranjit Mallick from Mrinal Sen's Interview (1971).
Twitter
---
Kolkata
|
Published 03.02.23, 09:44 AM
|
---
Real and reel lives merged during shoots for auteur Mrinal Sen's films, said actor Ranjit Mallick here on Thursday, releasing the script of the 1971 outing 'Interview', which had documented the unemployment scenario of Kolkata in the 70s.
The 78-year-old actor, while talking about his debut film, shared that he was fortunate to have started his cinematic journey with the master director and the experiences and lessons he received while working with Sen will stay with him forever.
"I remember asking Mrinal da for the script for one of the shots, and he had asked me to say whatever came to my mind. It was a scene on a city street and the camera started rolling. I did what I was asked to, and the shot was later used as part of a montage," he recalled.
"Real and reel lives merged when we worked him," he said during a programme organised to mark the director's birth centenary year, at the 46th International Kolkata Book Fair.
The film, the first instalment of Sen's Calcutta trilogy, also deals with anti-establishment sentiments and other problems faced by the city's middle class population back in the 70s.
Mallick, who has given hits like 'Shotru', 'Mouchak' and 'Sakha Prasakha', noted that his first film will always be more special as that had fetched him the Best Actor award in the Karlovy Vary film festival. "For 45 years since then, I visited him every day on August 2, the day when I was given the award, with a box of sweets," the actor added.
On the occasion, Parimal Mukhopadhyay, the secretary of Cine Central – which organised the programme to celebrate the life and work of Sen – said the film society had a long association with the director, and the script, published in the form of a book, was its attempt to honour his contributions to Indian cinema.
Mukhopadhyay explained that the special edition book also has some of the interviews given by the author to various magazines and newspapers, apart from the script of the 1971 film.
"Cine Central will soon host a film festival to showcase Sen's works," he added.
Sen breathed his last on December 30, 2018, at the age of 95.
Described as one of the founding fathers of Indian Parallel Cinema, next to contemporaries like Satyajit Ray and Ritwik Ghatak, Sen had won accolades at the big three film festivals -- Cannes, Venice and the Berlinale.
Sen was honoured with Padma Bhushan in 1981.
Notable among his works are 'Bhuvan Shome', 'Mrigayaa', 'Akaler Sandhane' and 'Khandhar'. 
Except for the headline, this story has not been edited by The Telegraph Online staff and has been published from a syndicated feed.