Ranjit Barot: 'I wouldn't be the drummer I am today had it not been for John McLaughlin'
The veteran musician opens up on his musical journey and his close collaboration with the likes of A.R. Rahman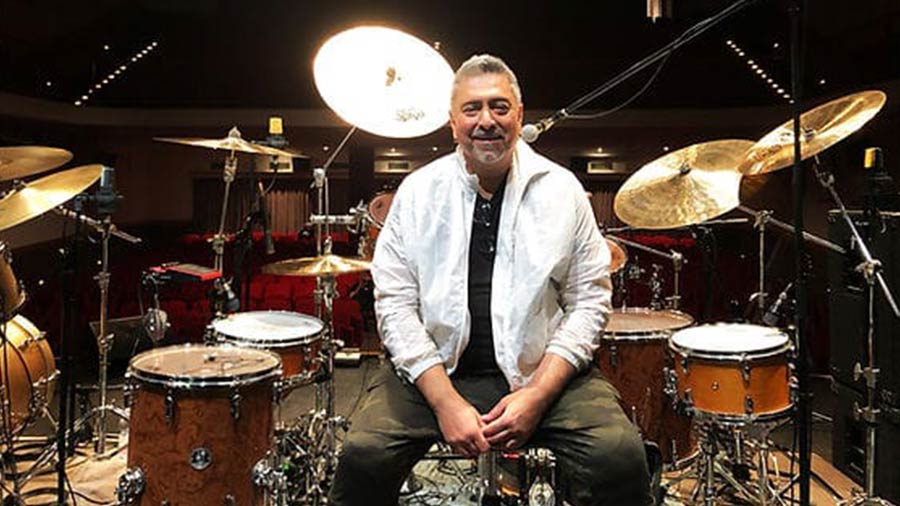 Ranjit Barot has worked as a background music composer for films such as Main Hoon Na and Bhool Bhulaiyaa.
Ranjit Barot
---
Calcutta
|
Published 25.01.23, 01:10 PM
|
---
There are not many things that Ranjit Barot has not done in the world of music. From composing to singing, writing to directing, designing chartbusters for Bollywood to performing live for audiences around the globe, Barot has succeeded across a plethora of roles over the span of almost five decades. Speaking to The Telegraph Online ahead of his latest performance in Mumbai on the night of January 25, Barot, 64, opened up on his career, his deepest influences, and his long association with legends like A.R. Rahman and John McLaughlin. Here are excerpts from the conversation.
You grew up in a family with strong roots in music and dance, especially through your mother, Sitara Devi, a renowned Kathak dancer. How quickly did you gravitate to music and what were some of your most important formative influences?
Ranjit Barot: I think I gravitated to music from inside my mother's womb! I think of my life as being immersed in an amniotic fluid called music. My mother was also my earliest influence, not necessarily in terms of music but more in terms of a 'seize life and make your own destiny' kind of way. Without that, we really have no musical voice. 
As your career has progressed, who have been the artists and musicians you have looked up to and been inspired by?
Ranjit Barot: The earliest mentor outside of my mother would have to be the late, great Ustad Alla Rakha. He and my mother were very close and he'd come over quite often. He exposed me to the infinite possibilities within music and rhythm. He was a saintly man, devoted to life, love and music. 
Of all your roles in music — singing, composing, writing, directing, designing and drumming — which do you enjoy the most?
Ranjit Barot: I enjoy all these aspects of music that live within me. If anything, I'm partial to performing live for audiences. Being on a stage with that kind of interaction is another high. 
On drumming, in particular, how do you manage to combine Western and Eastern/Indian styles so seamlessly?
Ranjit Barot: This is something that came naturally to me. Having been born in the UK and listening to the music of the '60s and '70s there, then moving back to India and being exposed to all the classical masters here, gave me a sense of duality from a very early age. My goal has always been to recognise this marriage of cultures within me and use it as a tool of expression. 
Your work has spanned three to four generations of music directors in India, starting from RD Burman and Kalyanji-Anandji to Anu Malik, Vishal-Sheykhar and Pritam. Which era did you like working in the most?
Ranjit Barot: I've enjoyed and been informed at every stage of my musical journey. I've taken something away from all my collaborations. I've also seen the musical landscape shift and change drastically over this period. The spirit of Indian film music has diminished over time. In our effort to embrace technology and play to the gallery, we've sacrificed something ephemeral in our music in films. As for my favourite composer to work with, I'd have to say that I've had fruitful relationships with all. I've never been in a project where the maximum wasn't demanded of me or I didn't deliver the maximum. 
You were the music composer and sound designer for both the opening and closing ceremonies of the 2010 Commonwealth Games in Delhi. Tell us about that experience.
Ranjit Barot: It was one of the highlights of my career. I got to learn so much from the folk and tribal musicians that came to perform and some of whom I recorded with. We have a massive culture as a country and I promise you that Indians have no idea of the depth of our indigenous culture. 
'I resonate with AR Rahman on his commitment to all things musical and to life'
You have worked with AR Rahman for so many years now, playing a pivotal role in his live concerts. Apart from his obvious talent, what makes him special to work with? 
Ranjit Barot: He has dedicated his life to music and I resonate with him on his commitment to all things musical and to life. It's a very comfortable relationship and a long one now. There's mutual love and respect. I'm very fortunate to call him my friend. 
As part of your partnership with A.R. Rahman, can you help us understand how the creative process works? What have been your favourite collaborations with him thus far?
Ranjit Barot: This is a very difficult question to answer. Each one's approach to composing is a highly personal and intangible thing. All my collaborations with him have been great successes, with the first being Humma. I was supposed to sing that song, and if I had done so, my musical career might have taken a totally different path. I couldn't sing it because I was travelling. Other favourite collaborations with A.R. Rahman include Awaara Bhanwre, Athiradee, and most recently, Param Sundari. How has working with guitar legend John McLaughlin and the iconic 4th Dimension helped you grow and evolve as a musician?
Ranjit Barot: I can definitively say that I wouldn't be the drummer I am today had it not been for the maestro John McLaughlin. His music and his approach to the guitar have informed and shaped me into the jazz musician I am today. Playing with my brothers in the band, Gary Husband and Etienne Mbappe, for the last 12 years has been life-changing.
What are the dream projects you are yet to work on? Who are the artists/musicians you want to work with but have not managed to yet?
Ranjit Barot: Every day, as a composer and a drummer, is a wakeful dream that keeps you engaged, excited, young and restless in the best possible way. It makes you keep raising the bar for yourself. As to future collaborations, there are too many to list here.
What are you working on right now?
Ranjit Barot: Contraband, my jazz ensemble, has taken most of my time recently, leading up to the show at AntiSOCIAL (in Mumbai). I'm also writing some songs in collaboration with some of the biggest singers in India. They will be released soon.
What are you most looking forward to in terms of performing at AntiSOCIAL? Have you performed there before?
Ranjit Barot: I've performed there once. I'm looking forward to sharing some music that I've written, which is being performed by some of the finest talent in our country. I'd like to play more in India, and this is the beginning of me reacquainting myself with audiences here.
The one piece of advice you would give to budding musicians.
Ranjit Barot: Be yourself, don't pay attention to what anyone else is doing unless you're planning to learn from that music or performance.
Lastly, your take on music in and from Kolkata.
Ranjit Barot: Kolkata used to have a very vibrant music scene. From clubs like Blue Fox and Trincas, musicians like Louiz Banks and Carlton Kitto emerged. True jazz players who we all look up to. I'm not so familiar with what's going on there at present. There's a lot of great talent, no doubt, but I think like most cities in India, there's a shortage of venues to play in.