Raju ban gaya...
Rajkumar Hirani has finally cut the umbilical cord from his Munna Bhai backer — Vidhu Vinod Chopra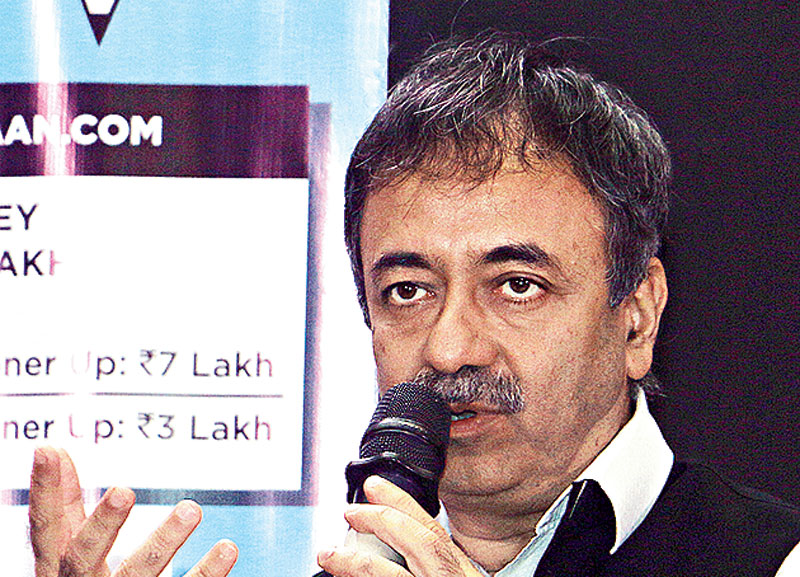 ---
---
A quantum change in equations is on the cards. With Shah Rukh Khan and Rajkumar Hirani shaking hands on a deal to make a film together, the writer-director with a 100 per cent hit rate (5/5 blockbusters) has finally cut the umbilical cord from his Munna Bhai backer — Vidhu Vinod Chopra, who bankrolled his debut.
Insiders know that Raju had gone completely independent more than two films ago. Vidhu really had nothing creative to do in PK, made solely and wholly by Raju with his own handpicked group of players. In fact, it was merely to keep up appearances that Raju operated from one of Vidhu's offices during 3 Idiots and PK. And long before he was ready to roll with Sanju, Raju had shifted bag, baggage and team to his own offices. Insiders also knew that the director had paid his gurudakshina and more to Vidhu for putting his money on him when nobody knew anything about an editor called Raju Hirani who wanted to make a film one day.
The sad truth is that after he backed Raju, Vidhu himself could never deliver a successful film as director.
Munna Bhai MBBS was released in 2003; it catapulted Rajkumar Hirani to the limelight as a director with much promise. Raju, who was always more humble than boastful, lived up to that promise with his next, Lage Raho Munna Bhai in 2006, followed by 3 Idiots in 2009, PK in 2014, and topped off with Sanju in 2018.
What did Vidhu the director do between Raju's debut film and Sanju? He who had wound up the old millennium with an anaemic film called Kareeb in 1998, directed a lavish Amitabh Bachchan-Sanjay Dutt-Saif Ali Khan-Vidya Balan starrer on palace intrigue. Titled Eklavya: The Royal Guard (2007), it too asphyxiated itself at the box office. The next time Vidhu helmed a film was in 2015, when he tried to go international with Broken Horses, which limped at the box office.
Sometimes, a film may fetch great reviews but fail to gallop commercially. But right from Kareeb to Shikara early this month, Vidhu's directorial attempts haven't been feted either by critics or by the audience.
However, as producer he laughed his way to the bank as his films with Hirani kept turning into mini goldmines. To be fair to Vidhu, the producer in him delivered even without Hirani when he unerringly put his money on Parineeta (2005), on an untested new director called Pradeep Sarkar and a new actress called Vidya Balan who'd been unlucky so far with her acting career.
Unfortunately, it's Vidhu Vinod Chopra the director who has taken a beating as it has been a quarter century since he made a successful film. It, therefore, made his partnership with Raju Hirani that much more important for him.
In direct contrast was Raju, who grew into the director with a magic touch, a filmmaker no actor would ever say "no" to. One knows for sure that Raju was straining at the bit to break free but would always capitulate at the last minute to accommodate Vidhu in the credits. Going solo without Vidhu was going to be eternally tough for Raju. But joining hands with Shah Rukh Khan's Red Chillies was the cleverest exit route for him. It's thus win-win for both SRK and Raju, as this director is the best thing that could have happened to the actor's career right now.
Strange how life comes full circle if one were to remember that Shah Rukh was to have been Raju's Munna Bhai had he not stepped out of it. Equations sure have changed vastly since then.
There's another snapping of ties around the corner as Yash Raj Films is said to be ready with the third edition of their Tiger franchise with Salman Khan.
But Abbas Ali Zafar who successfully directed Ek Tha Tiger and Tiger Zinda Hai, and Sultan too, sweated under the strain of helming Bharat. Currently, he has his hands full making his digital debut with a Web series with Saif besides directing Mr India 2 for Zee Studios.
So it does look like Salman will have a new director for his third roar as Tiger.
Bharathi S. Pradhan is a senior journalist and author