Raising a toast to Delhi Crime's Emmy win
I am still on a high and I think I am going to be on a high for a very, very long time! — Shefali Shah chats about Delhi crime's international Emmy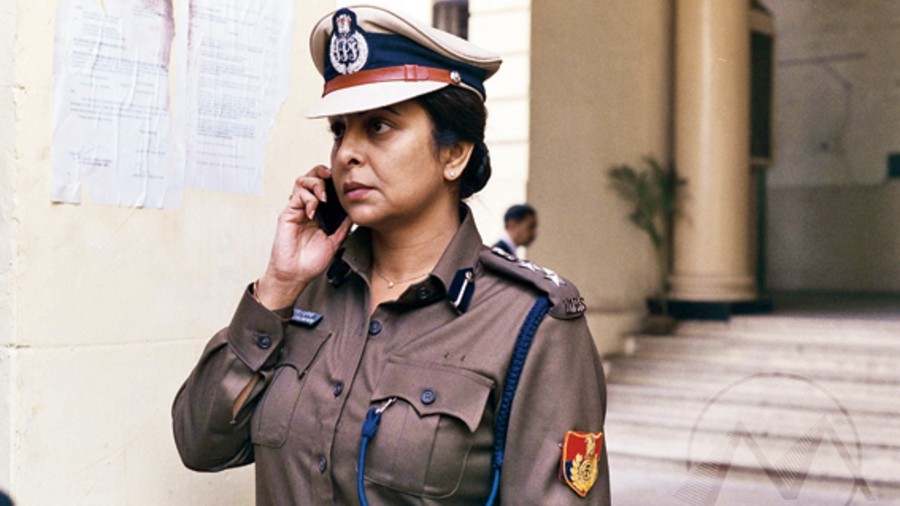 Shefali Shah in Delhi Crime
Sourced by the correspondent
---
Published 02.12.20, 12:39 AM
|
---
Last week, Delhi Crime became India's first winner at the International Emmys when it notched up the trophy for Best Drama Series. The seven-episode series directed by Richie Mehta and streamed on Netflix in early 2019, brought the gruesome 2012 Delhi gangrape to the fore and presented one woman's — top cop Vartika Chaturvedi (played by Shefali Shah) — unrelenting efforts to bring the perpetrators to justice. The Telegraph caught up with Shefali to chat about the high of an International Emmy win and what it means for the Indian creative space going forward.
You shared a video of your ecstatic and spontaneous reaction to Delhi Crime's International Emmy win which quickly went viral. Does the win still feel surreal?
Well, it has sunk in; it sunk in the very same day. I am still on a high and I think I am going to be on a high for a very, very long time.
Understandably so. Were you expecting the win?
To be honest, I would have been surprised if DC (Delhi Crime) hadn't been nominated and if it didn't win. I would definitely have been surprised.
Has the team caught up after the win?
We finally did. Just yesterday (Sunday), we had a virtual reunion of the entire team raising a toast to the win. It felt so nice to see all of them. I would have loved to be there at the (International) Emmys, but what I missed more was being with the team. You know, just being together.
What does this win mean for the Indian creative space?
It's a big acknowledgement of the kind of talent that's coming to the fore in India. When DC dropped on Netflix, it released in 190 countries at one go, that's a huge amount of credible reach. People who hadn't watched it when it dropped last year are watching it after the Emmy win, while those who did watch it earlier are now doing a repeat watch. People are talking about it again. Delhi Crime has sustaining power and is there for posterity, and the success of this show globally will open up horizons for talent from here internationally.
Delhi Crime's success just reiterates how OTT platforms have opened up doors for talent, and there is so much talent in the country. It's opened up doors for stories and for characters. It's a fantastic time to be a creative person. It's amazing what OTT has done for us.
What does this global recognition mean for your career going forward?
Well, DC has opened up many horizons for me, and so have the advent of OTT platforms. Now people see me as one of the lead characters, and I am doing projects in which I play the lead. There is a woman-centric show that I am doing, and I am also doing films where I am one of the lead characters. I am just hoping that the horizon keeps broadening for me.
This was undoubtedly a tough show to make. While you were making it, did you have the gut feeling that it would become so big?
Honestly, the first day I heard the script and the moment I came on board the project, I knew this was special. I am not someone who looks at the result of the work that I do in terms of where will it be released and how many people will watch and appreciate it. For me, creating it is the high point of the whole process.
From Day One, I knew DC was very special and it would be a winner no matter where it went. The International Emmy win has just reinforced it, and so did the Asian Academy Creative Awards in Singapore. The fact that it would make an impact is something I didn't doubt even for a moment. I am so proud and I feel so lucky to be a part of it.
What is it about Delhi Crime, in your opinion, that has resonated with audiences globally?
It was an incident that shook the entire world. Incidents like this happen across the globe, but what happened with Delhi Crime is that conversations were started. The incident was extremely heartbreaking and it was about the loss of a young life and loss of dignity.
Delhi Crime scored when it comes to compassion. This is one incident that united the country in its call for justice, and that's what this show focuses on. One woman was wronged and there was one woman who fought... not just for the victim, but for women across the country. It is a story of empowerment, and it tells you that one can eventually get justice even if the chips are down.
I had spoken to your Delhi Crime co-star Rasika Dugal right after the nominations were announced, and she said that it didn't feel celebratory because the state of women in the country is getting worse by the day. Is it also a bittersweet moment for you?
I agree with Rasika, but I also feel that it's unfair to compare both these things. The win is a win for Indian talent and Indian content, as well as for compassion and for justice being served. The event that has scarred this nation for forever and the win that has rightfully come in for Delhi Crime can't be compared. They are completely different entities.
Now that people are rewatching the show, what kind of feedback are you getting?
The messages never stopped, believe me. Some people didn't watch the show at the beginning because they were very scared of reliving that incident. But then, there were far more people who pushed friends and family and told them, 'You have to watch it!' Eventually, many people ended up watching it a few times.
They have reached out to say how proud this show makes them feel. I had the honour of speaking to Chhaya ma'am (IPS officer Chhaya Sharma on which Shefali's Vartika Chaturvedi is modelled), she said that a lot of her friends, family and colleagues, after the first five minutes, felt they saw Vartika and not Shefali, in me they saw another version of Chhaya ma'am cracking the case. That, of course, was courtesy the huge inputs that Chhaya ma'am gave me.
Is there any kind of clarity on Season 2?
Honestly, I wish I had clarity, but that's a question that Netflix is best suited to answer. I want it to happen soon!
You've turned director during the lockdown. What does this phase of your career feel like?
I have actually directed two short films in the last few months. The first was inspired by the lockdown, as in the distance that came about with the people that you love. I love meeting people, and for the longest time this year, I haven't had the chance to meet or hug my friends. I couldn't see their smiles because they had masks on. Human contact is not advisable in today's times, but it's so important to keep us psychologically alive. My short can be summed up by saying that if the disease doesn't kill you, the distance will.
One thing that I always wanted to do was to direct. I finally directed my first as soon as the lockdown lifted, and then I directed my second (laughs). Directing is an experience where you learn every day. We shot the first short with only five crew members in two days flat, and the second one was also shot in two days. It's a lot of responsibility when you realise that the entire unit is backing you because they believe in you. I did a lot of prep before I went on set.
Both the films have me acting, both are single-actor films. So to do that shuffle between being a director and actor was tough. As an actor, I never look at the monitor because I know there is a team that knows what needs to be done, I only do my job as an actor. As a director, I was doing everything. I have not compromised as a director creatively, but I have tried to be pragmatic.
Is directing a feature film on the cards?
I want to. But it needs a lot of time and next year, I have my hands full with acting. Yes, some day in the future, but not in the immediate future.