R. Balki on shooting with Akshay Kumar in the lockdown
Film-making can't be as labour-intensive as it used to be, says the film-maker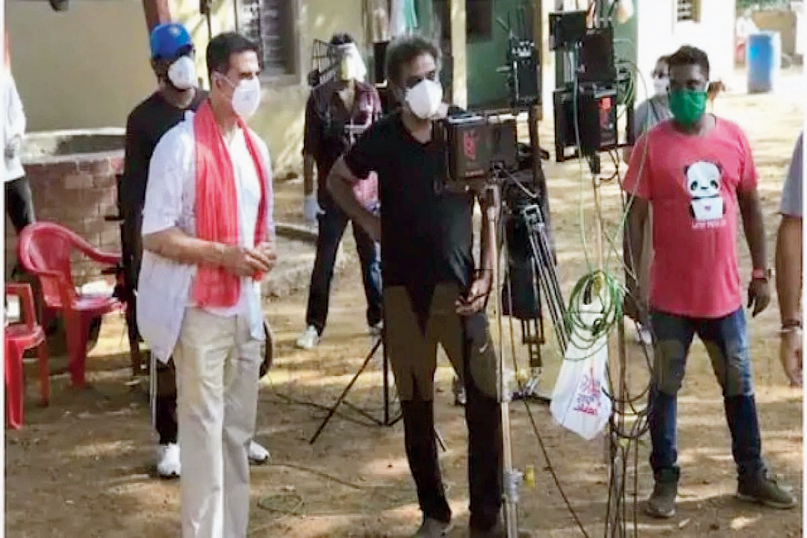 R. Balki (in black T-shirt) with Akshay Kumar (left) on the sets of the shoot
---
Published 01.06.20, 03:31 PM
|
---
Last week, director R. Balki helmed an ad film shoot for a coronavirus social awareness campaign starring Akshay Kumar. Shot over a few hours at Kamalistan Studio in Mumbai, the government PSA "talks about the importance of taking all the precautions when the lockdown ends". Since the lockdown started at the end of March, this is among the first shoots to take place in Mumbai. The Pad Man and Paa director shared with us what the shooting conditions were, the challenges facing Bollywood in the post-Covid world and gets candid about not being productive during the lockdown.
What kind of precautions were taken on the set?
The ad talks about the importance of taking all precautions when the lockdown ends and the responsible way to get back to work. And, interestingly, it marked our getting back to work. Of course, everyone wore masks and stood at a distance from each other, but the beautiful part of this was that everyone was aware in terms of how we needed to work. Every piece of equipment, from cameras to lapel mics and even the cloth used in make-up, was sanitised. This was besides the basic hygiene practices of having sanitising tunnels, our temperatures taken and social distancing.
Was it a lot to get used to?
It takes about 10 minutes to get used to it but once you do, you can function normally. Yes, the masks are a little cumbersome because of the heat but you can step away from people and wipe your face down or change your mask. I would recommend that people carry multiple masks, just so they can change into a fresh mask in case it gets too sweaty.
Was Akshay happy to be facing the camera after all these months?
Of course. It was very brave of him to come out to make this ad film. There is a lot riding on him and it was a good thing that he did this ad. It showed that we have to be back at work but at the same time, we have to do it with all the precautions in place.
The lockdown triggered a lot of uncertainty and economic hardships for a large part of the film industry, especially among the daily wage workers. I am sure you had many of them in your crew. Was it emotional for them to get back to work?
Oh, absolutely. Just the joy of getting back to work was so visible. A set, whether it's for a film or an ad, is like home for us. What made it even more special was discovering that it is possible for life to go on and for us to shoot amidst the new parameters. We just need to be disciplined, aware and cut down on the crew.
How did you manage to cut down on the crew?
Normally on an ad shoot, you have about 60-70 people. We shot with just 20 people. We followed all the union rules and paid for extra people, but we told the technicians that we can't afford to have too many people on set. We don't need so many people on set.
And is this the way forward?
Unfortunately it is. The various unions will have to reformat their rules that stipulated the number of people required for every department. Film-making can't be as labour-intensive as it used to be. If unions stick to their rules, then a lot more people will end up losing their jobs. Like in the West, we'll have to work with leaner crew and more efficiency.
This ad was a couple of hours of work. What happens when you get down to shooting a film that goes on for 100-plus days?
There will obviously be a difference. When you are shooting day after day, it also becomes important to safeguard your cast and crew when they are off the set as well. If they come back sick, it's both dangerous to the people on the set and will also affect the economics of the film. Projects that will take a long period to shoot will need to have more stringent rules that will keep everyone required safe. For now, we've managed to figure out what the rules should be for filming a quick ad, but for longer shoots we still need to get the standard operating procedures in place.
Are there conversations happening within the fraternity as to what these SOPs will be?
Of course there are. We can't live in lockdowns forever. It might take a little longer in Mumbai and Maharashtra compared to the rest of the country. We'll have to learn to live with this disease and figure out the best ways to protect ourselves from this disease while living our lives. We are talking about complete social distancing, temperature checks for everyone who enters the set, anyone with any kind of illness wouldn't be allowed on set, all equipment and locations would be sanitised and private water bottles for everyone. For catering, we are looking at ways that there aren't people collecting around the tables. We could have packets of food delivered to people. It's going to be challenging when actors have to interact for a scene. Technicians can stay away from each other, but actors need to be less than two metres from each other. But it will happen soon.
The problem is not with how we are going to shoot, the problem is theatres and getting the public to have the confidence to go out and watch films. That's where the real challenge will come in. For now, we might release films on OTT platforms, but the romance of watching a film in a theatre is not going to go away.
How have you been holding up during the lockdown?
I've lost a lot of weight because I've been doing so much housework. Gauri (Shinde, wife and film-maker) and I spend a lot of time with each other. We've also been watching documentaries like The Last Dance and films like Thappad that I missed out on. We've been okay, but the purposeless is beginning to get to me. These lockdowns aren't getting us anywhere. We have to start looking for ways to engage with life with precautions. As Sweden has shown the world, we'll have to move on.
Do you have any streaming recommendations?
The Americans was a show that we had missed and now have caught up on. I quite enjoyed Panchayat. I've been watching a film a day and at least two-three episodes of a series.
Has this been a productive time for creatively?
Not at all. It's been a barren time creatively. I just don't feel like thinking or doing much. There are only very sad thoughts in my head. I seem to have lost my sense of humour in these times, but I am trying.