Poet Srijato on his long-cherished dream of making a film and turning director with Manobjomin
Parambrata Chattopadhyay, Priyanka Sarkar and Paran Bandopadhyay star in Manobjomin, releasing at cinemas on January 6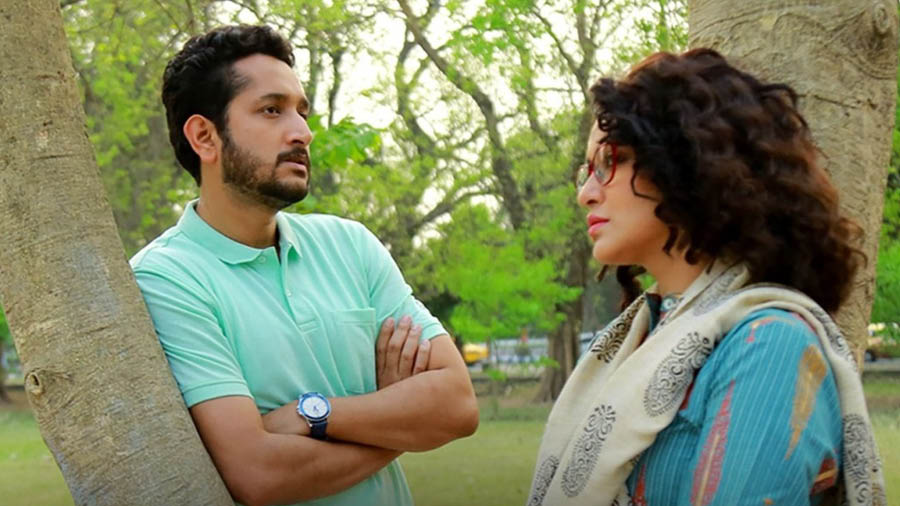 Parambrata Chattopadhyay and Priyanka Sarkar in Manobjomin
---
Calcutta
|
Published 05.01.23, 09:36 AM
|
---
As someone who loves to explore new mediums, poet and lyricist Srijato Bandopadhyay has ventured into filmmaking after writing scripts for other filmmakers. His directorial debut, Manobjomin, stars Parambrata Chattopadhyay and Priyanka Sarkar as the lead pair, and is ready for release on January 6. We caught up with Srijato about his creative journey, his influences and his new learnings. 
From being a poet and lyricist to acting in Srijit Mukherji's Zulfiqar and now directing your first feature film, Manobjomin. How has the journey been? 
Srijato: The journey has been very good. I always try to embrace new things. Exploring new things brings in a lot of challenges and adventure. This is something that excites me. I have wanted to make a film for a very long time. I have been a film buff since childhood. Writing a poem or lyrics is totally different from filmmaking. To make a film, you need a unit of 150 people and a lot of money. I never thought that somebody would be willing to spend money on my film. Finally, it has happened. I have learnt a lot along this journey. 
What prompted you to become a filmmaker?
Srijato: I was writing stories for a long time. I had written and rejected a lot of them. This story stuck with me. My producer Rana Sarkar had posted on Facebook, asking new directors to submit scripts. I commented, 'I am also a newcomer. Will you see my script, sir?' Rana is a friend. He called me at night and asked if I was serious. I said, 'Yes, but I have never gone to anyone with it.' He asked me to send the script across. The very next day, after reading the script, he was on board with the project. 
What is your directorial debut Manobjomin about?
Srijato: The film revolves around Ramprasad Sen's song Manobjomin. The song talks of a great philosophy and of mankind. The film talks about starting a school for underprivileged girl children who can't go to school and are forcibly married off. I know it very well because my wife Durbashi works for an NGO. It is a fight for the girl children. The film also shows the turmoil and struggles in relationships. 
Tell us about the casting. You picked Parambrata Chattopadhyay, Priyanka Sarkar and Paran Bandopadhyay, and Srijit Mukherji has a cameo… 
Srijato: I wanted to take revenge on Srijit because in Zulfiqar he had me hanged (laughs). Jokes apart, he is a very good actor. His acting is very spontaneous. And I got a lot of tips from Srijit. The first thing he told me was, 'You are going to go to the set with 100 per cent preparation but only 13 per cent of it will be executed. The remaining 87 per cent will never come, and you will have to complete the shoot the same day.' I thought he was exaggerating, but he was right. I was expecting something and there was something else. At times, I did not get things I had asked for but I had to work with that. Like I had asked for a tablecloth, and I got a mattress. Srijit had asked me to not lose my cool. 
Parambrata, Priyanka and Paranda were on my mind before I started writing the script. I always follow this process. I think of the actor and then write the script. I feel dialogue is very actor-specific. I had told Rana that if they were not available, I would work on another script. I was very lucky that all the actors said yes to my film. What challenges did you face while making the film?
Srijato: The term 'filmmaker' comes with a lot of responsibilities. The first thing I learnt is that I had to shout. I am a very timid kind of a person. My AD (assistant director) said, 'You have to shout Srijatoda. The people on set don't understand polite commands. This is a set.' Writing a poem and lyrics is a very lonely kind of a job. Here, there are 150 people, a big set location, huge chaos. From Parambrata's date issues to not getting a sari pin, everything was being reported to me. I learnt to deal with a lot of things at the same time.
Coming to the technical aspect of the film, I had anchored a few TV shows for which I had to stay in the editing studio. Editing is also on my mind when I am writing a script. The camera angles and lenses were mostly suggested by my DoP Supriyo Dutta. I learnt a lot from him. Since most of us were of the same age, it was easier for me to interact with them.
Tell us about the songs in Manobjomin…
Srijato: I feel the songs are a big asset for this film. My music director Joy Sarkar has put it together brilliantly. I wanted Arijit Singh to sing Ramprasad Sen's Mon re krishikaj jano na. This is a spiritual song and I feel nobody is a better spiritual singer than Arijit in the country.
Arijit was very surprised when I spoke to him. He had never done this kind of a song. I told him it was a challenge for both of us. He took three months to get the song within him. We were all awake the whole night when Arijit recorded the song at a studio in Jiaganj (Murshidabad). He has sung it brilliantly.
Shreya Ghoshal has sung the female version. She did another original song, Toka dile bhenge jabe. Working with Shreya is really fun. She is a fun-loving person herself. The film is very poetic because of its unusual visual treatment. We have used three poems by Sankha Ghosh.
You were born into a musical family. How did that shape you as a poet, lyricist and filmmaker?
Srijato: I feel music is in my core. My family was into Indian classical music. My grandfather, mother and father are performing artistes. I have grown up listening to stalwarts and different genres of music. There are days when I don't read or write a poem, but there's not a single day when I don't listen to music.
I would also watch films in my childhood. But it was during college that I started watching films properly. I bunked college to watch films. Two very famous cinema halls that I went to were Jamuna and Liberty. I also watched films at film festivals. It opened up a huge door for me.
How difficult and different is screenwriting from any other form of literary writing? Has the poet in you influenced the filmmaker?
Srijato: It is very difficult. Previously, I had written a script for one of my friends. I had also written the script for Aparna Sen's Arshinagar and Indraadip Dasgupta's Kedara. Recently, I wrote a Hindi-Urdu script for Srijit, which will go into production soon. I actually watch a lot of films. I feel it is a writing course in itself. I love writing. Scriptwriting is very challenging because you have to understand your actors and the audience's pulse. I enjoyed it a lot.
My poetic self has hugely influenced the filmmaker in me. I have always felt that a film has the potential to be poetic. We have seen that in international films. Manobjomin is a hardcore realistic film but we've tried to incorporate poetry in it.
The first time you wrote lyrics was for Birsa Dasgupta's 033. How did that happen?
Srijato: One day I was going to the bazaar and Birsa Dasgupta, my childhood friend, called and said, 'Will you write a song?' I said, 'But now I'm going to the bazaar.' He said, 'You don't have to write the song now. I'm making a film. Will you be interested in writing a song for the film?' I said, 'But I've never written a song.' Birsa said, 'I've also never made a film. This is the first time. I want someone new to write it.' That was it. I wrote for Chandrabindoo and simultaneously within a month, a guy called me and said, 'I'm doing a film called Autograph. Would you like to write for me? My name is Srijit Mukherji.' I was very proud that new directors wanted me to write for them. I wrote the song Chol rastay saji tramline.
What is your earliest memory of writing poetry?
Srijato: I started writing when I was in Class II or III. I had written a poem but I don't exactly remember the lines. But I made sure to write a poem every day. I was attracted to the form of poetry. The first time my poem got published was in school, in a handwritten magazine.
You have already announced your second feature film…
Srijato: It is about College Street. Popularly known as Boipara, it has a character of its own which is not yet explored well. My central character is College Street. Trams will play a very important role. That's why it is called Chol Rastay Saji Tramline. There is going to be a poet as a character. I will start writing the script after Manobjomin is released. I wanted to work with Sohini Sarkar for a long time. She's brilliant. Both Sohini and Parambrata have agreed to be in the film.