Party thunder Harrdy Sandhu gets candid
The voice behind the party anthem of 2021 — Bijlee bijlee — spoke to The Telegraph on being a passionate cricketer, his Bollywood debut and his journey so far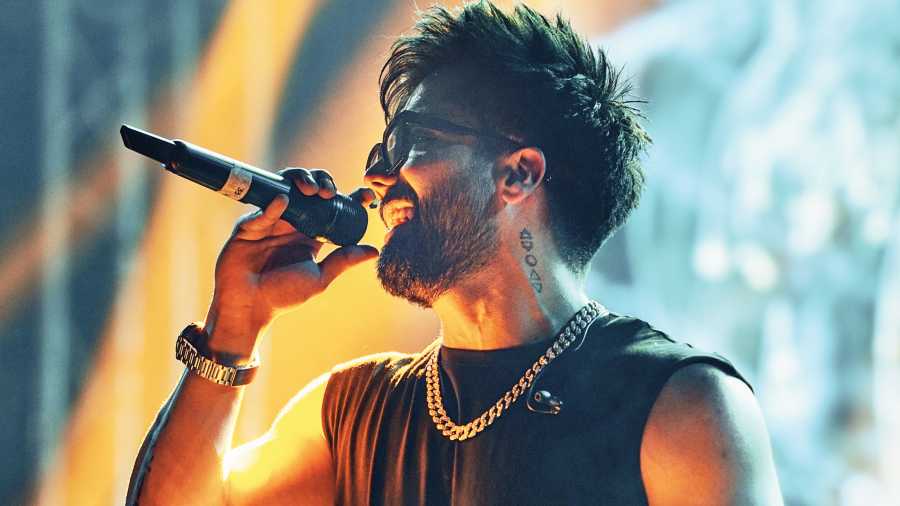 ---
Published 15.01.22, 11:55 PM
|
---
2021 has quite evidently been THE year for singer and performer Hardavinder Singh Sandhu, more popularly known as Harrdy Sandhu. Not only did he stun music charts with his Bijlee bijlee number, but also stepped into mainstream Bollywood acting with his performance as cricketer Madan Lal in Kabir Khan's 83 that released in December. The singer-actor also has a history in real-life cricket — he was a part of the 2004 Under-19 Cricket World Cup India squad. We caught up with Sandhu moments before his performance at the PC Chandra Gardens Golden Acres this New Year's Eve, organised by What's in D Name, in association with t2, for a quick chat on life, friendship and his journey.!
How does it feel to be in Calcutta? Have you been here before?
It feels great. Yes, this is the third time I've come to Calcutta. The first time I was here was for a Ranji Trophy game that I was playing at Eden Gardens way back. Then the second time I was here to perform at a wedding and now this is the third.
It's just been a week since your debut film 83 released? What is the feeling like?
Surreal. I can't define it in words. It's just different, the love and appreciation the audience is showing towards the film is just unreal.
From singer to actor, what was the transition like?
I am a singer by profession, cricketer by passion, and an actor by chance. Going from real pitch to the reel pitch, life came to a full circle as I got the chance to "play" for India yet again since I was once a part of the Under-19 Indian cricket team. Debuting in Bollywood and getting through 83 was pure luck. In February 2019, I was in Chandigarh only for a day and I got a call from Ammy Virk (he was one of the first few actors to be confirmed for 83) saying, "Come down to the restaurant of your building, I have to make you meet someone." That's when I met Kabir Khan sir and Balwinder Sandhuji for the first time. We talked about how 83 is taking shape and they asked me if I could replicate Madan Lalji's bowling action. Coincidentally, Madan Lalji had coached me at an NCB camp and he was a fast bowler too, so I thought I can do this. I practised a lot and sent them a video of me bowling as Madan Lalji but I didn't receive a response for a long time. One fine day, I heard from my team that they loved the finesse with which I pulled it off and that's how I became a part of 83!
You've played cricket professionally till 2007, what was it like to get into those shoes for reel life?
I have been an ardent cricket fan since childhood. I started out as a fast bowler and I was selected for India's Under-19 cricket world cup team. Unfortunately, I hurt my elbow during training and even though I tried my best to get it treated, all efforts were futile.
Then I went to Australia on a student visa to figure out the next episode in my life and settle there. When nothing seemed to work out, I started driving a taxi to make ends meet. One day while driving, I met Sri Lanka's former cricket physiotherapist who told me my injury is similar to Chaminda Vaas's. He suggested a specific treatment and I flew back to India in the hope of playing cricket again but I had booked myself a return flight to Australia as a backup. Even though I made it to Punjab's Ranji Trophy team, a few days before the match, my injury resurfaced and that was my last day on the pitch.
Post my stint as a sportsman, I found solace in singing and trained for extended hours in Indian classical music. Then, I released my first album, 'This Is Hardy Sandhu' and whatever followed is almighty's blessings. What's the one things about cricket that you miss the most?
A lot of things. That was a different phase of my life.
The cast of 83 has some big names. What was the experience like when it comes to working with them?
Literally amazing; I had the most amazing bunch of co-actors. I got to learn so much from each of them.
Coming to music, Bijlee bijlee has become one of the anthems of the year. What's the story behind the song?
Thank you for your kind words! Bijlee bijlee is where it is because of the love that the audience has given to it. I think the reason it worked better than any of us anticipated is because it sounded fresh. When we were making it in the studio, the approach wasn't to make a hit, it's never the intention. We always focus on giving the listeners something new and Jaani's lyrics combined with
B Praak's music, visually presented by Arvindr Khaira did the trick. There's no one particular reason that I can account for its success, it's always a group effort. Bijlee, Jugnu and Lover have become the holy trinity of party tracks this year. What's your relationship with Diljit Dosanjh and Badshah like?
With Badshah bhai, we're close to each other. We try to meet whenever we can, even if it's to play cricket or just chill. With Diljit paaji, I've always liked his music, haven't had the opportunity to personally interact with him that much though.
You're quite the dancer, if we may say so. Is it something that comes naturally or did you actually have to work on it?
For the longest time, I didn't know I could dance. When I was a child, I did some Bhangra in my school days but post that nothing. Naah was the first song where I was made to dance and the choreographer there told me that I was a natural dancer. To be honest, I still don't think I can dance.
You've quite a few bros in the business. What's your equation like with Jaani and B Praak?
B Praak, Jaani, and Arvindr Khaira are some of the closest people in my life and we've known each other for the longest time, worked on numerous projects, seen the worst days of our lives, and celebrated our successes too; they're all family. Every time we all are on a project, it's a lot of fun and Bijlee bijlee was no different. All of us respect each other's creative space, help in every way possible, and make sure whatever we build together is our best song ever!
Singer, actor, or cricketer. Who's the most real Harrdy Sandhu?
Cricketer, always.
Harrdy Sandhu Top Songs What's your top fave song from your career and why?
All the songs that I have performed and released have a piece of my life attached to them. That being said, my latest single Bijlee bijlee is currently the closest to me for obvious reasons!
An actor that you feel fits your voice and songs perfectly?
Me.
What's Harrdy Sandhu's definition of style?
Style is whatever you're comfortable in.
Do you have your own inputs when it comes to your looks or leave it completely to your stylists?
Yes yes, I mostly do the styling myself. I am always on the lookout for stuff online or offline.
What's 2022 looking like for you in terms of work?
I am taking things one opportunity at a time. I am extremely grateful to be a part of 83 and mark my debut in Bollywood. In complete honesty, I haven't thought about it, we will see what happens as per God's will and move ahead in my career.