Parno Mittra on her debut film Ranjana Ami aar Ashbona turning 10!
'It is nice to know that people fondly remember your first film. They still call me by my screen name, Ranjana'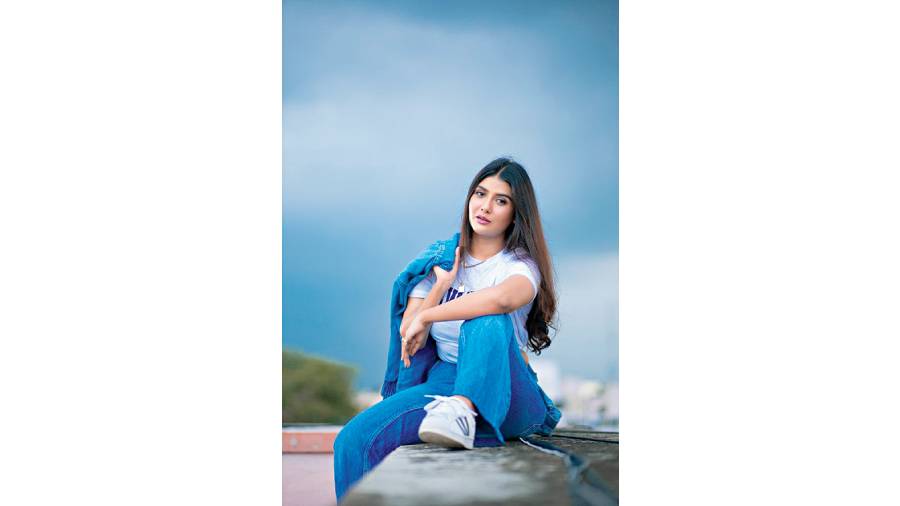 Parno Mittra
Sourced by the correspondent
---
Published 29.06.21, 12:33 AM
|
---
It was a dream movie debut for Parno Mittra, who became a popular household name with Ranjana Ami Aar Ashbona, directed by Anjan Dutt. In the film, Parno plays Ranjana, a singer-songwriter from Siliguri who is a huge fan of Abani Sen (Anjan), the rockstar. He is her idol and she has always wanted to meet him. The film is about Ranjana's journey and how she becomes a successful artiste. A chat with Parno...
Ranjana Ami Aar Ashbona released on June 24, 2011? Why is it significant for you?
It is important because it is my first film. Ranjana... was an iconic song, and to become a face of it holds a lot of significance and that sort of launched my career as an actor. I am grateful... honoured to be a part of the project. It's been 10 years and time just flies like that. It's been 10 years and yet people still remember your first film. That's a big deal for any actor. It is always nice to know that people fondly remember your first film... and they still call me by my screen name, Ranjana, sometimes. When I go for shows, bunch of boys will start singing Ranjana... it feels good... that even the next generation loves the film and knows me as Ranjana.
What are your fave memories from the shoot of the film?
Being on the set and getting to play Ranjana in Ranjana... (produced by Rana Sarkar) was a big deal... it was my first film. And the experience of working with Anjan Dutt. Every day was fabulous for me. I remember one day I had a super intense scene with AD and I had to do a lot of screaming and crying... lots of dialogues. We did two takes of that scene and after that I was really exhausted. I had not done something like this before. I remember sitting in a corner... completely drained out... and AD told me to go and take rest. That was really sweet of him. Before that, he had been strict... I saw a softer side of AD.
How did it change you as an actor?
Every film changes you as an actor. You want to improve, try out different characters. And you want to do your best. Post-Ranjana... I knew I had a lot of responsibilities. I finally got what I wanted. I have grown as an actor in every film you see of mine.
How did your life change after Ranjana...?
It paved my way into films and I started working with a lot of interesting directors. At that time only AD would cast actors from television in films —  actors like Abir (Chatterjee), Param (Parambrata Chattopadhyay), Apuda (Saswata Chatterjee). Same thing happened with me. People started taking me seriously. My film career just took off from there. 
Did the success of the film make you think differently about your film choices?
I was very patient... I am a very hopeful, optimistic person... I have always been very focused about what I want to do in life and what I want from life. I was born to do this. This is what I was meant to do.
Did it have an impact on the way industry people saw you?
They wanted me as the lead! And then again, some people did not want to talk to me any more... I don't know why. And some people found out about me. I was discovered in a new way. People started seeing things in a different light. So many directors wanted to work with me. That was wonderful. The feeling was great.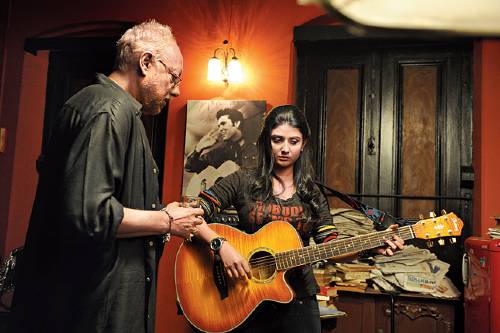 Did the expectations from your fans increase and was it a challenge for you to fulfil other people's expectations?
For me the challenge has always been to fulfil my expectations first. Fans don't tell you, 'You should do this better' or 'I wish you had done a scene this way'. It is always you. You know what you have done and how you have done a scene. You know how you could have done it better. Or what scenes would have made a film better. It is a personal thing. It was a big challenge to fulfil my own expectations. Yes, the audience expects you to be a certain way, and do a certain kind of movie. But that is different. At the end of the day you need to fulfil your director's vision... it is his film. If he expects 100, I expect 200 from myself. That has been the case from Day One.
You had played the title role of a rockstar in your debut film. What kind of prep did you do for that?
I had one month to prep... I wish I had more time to learn how to play the guitar. I picked up whatever I could in one month. I watched a lot of documentaries... music videos of Janis Joplin, Alanis Morissette... also I took references from Anjanda. I think you need three months to prep for a film like Ranjana... we did our best.
How was it like working with Anjan Dutt, the actor and director?
I was shit scared! I remember when The Bong Connection (2006) had come out, I had gone to watch it with my friends. And I had told my friends, 'If I do a Bengali film, I would like to work with this guy!' It came true! My first film was with AD... he was my director, co-actor. All my scenes were with him. I was star-struck, scared, nervous... I really wanted to do well in my first film and make him happy. Now we are on friendly terms. Things have changed. Now I am not scared of him. I remember AD pulling my leg about having a crush on Amytda (Datta). And I did not know what to do. I was like a little girl.
You had quit television before Ranjana... and in 2020 you played the lead in the popular serial Kora Pakhi. Has life come full circle in these 10 years?
I had quit television long before Ranjana... happened. I was doing telefilms. I quit TV because I wanted to pursue other things. When you are doing TV, you have to do it 24x7. I wanted a break from that... I had done two-and-a-half years of television already. Then Ranjana... happened. But if you say life has come a full circle, it makes my life short (laughs out loud)! I have done different kinds of films, web shows, short films... and Kora Pakhi was a progressive show. So I did it. And I had fun doing it.
How do you look back on this 10-year journey?
It has just begun. Ten years is nothing in an actor's life. I have done some great, amazing characters, I have got a lot of love from people, from the industry. The hunger is still for more.
Are you looking forward to doing more TV or films now?
I'll do work which is exciting, from short films to films to web shows to web films to television. I'll do whatever I like... whatever gets me excited. If a great script comes my way, I'll try to give it my best, which I have always done for any project. I don't like it when people put you in boxes as TV or film actors. We have gone way beyond that. Things are changing. OTT has become such a big platform for every actor.