Pallavi Mukherjee: My maqsad was Mumbai
The 22-year-old from Durgapur, plays one of the two female leads in Barrister Babu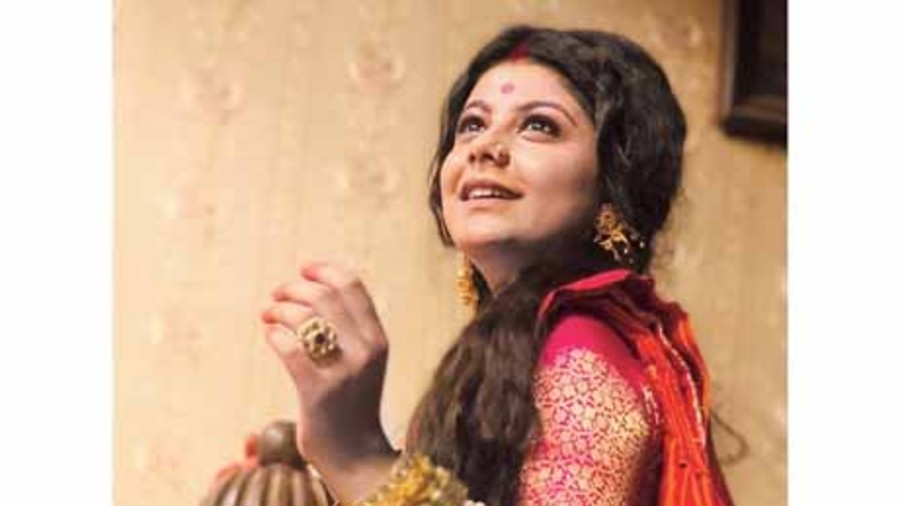 Pallavi Mukherjee on the sets of Barrister Babu
Sourced by the correspondent
---
Published 22.02.21, 12:32 AM
|
---
Bombay is my dream city. I had always planned to shift here after my Boards," Pallavi Mukherjee says over phone.
The 22-year-old from Durgapur, playing one of the two female leads in the Colors TRP topper Barrister Babu, has worked all her young life towards a single goal — making it as an actress on national channels.
When she was a child, she used to cry whenever Dance Bangla Dance was on, wanting to be on screen herself. As she grew older, she would run home from school to catch the afternoon reruns of Hindi soaps. She would enact the scenes in school the next day, assigning the other roles to classmates. And she would pretend to deliver acceptance speeches at the Zee Rishtey Awards, the channel's annual award show, clutching a shampoo bottle as a winner's trophy
"I used to dance and mimic. Ma took me to Dance Bangla Dance auditions but I did not make it. Then I cracked the Mirakkel audition. I was in Class VII then," says Pallavi.
Pallavi's mimicry became very popular. "I must have been among the first female comedians on a Bengali cha-nnel, if not the first," she says.
Then the offers started to come — Meera (on Colors Bangla), Bhutu (on Zee Bangla),  Potol Kumar Gaanwala (on Star Jalsa)…. She purchased a flat in Calcutta with her Mirakkel earnings. She was in Class IX then.
After passing the Board examinations next year, she shifted from Durgapur and joined Nava Nalanda in Golpark. "But my maqsad was Mumbai."
Pallavi did not know "even an ant" when she left for Mumbai three years ago. "Everyone told me it was a bad decision. But I was adamant."
Initially, she put up as a PG, being one of seven girls in a room. "The mornings started with gym, then I would Google for a production house to visit to look for openings, sit at Marine Drive in the afternoon and come back to Borivali by train in the evening." She used to visit the studios even on consecutive days, despite being told there was no requirement the day before.
A month later, her mother managed to get a transfer from the company she was working for in Calcutta. "My mother is everything in my life. She even got separated from my father as he was dead against my acting career. We thought we could make do in Mumbai on her Rs 40,000 salary." But once she reached Mumbai, her employers stopped taking her calls. "We were in tears that day, sitting outside Siddhivinayak temple, not knowing where to go," she says emotionally.
A former cast member of Mirakkel, who was then staying in Mumbai, came forward. "She could not take us in as her husband was against the idea. So she arranged for us to spend the nights in a kindergarten school she was working in. But we had to clear out by 6am, when classes would start and be back only after 6pm." Mother and daughter spent two months like that, spending spare hours in the temple complex searching for work on the laptop or appearing for auditions.
After six months, she got her first break with Crime Patrol. "Many warned me that I would get typecast. But I treated it as preparation. They used to finish an episode in three days, they were so fast." For a year, that kept her going.
Then she signed Gandii Baat, a risque web series produced by Ekta Kapoor, where her character gets married to a boat and gets mysteriously pregnant. "Ma asked me if I could play such a character." Inwardly, Pallavi too was a tad worried about acceptability in mainstream roles after doing such a show. But Barrister Babu came her way, with a Calcutta-centric story.
The serial is ruling the charts now. Last November, when a parallel track was running in the story, allowing her a bit of flexibility, she got to fulfill another dream of hers — by signing a Zee TV serial, Ram Pyare Sirf Hamare. This meant through November and early December, when the serial featured her track, Pallavi had to do double shifts. "In the morning, I shot at Film City which is close to my Goregaon home. It took an hour and half to reach the other set. But both production houses were very cooperative."
Things were even tougher, she points out, when she was doing the ALT Balaji web series Class of 2020 simultaneously. "Class of 2020 went on the floors earlier. They still had two weeks of shoot left when Barrister Babu started."
The first sequence was to be shot in Manore, a village outside Mumbai, where they had created a Calcutta set. "They had a morning shift, starting at 7am. I'd shoot all day till 5pm for Barrister Babu and then leave for Mumbai to work in the night shift for Class of 2020, which had several party sequences. A cab would wait for me and I would start at 4am to be back in Manore by morning."
With the current track in Barrister Babu focused on her — her character Sampoorna has turned negative now — she is having to shoot 26 days a month. "I can hardly go to the gym any more. Dance classes are down to once a week. But this is what I wanted to do all my life. Why should I complain?" she protests, brushing aside suggestions of hardship.
It helps that Pallavi is quick to pick up her lines. "I was a good student in school. I never read my Bengali texts then. Ma used to read out and that was enough." The script comes five minutes after she reaches. "Then we have a reading, after that it's action time. Sometimes I get ki and ka mixed up in my Hindi dialogues, like any Bengali would," she laughs.
With the second season of Class of 2020 set to roll in a couple of months, Pallavi thinks she is fortune's child. "Often I remember the nights in Durgapur when I prayed to the stars that I get to work some day in Mumbai. And I've worked hard to reach here," she says.