Of adventure and adrenaline rush
Cyrus Sahukar hits an adventure sports trail in Manali for his new show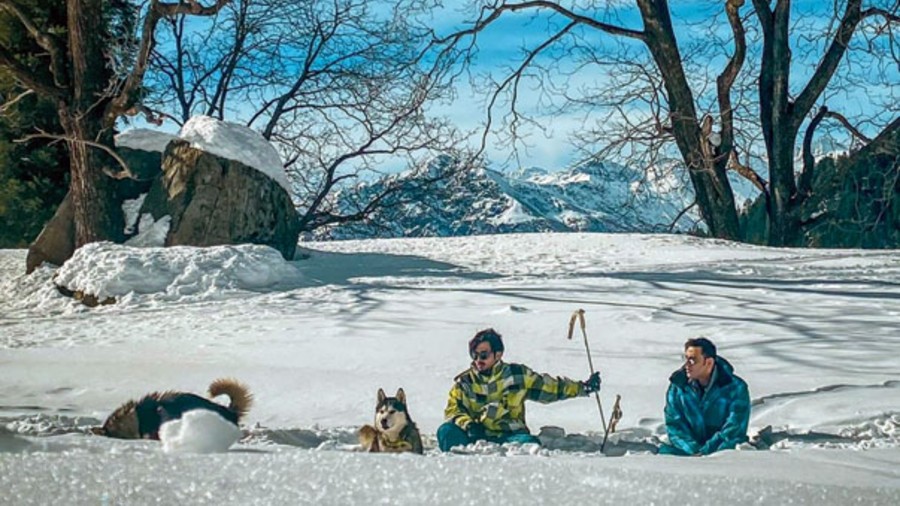 ---
---
After the inertia of the lockdown, the adrenaline flow of adventure sports. Cyrus Sahukar packed off for the snowy terrains of Manali with co-host Amol Parashar to shoot Season 2 of the short-format adventure reality series Feelin Alive. The four-part series, currently on air every Monday on Discovery Channel, Discovery HD, TLC and TLC HD, will see the hosts going around Manali discovering the unknown and overcoming their fears. Training under experts, the duo will set out to perform extreme sports like slacklining at Jagat Sukh, canyoning at Jogini Falls, snowboarding at Solang Valley and ATV off-roading along mountain roads.
When stepping out of the house is an adventure for most of the world, it looks like you did much more!
Yeah. The shoot happened in November. We had a Covid test before leaving. It is a tiring process. But you have to start work at some point. As long as the protocol is followed, I am fine.
It must have been cold enough by then?
It was bone-chilling cold. It had not snowed in Manali in the last 17 years till this month. Even we were quite shocked. But what a welcome break for all of us after being locked down in Bombay to find powdery snow everywhere. It was a surreal and beautiful experience. I did not want to come back. We spent just four days there.
So you had to pack in a lot in those four days!
Yes, it kept the adrenaline pumping. Both Amol (Parashar) and I were bouncing from one place to another and both of us were happy to be taken anywhere outside the room. The experience of making the show was as adventurous as the show itself. Every day, we were doing a different adventure sport. Amol was giving me a challenge or I was giving him one. And some we did together.
Which activity did you do together?
Riding ATV. These all-terrain vehicles are big motor cycles that can travel anywhere — on river banks, rocks, mud tracks or into a jungle. Any other vehicle would probably get stuck. I got a proper tutorial and then travelled quite a few kilometres. Amol had planned a route for me.
Was there a competitive element?
More than competition, it was about getting each other to do new things.
What activity did you choose for Amol?
Slacklining. The line was set across a river though not at a great height. There was no net underneath but full safety procedures were taken. He was rigged so that in case he slipped and fell, he could be yanked up. These sports need a lot of practice and we were doing introductory level stuff under the supervision of experts. They took the decision as to at what height the line would be placed and where. It was very cold that day. Amol was very brave about it.
What did he choose for you?
Canyoning down a waterfall. You tie a rope to the top of the cliff and you slowly slide down right next to the waterfall. You are almost parallel to the wall, like Spider-Man. The rock you are canyoning on is super slippery because of the water. It is scary as you are looking straight up at the sky while releasing the rope and sliding down the waterfall. Your feet are on the surface of the cliff and your knees are bent.
I had to keep releasing the rope tied to my waist as I lowered my body down the surface of the cliff. I had to lean backwards, facing the sky, otherwise the pressure on the rope would have been too much.
Was this the toughest task?
I found even snowboarding difficult to learn. Both of us did it. You have a board and you slide off it. We went to a beautiful place in Manali. We spent half a day learning. Balancing in snow is supremely difficult. I was falling or slipping 90 per cent of the time. But the feeling of falling in snow is also magical. You slide down the edge of a cliff covered in snow. Even if you are not good at it, it is an experience one must have.
You have just hit the 40s. Did you have any doubts going for an adventure sports trip?
I was confident and was looking forward to it. I have spent a large part of my life trekking and camping out.
Are Indians becoming more fond of adventure sports?
We have a lot of Indians camping , skiing… if you go to Gulmarg or Manali, these places are packed with adventure lovers. We also have some of the best mountains in the world.
Maska released in March. How did you spend lockdown and the intervening months?
Kadakh released in June. It had me, Ranvir Shorey and Kalki Koechlin. I co-wrote it and Rajat Kapoor directed it. It's on Sony Liv. I do a weekly show for Zee5 where we do fun chats on every upcoming film or TV show with the cast and crew. I did The Missing Apron for TLC. I have been doing lots of events from home. I also did a web series produced by Nikhil Advani, called Kaun Banega Shekhawati. The shoot is not fully over. It's a quirky comedy, set in Rajasthan.
You used to do a lot of events. How are you finding things in the new normal?
It's very weird not being in front of the audience and be behind the screen all the time. People have started to work, as long as they can stay super fit and super smart. In many ways, the world has changed for ever. You are extra cautious. The events industry has been badly hit. Otherwise, through December-January, all I do