Neo Bollywood and ek chutki sindoor
While earlier generations of actors and actresses with an eye on their career were unable to get married openly, things are changing now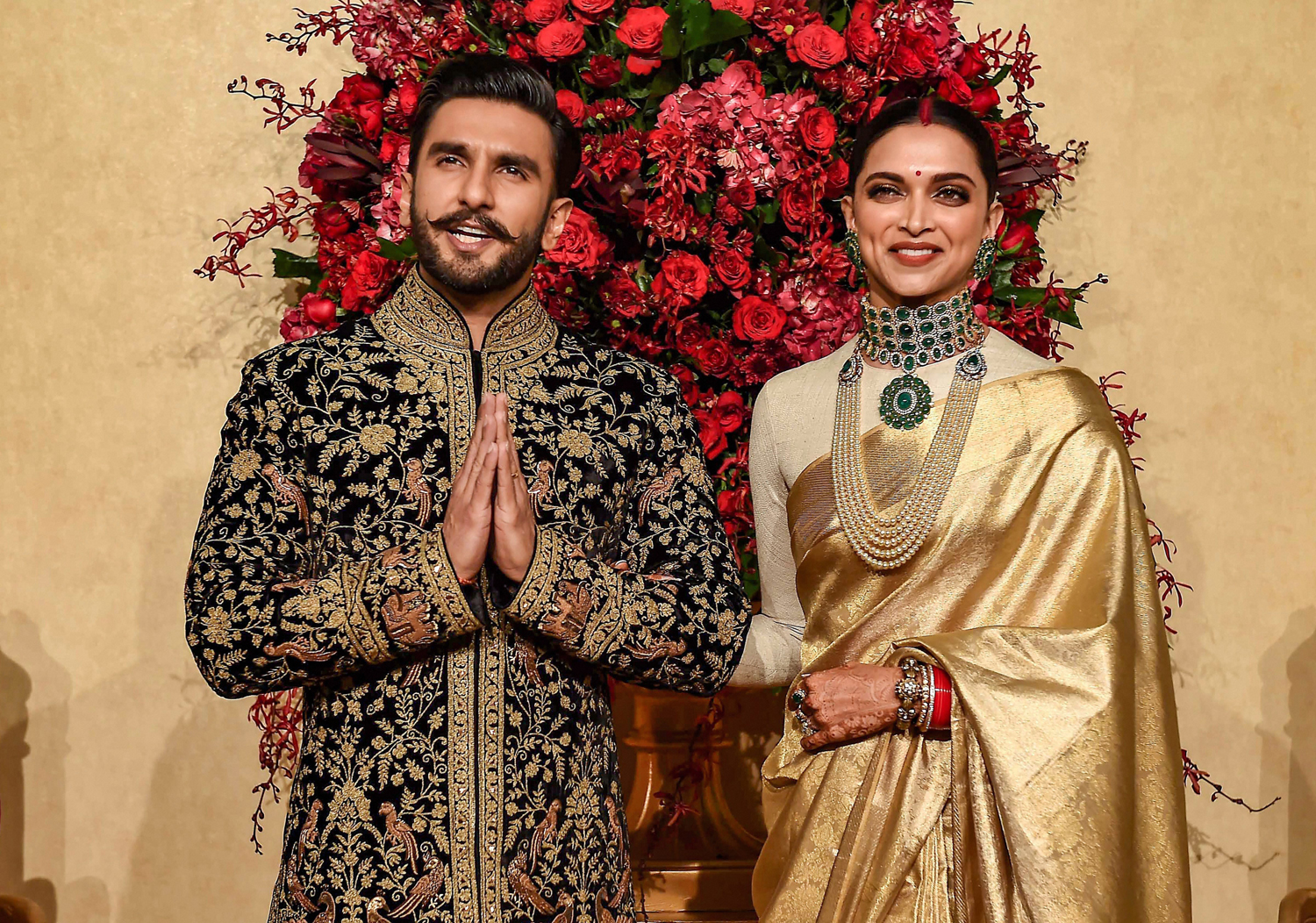 Newly-wed Bollywood couple Ranveer Singh and Deepika Padukone pose for photos during their wedding reception, in Bangalore
PTI
---
Published 24.11.18, 06:16 PM
|
---
One thing must be said, Anushkha Sharma and Virat Kohli showed the rich and filmi brigade that not only is it very okay to get married when the going is still good, it can be quite fashionable too. There was that TV ad, the hush-hush destination wedding, the photo ops from the reception upon return — red Benarasi and centre parting aflame with vermilion. The next thing you knew, wedding invitations were crawling out of the woodwork. Sonam Kapoor and Anand Ahuja, Deepika Padukone and Ranveer Singh. Sonam walked the red carpet at Cannes only days later, the ceremonial mehendi still visible on her hands. She added Ahuja to her name. Anushkha and Virat posted pictures of their first Karva Chauth. De-Ra are sure to make their own just-married statements. Malaika Arora and Arjun Kapoor's public appearances have increased.

In the closet
So what of it, you may ask. Isn't this only too normal and natural, you might say. True, but it is also a fact that generations of actors and actresses with an eye on their career were unable to do the normal, natural thing. Some married in secret. Dev Anand invited the marriage registrar on the sets of Taxi Driver and in between shots got married to Kalpana Kartik. Sunil Dutt and Nargis kept their marriage under wraps for a whole year. Shammi Kapoor and Geeta Bali too. Even Amitabh Bachchan and Jaya Bhaduri's wedding was reportedly a subdued affair. Madhuri Dixit and Sriram Nene, Aamir Khan and Reena Dutta, Juhi Chawla and Jay Mehta, the list goes on and on.
The more things...
A lot of these secret marriages got annulled even more secretly. It happens. A lot many secret second and third marriages happened. That happens too. Just the thought that so many men and women who routinely help the rest of the country unwind could barely be themselves is suffocating. So you may hoot at all that sindoor, frown at the demure tradition keeping, secretly agree that some of it is plain silly, but if that is what they wish, that is what they should get. No? And if you at all have an axe to grind, let that be with Italy.