Akshay Kumar and Ranveer Singh on Koffee with Karan
'Desi boys' Akshay Kumar and Ranveer Singh were on Koffee with Karan on Sunday. Highlights from the episode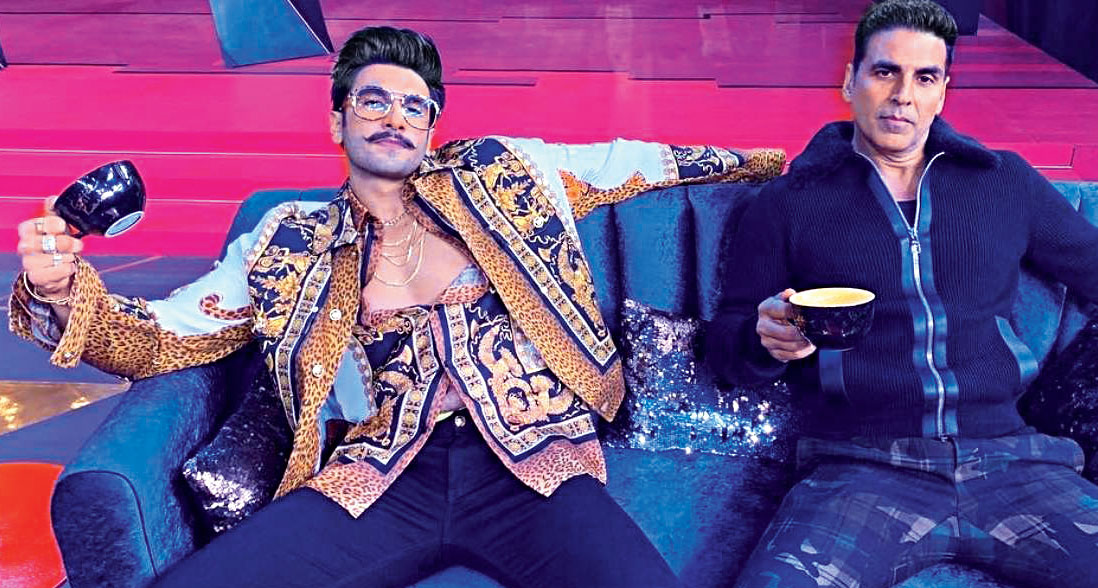 Ranveer and Akshay on Koffee with Karan
Agency picture
---
Published 29.10.18, 04:24 PM
|
---
After Deepika Padukone kicked off Season 6 with Alia Bhatt, it was beau Ranveer Singh who took centre stage — with Akshay Kumar for company — in the second episode of Koffee with Karan. Though there were no major fireworks, the two did make it 60 minutes of engaging viewing on Sunday.
Hats off to Deepika!
Akshay began with drawing parallels between him and Ranveer. "I may not have that kind of energy anymore, but he is a lot like me," said the Khiladi, flashing that familiar gummy smile. He mentioned that Ranveer is not only the life of every party, he is also the last person to leave a party!
Akshay Kumar: Yeh (Ranveer) kisi ke bhi shaadi mein jaata hai performance karne, he's always the last one to leave! Aadmi ki shaadi khatam ho chuki hai, woh suhaag raat ke liye jaana chahta hai, lekin woh jayega tab tu jayega na! By the time he leaves at 5am, those people are so tired that they don't have the energy to do anything! Iss insaan ke saath rehna... hats off to Deepika!
Ranveer wears Karan's hand-me-downs
Courtesy Koffee, we now know that Karan Johar is to be blamed for Ranveer's outlandish wardrobe. The Band Baaja Baaraat star revealed that Karan buys some "crazy clothes" for himself but doesn't have the confidence to carry them off and hands them down to Ranveer. Even the ensemble Ranveer wore to the episode was given to him by Karan from his own wardrobe. "I give it to him because who else will wear these clothes?!" deadpanned KJo.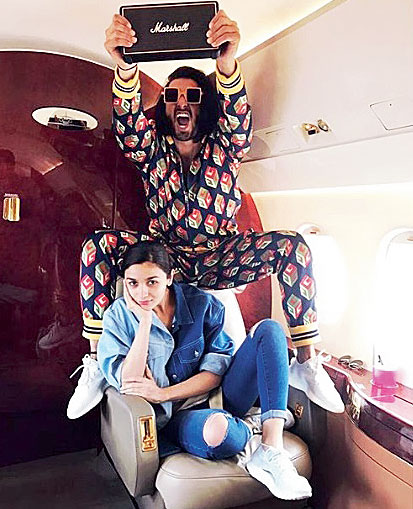 Ranveer added that the tracksuit he is seen wearing in the picture (above) was worth Rs 3.5 lakh and a gift from Karan on his birthday. "But they aren't meant to be worn together!" screamed Karan.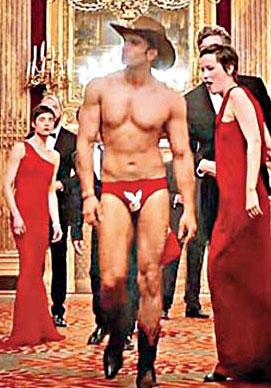 Bonding over 'undies'
Akshay said that he and Ranveer have a lot in common on screen too. How? "He did that red chaddi dance in Befikre... even I wore blue undies and danced in my film Suhaag."
Rapid fire with Ranveer
One song that perfectly encapsulates your feelings for Deepika?
Ranveer: Sweet Child o' Mine... Guns N' Roses.
Your worst habit as a boyfriend?
Ranveer: I'm never on time.
One person whose stories you will never believe?
Ranveer: Sara (Ali Khan)... she dhaaps a lot!
Never have I ever... streaked?
Ranveer: I have streaked... at (Bandra) Bandstand.
Never have I ever... cheated on a girlfriend?
Ranveer: I've not cheated on my full girlfriends... I've cheated on my half girlfriends.
A Tinder bio for Ranbir Kapoor.
Ranveer: I have many talents... even outside the bedroom.
If Deepika Padukone was a pet, what would she be?
Ranveer: She's my hummingbird.
If Arjun Kapoor had to leave a party abruptly, what could the reason be?
Ranveer: He's got a booty call!
Akshay Kumar or Anil Kapoor, whose biopic would you rather star in?
Ranveer: I think Anil Sir would be in his own biopic playing himself.
Deepika or Alia, who would you want to be paired with next?
Ranveer: Both.
Karan: In the same film?
Ranveer: Yes, 'Kuch Kuch Hota Hai 2'. Ranbir can enter as Salman. What a great idea, Karan! It's a block (buster). You should make it.
Karan: And give Ranbir the special appearance?!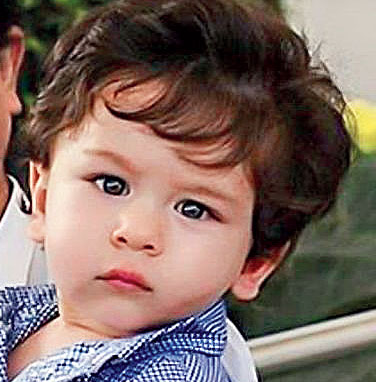 If you were getting a movie with a Khan, which one would you want it to be — Shah Rukh, Salman or Aamir?
Ranveer: Taimur! When Taimur (above) becomes an actor, I will play his father... he will be my budhape ka sahara.
Akshay's rapid-fire stint wasn't as much fun, but he did say that it's his habit of tuning into the cricket score that irritates wife Twinkle Khanna the most. He also said that after Twinkle, he finds Deepika to be the hottest, and picked Salman as his favourite among the three Khans.