Neeti Mohan is in the judge's seat for Sa Re Ga Ma Pa
Voice of hits like Jiya Re and Ishq Wala Love, is judging Zee TV's popular music show for the first time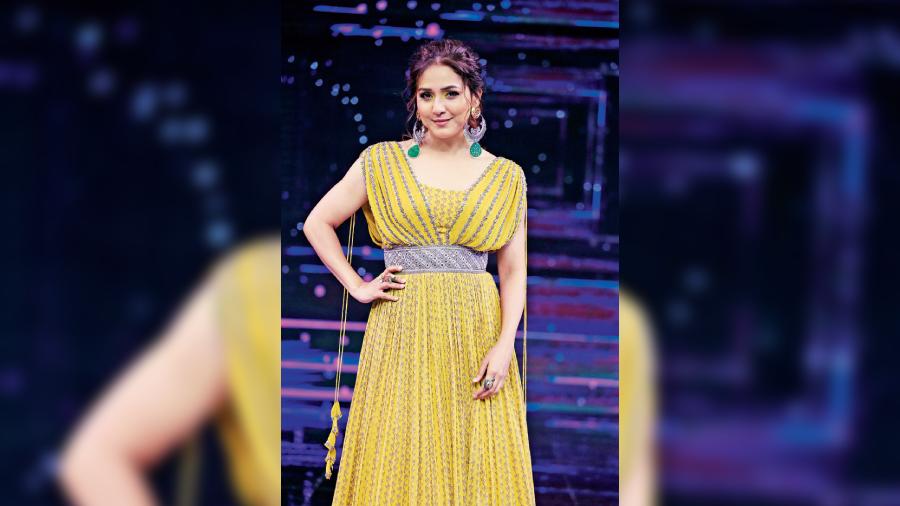 ---
Published 21.11.22, 01:16 AM
|
---
My nanibari is in Kolkata. I visit the city quite often, twice or thrice every year. Earlier, we used to come for holidays, now I come for shows. I love Kolkata. That city has a great vibe," Neeti Mohan says in one breath. The eldest of the Mohan sisters, the voice of hits like Jiya Re and Ishq Wala Love, is judging Zee TV's Sa Re Ga Ma Pa for the first time.
You became a mother last year.
Yes. Because of the pandemic, I had a lot of time to enjoy my pregnancy and delivery.
Having become a new mother, how has your outlook changed towards the contestants in a children's show?
When you become a mother, you become more sensitive to children, even other people's children. You do understand when they are hungry, moody or sleepy because even your child goes through all that. When a five year old or a nine year old is coming on stage and taking his or her position, the lights are on them and they start singing, you can relate to their excitement and nervousness.
Is this your first time on a children's show?
It's the first since motherhood but second overall. I believe every child is unique and they are here to shine, and I am doing my bit for that on the show. When these tiny little faces open their mouths and hit the high notes, it's incredible. Every child deserves a standing ovation for the courage to come on this platform. We are a part of their journey.
Since both you and Anu Malik are new to this show, having been on other shows before, how difficult will it be to build an audience connect? Or do you think the brand is strong enough to pull in viewers from the start?
For Sa Re Ga Ma Pa, more than the branding it is the talent that is the USP. No matter who is there, it is about their voices. The spotlight is on them. Because of the bond we forge with them over the few months we see each other, of course, we become a family. All that is reflected on the show.
Tell us about the singers on the show. There is some fabulous talent from Bengal.
There is something in the air and water of Bengal and the Northeast. We get such incredible talent from there. Of course, there are participants from Punjab and the south as well. But those from the east are something else. The show deals with participants aged five to 14 years. But the youngest is four and you will see the way he plays the harmonium.
Would you be seeking versatility or will you allow children to sing in whatever musical space they are comfortable in?
We give liberty to children. They can choose whatever they want to sing. There are experts guiding them. After the auditions, the children who made it to the show went through a month of training so that they show improvement. Children can be versatile. But we will let them do whatever style they are comfortable in and not force them.
In the non-film space, one hardly hears anyone launching an album.
That concept is not working. Even if there is an album, people release it in singles. Then it gets more attention. Otherwise the songs get lost. The attention span of people is very low. We want every song to get noticed. l recently did a song on baarish on Sa Re Ga Ma label. I did a duet and a solo version. I am working on a few more singles. People are listening from YouTube, sometimes on radio. Even if the film has not worked, the song is a hit. There's no fixed formula. But if a good song is there it works.