Neeraj Pandey directs Bandon Mein Tha Dum
The four-episode series chronicles India's historic test win against Australia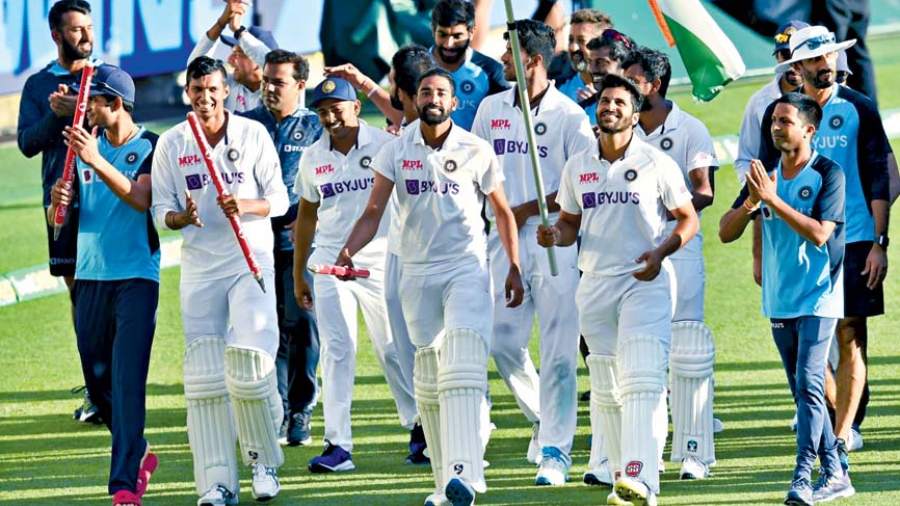 ---
Published 17.06.22, 01:05 AM
|
---
India's historic Test series win against Australia in 2021 — with Ajinkya Rahane and his men breaching the Gabba fortress, where Australia hadn't lost a Test match in more than three decades — has now been chronicled in a documentary series. Titled Bandon Mein Tha Dum, the four-episode series uses  behind-the-scenes footage and talking head narratives from members of the winning squad, including Rahane, Ravichandran Ashwin, Cheteshwar Pujara, Mohammad Siraj, as well as coaches and Australian players.
Bandon Mein Tha Dum sheds light on the struggles that the Indian cricket team had to navigate. Fighting against odds, a relatively young team stepped up against a full-strength Australian squad to script history.
Now streaming on Voot, Bandon Mein Tha Dum is directed by Neeraj Pandey, the man behind some stellar Bollywood films in the recent past, including the blockbuster MS Dhoni — The Untold Story. The Telegraph caught up with Pandey — who was brought up in Howrah — to know more.
What was the genesis of Bandon Mein Tha Dum?
We were watching the Test series in early 2021 as it was unfolding. We managed to draw the third Test and the producer of the show  told me, 'This will make for a great story.' And I blurted out, 'No, it will make for a great story if India wins the fourth Test!' And that's what happened. So we somehow had the idea for this at the end of the third Test and then the miraculous series win put the stamp on it. Historical significance and mindboggling statistics aside, why do you think this win needed to be captured on screen for posterity?
It was a very young side that won the series for us. If you look at the whole arc of the journey of this Test series, it was an impossible, unbelievable win. Right from the first Test, there was one setback after another. And then to come back from a place of no hope to win the series... it's just amazing. You can't imagine that happening so easily.
For me, what stood out was that it's a very good story about revival, about resurgence, about tenacity, about fightback. I feel it captured the true essence of life itself... that you can always come back from any adversity and get on top of it.
What's the idea behind the title?
This is a line which would be used a lot during my college days in Delhi University. And when I was making this, I just felt that this was the most appropriate title in the context of the whole team.
What were the biggest challenges of putting this together?
That we were putting it all together during Covid and so a lot of remote work had to be done. We had to interview the Australian players remotely, we had to speak to Paddy Upton (coach and former player) remotely. There was a lot of back and forth with Cricket Australia. But it was so nice to see how excited they were about the idea. No one was in a position to travel to Australia then, and they really helped us in terms of uplinking the match footage for us to watch and to also engage with the concerned people. All sorts of long distance-related challenges came into play in this project.
We were lucky to get some great people on this. Besides the members of the Indian team who were part of this historic win, we got eminent players like Pat Cummins, who despite their busy schedules, made time for us.