Navigating love and coding
Mismatched is cutesy and charming but rehashes too many genre tropes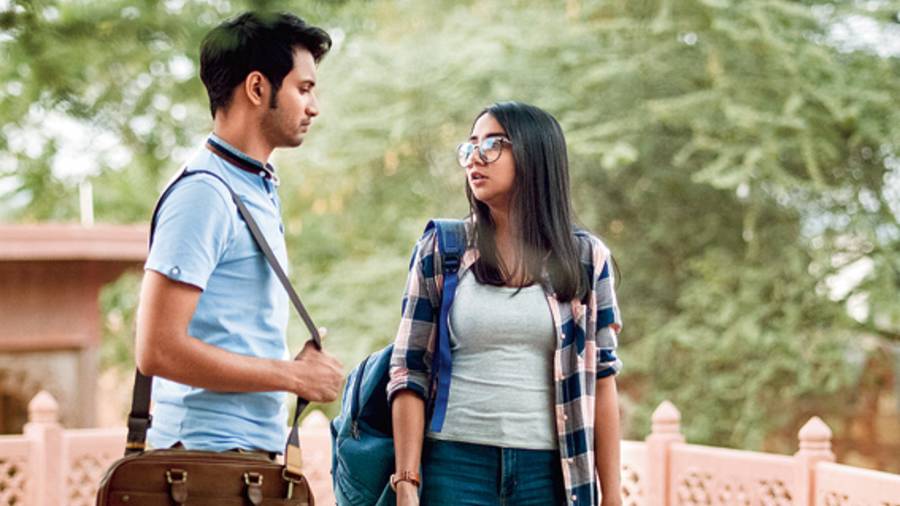 Rohit Saraf and Prajakta Koli in Mismatched, currently streaming on Netflix
Sourced by the correspondent
---
Published 23.11.20, 01:09 AM
|
---
Every genre trope is wrung to its maximum in Mismatched, Netflix's attempt at a desi Young Adult series, which swings precariously close to almost every title that's ever been made in this genre. And while it's all cutesy and charming to start with, the law of diminishing returns ensures that Mismatched ends up being no more than a #WeToo, and though feel-good for the most part, there is just too much predictability at play.
Based on the novel When Dimple Met Rishi, Mismatched plays out over six half-hour episodes. It marks the acting debut of YouTube sensation Prajakta Koli playing Dimple, a small-town coding enthusiast who escapes to Jaipur for a three-month course on app designing, when her middle-class mother starts pressuring her to get married. She's 17, mind you.
She doesn't know that mommy dearest has already set her up with Rishi (Rohit Saraf), a poor little rich boy with parental problems who takes one look at Dimple's profile (he's sitting in his living room looking at potential matches with his grandmom) and already starts calling her his "future wife". He's 18, mind you.
Rishi employs some creepy stalker-ish behaviour to end up signing for the same app course, but because its Rohit Saraf with those puppy eyes and innocent smile, he inexplicably manages to make it endearing (yes we are guilty as charged). Dimple (Prajakta is confident and has great screen presence), however, will have none of it. But what starts with her emptying a glass of cold coffee all over him ends up with the two becoming friends, sharing project work and going on dinner dates, until it all explodes in the final episode, setting up the stage for what we can well fathom is another season.
While I may have overshot the target audience for Mismatched by a decade-and-a-half (and then some more), I quite enjoyed watching it because it didn't demand too much out of me. But novelty is clearly not the show's strength, populated as it is with characters and circumstances that seem all too familiar. The makers seem to be ticking off too many boxes , populating the show with tracks that involve a closeted lesbian, a bully with a sob backstory, an NRI trying to fit in, a social media influencer, a rebel with purple hair.... Rannvijay Singha pops up here and there as the nonchalant, cool professor (not of the Money Heist variety). He and the kids ensure that Mismatched coasts along just about fine. But be prepared to forget it the minute you stop watching it.