Mountain man
Read more below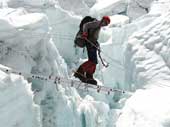 ---
Published 11.03.12, 06:30 PM
|
---
Banker by profession and mountaineer by passion, Mount Everest and Kanchenjunga climber Basanta Singha Roy tells t2 about his journey and what peak lies ahead.
From a Punjab National Bank employee to mountaineer — take us briefly through the journey…
I started mountaineering after I started working with the PNB. I always loved travelling. In 1987 as I started travelling to various places like Mount Abu and north Bengal, I realised I was attracted to the mountains. In the same year, a friend told me about the Mountaineers' Association of Krishnagar. I found they were organising a five-day rock-climbing course in Susunia (Purulia). I decided to go for it and really enjoyed those five days of camp life. That's how it all began. Later, I used to go for small treks in the Himalayas.
But it was in 1989 that I took my Basic Mountaineering Course (BMC) from the Nehru Institute of Mountaineering (NIM), Uttarkashi. And in 1990 I did my Advance Mountaineering Course (AMC) from NIM. So I started climbing the Himalayas from 1990 after my course was over. And from 1991, I started leading my Krishnagar team. And finally in 2010 we climbed Mount Everest (8,850m) and then Kanchenjunga (8,586m) in 2011.
Initially, how did your family react?
Initially my family meant my parents. They didn't stop me because they didn't quite understand the risk factor in this field. When people started telling them I was doing well and even short articles started appearing in the newspapers, they started understanding more. When I got married, my wife Shriti already knew I was a mountaineer. But she always supported me, and I never had to worry about anything else. I am lucky to get their support and wonder if anybody else gets this kind of a support from their family, in this field.
You are still an employee at PNB. How do you balance work and your passion?
Every year there is about a month's holiday allotted for the employees. That is when I go on these expeditions. My colleagues feel proud of me and they are very supportive.
What kind of challenges do you face on these expeditions?
The first and main challenge is completing the expedition successfully. Planning the entire expedition is tough. Unless the plan is right, you can't be successful. Arranging for funds is extremely difficult for small mountaineering clubs like ours. Especially when you are climbing peaks like Mount Everest, around Rs 40 lakh is required...
What were your biggest challenges while climbing Everest?
My first challenge was collecting funds for the expedition. Next, to keep myself fit at that high altitude, more because I was leading my group of men and I am ageing [Basanta is 50]. The climb wasn't so difficult. I was more worried about bringing my group back to the base camp safely. As a leader that was my challenge.
What about Kanchenjunga?
Kanchenjunga still has a higher death ratio compared to Everest, mainly because of its unpredictable weather and difficult terrain. There are many long stretches for vertical climbing, which become risky. The distance between the last camp and the peak is a lot more (than Everest).
What was the first thing you did when you reached the top?
The first thing was to take a look around and see Everest. We were on top of the world! When it came to Kanchenjunga, I had seen the peak in 2010 from Mount Everest. And within a year, we were on Kanchenjunga! It's more than a dream come true! I had never dreamt that I would be able to climb both peaks within a year... but my immediate concern was about returning to base camp.
How do you keep fit?
In the morning I run at least 20 laps of a football field. That helps me increase my stamina. Otherwise, I just do freehand exercise regularly and eat on time.
What are your future expeditions?
Now that I have got the taste of climbing more than 8,000m, only that height tempts me. I had planned to climb Mount Godwin-Austen, 8,611m (K2). I tried seeking permission from the government of Pakistan but they denied, saying they don't allow Indians to climb K2. So, I plan to try Annapurna-I, 8,091m (Nepal) in April, from the Mountaineers' Association of Krishnagar. I want to stick to the Himalayas.
Best places to learn mountaineering in India/ Calcutta
Himalayan Association
South Calcutta Trekkers' Association
Howrah Mountaineering Club
Chandannagore Mountaineers' Association
Sikhar Mountaineering ClubIn India (Govt run)
Himalayan Mountaineering Institute
Nehru Institute of Mountaineering
Sneha Dutta