Most of 'Ghost Stories' is ho-hum
However, Dibakar Banerjee impresses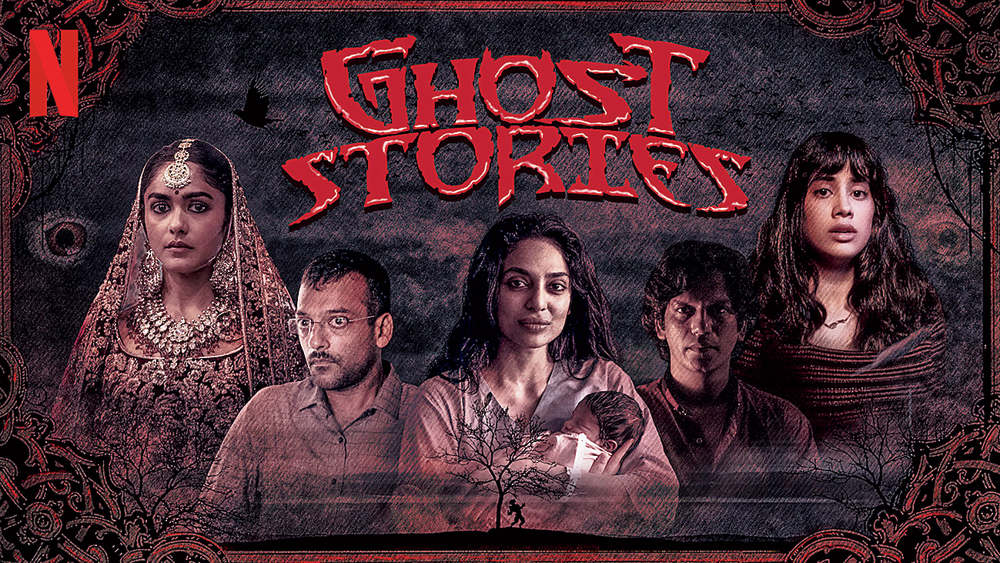 ---
---
Horror is a tough nut to crack. How do you work largely within a set of given tropes and come up with an experience that looks and feels new? How do you afford the literal with layer so as to not only evoke a greater degree of fear, but possibly something far deeper? Most importantly, how much is too much and how little too little in horror?
Ghost Stories, the four-in-one anthology on Netflix that attempts to explore different facets of horror — overt to implied, fable-inspired to urban legend, socio-visual to political — is a significant step forward for the genre in an industry that hasn't really ventured beyond the conventional, save for a tryst or two. More importantly, it sees four mainstream directors come together — like they did with Bombay Talkies (2013) and Lust Stories (2018) — to experiment with a genre that hasn't always been the first choice for filmmakers in our part of the world.
So, does Ghost Stories work? Well, let's just say that the sum of its parts is greater than the whole. In a genre that inherently lends itself to indulgence, Ghost Stories is far too indulgent, with style often dominating substance. While Zoya Akhtar's segment is predictable, Karan Johar's is downright silly. Anurag Kashyap scores with mood and (some) moments, but you may need to look away during some bits. It's only Dibakar Banerjee who aces it, crafting a tale that seems both make-believe and horrifyingly close to reality at once. Here's what we thought of the four segments, in the order they appear in…
Directed by: Zoya Akhtar
What can get more humdrum than an old, creaking house, a city on the verge of a deluge and two strangers locked in? Zoya, who stepped out of her comfort zone to hit it out of the park with Gully Boy, disappointingly works within the usual horror tropes in her film, which is also the shortest of the four. Janhvi Kapoor sheds some of her rawness to play a nurse caring for an infirm septuagenarian (Surekha Sikri in supreme form).
Squeaking doors, shadowy figures, doorbells that ring at random and an unnerving stench that refuses to go away… you know from the first minute where this is going to land up. Some parts are genuinely eerie, with the atmospherics contributing largely to the feeling of foreboding, but this is a case of too much building up to almost nothing. A missed opportunity, with the hugely talented Vijay Varma being given only one banal scene to play with.
Directed by: Anurag Kashyap
A voracious watcher of the genre, Anurag Kashyap is a man who knows his horror. Layering a human story with elements of both psychological and body horror, Kashyap tells a deeply disturbing tale that explores themes of motherhood, loss and loneliness, with the segment relying on the ever-dependable Sobhita Dhulipala to pull it through some of its patchy parts.
The most compelling in terms of technique — from the desaturated colour palette to the camera sneaking up for Sobhita's close-ups — this segment is ripe with potential (even a shirt left hanging on a clothesline looks portentous). A pregnant young woman (Sobhita) precariously walking up and down a flight of stairs leading up to an attic that symbolically nestles a few birds' eggs ready to hatch, a row of ominous dolls with beady eyes that the protagonist 'talks' to, a jealous young boy with voodoo-like powers and the constant cawing of crows, the build-up is very Hitchcockian.
Kashyap manages to conjure some deeply unsettling moments, like the scene in the hospital, which is poetically filmed, almost fable-like in its mounting. But he does allow his penchant for indulgence to get the better of him, especially in the last 10 minutes. How much you like or dislike this film will depend on how strong your stomach is. It will probably work with fans of David Cronenberg's genre of psychological horror meshing with the physical, but Kashyap fails to rein it in when he should have.
Directed by: Dibakar Banerjee
Dibakar Banerjee always has a voice that cuts through the clutter. His film, embedded in the zombie genre, is easily the best in Ghost Stories. Rooted in the Jordan Peele school of horror (more Get Out than Us), the film is set in a post-apocalyptic world and opens with a man (Sukant Goel aces it from the get-go) landing up in a remote village on a work assignment in the dead of the night. Trudging through mucky fields after a scared rickshaw puller abandons him four kilometres away, he finds himself in the village a few hours later, completely deserted, without power and the biggest horror story of them all… without cell phone reception. Two kids (Aditya Shetty and Eva Amreet are top-notch), barely 10 years old, rescue him in the nick of time, to tell him an incredible story. The story of how the inhabitants of the neighbouring 'big town' "ate up" everyone in 'small town', leaving only the two of them to devise ingenious ways on a daily basis to keep themselves alive.
Bloodthirsty monsters are running amuck, with the film being painted as a survival-against-all-odds story on the surface. But scratch below it, and you will see Dibakar making many a strong statement. From the cannibalisation of lives, resources and even faith to veiled references to religious fundamentalism, lynching and politics over meat, the film serves as an extremely layered commentary on the country's current socio-political climate.
Dibakar gets all the beats right with this inventive and courageous take on the genre. The monsters are clearly among us and Dibakar — with a shape-shifting turn from Gulshan Devaiah aiding him — says it as it is.
Directed by: Karan Johar
The weakest film of the four, this one is painfully predictable to the point of being juvenile. Karan works within the framework of what he's best known for. So there are rich, well-heeled families, a big fat wedding, aesthetically done-up mansions and protagonists sipping rose wine even while conversing about dead grandmothers who supposedly 'talk'.
Mrunal Thakur has little to do except walk around looking scared in silk negligees in the dead of the night. The unintentionally funny film literally goes nowhere. The biggest eye-roll-inducing moments are courtesy social media star Kusha Kapila who pops up every now and then to crack a distasteful joke or two. One involves comparing billowing curtains to a blow job. Yes, you read that right.