Mimi Chakraborty: 'The money that we get in Tollywood is peanuts'
From the privileges of Bollywood to how pain enhances an actor, the Khela Jawkhon star gets candid about her journey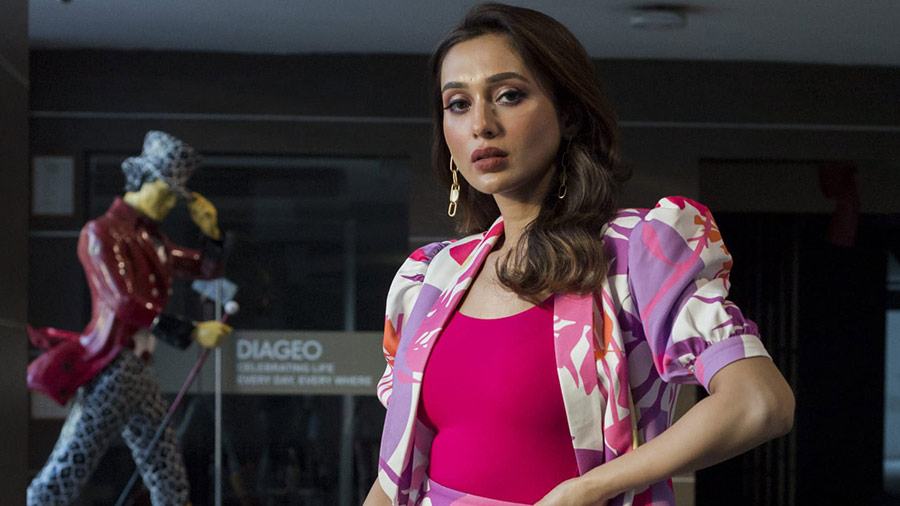 Mimi Chakraborty stars in Khela Jawkhon, releasing at cinemas on December 2.
Supratik Sur Roy
---
Calcutta
|
Published 01.12.22, 01:07 PM
|
---
On the eve of the release of Khela Jawkhon, directed by Arindam Sil, Mimi Chakraborty talks about her journey from her first TV serial, Champion, through some of her less-heralded films. "I've never been to an acting school. I have learnt through my directors, films, and being on sets. Everything to me has been fun because I am living my dream," says the actress-cum-MP. 
First TV serial, Champion
I got the offer to audition for Champion when I was in my first year of college. I had already started my modelling career. There was a huge queue at the location. I was called in by the director in a room full of people. That was the first time I saw a movie camera. They gave me a situation to act out; I did. They asked me to cry; I cried. My reaction was spontaneous. They called me up after a few days and told me that I had made it. I was paid Rs 15,000 a month. It was a huge amount back in 2009. I remember calling my mother and saying, 'You don't have to send money to me anymore.'
I had a lot of fun on the set. I used to laugh for no reason. I was scolded a lot. I had no idea how to face the camera. I was not serious at all until my next project Gaaner Oparey happened.
Proloy (2013)
Proloy (directed by Raj Chakrabarty) is a political thriller, based on real life and shot in realistic locations. The film came to me when I was doing commercial masala films. I was the face of commercial masala Bangla cinema after the huge success of Bojhena Shey Bojhena…. Proloy was much ahead of its time. It was a box-office bomb. When it was released, the audience did not understand what the film was about. Now they consider it to be a cult film.
Looking back, I too did not understand the value of the film. Now I do. Why had I selected the script in the first place? Frankly speaking, back then I needed money to survive. Bangla cinema was in a bad shape. I did not have the privilege of being choosy. I had to do four-five films a year to run my household. 
Golpo Holeo Shotti (2014)
We don't get to see many horror films in Bengali cinema. This was an official remake of the Tamil film, Pizza. I've deliberately never watched the originals of any remakes I've done. Golpo Holeo Shotti was my first film with director Birsa Dasgupta. It's fun when you are on his set. I was living on pizza on set! There is a scene where I'm getting married to Soham Chakraborty in the film where we performed the rituals inside a home with a pizza! One day the director had to take a close shot of a half-eaten pizza. By the time the shot was ready, I had devoured the whole pizza. Birsa said, 'It will take another 30 minutes for another pizza to come!' 
Khaad (2014)
I did not want to be a part of a multi-starrer, but I always wanted to work with Kaushik Ganguly. Shrikant Mohta (Shree Venkatesh Films) requested me to do the film and said, 'You just be who you are in the film.' I agreed. We camped and shot beside a river in the month of December. It was freezing. We even got to see a cheetah. I had to verbally abuse so much in the film! Since there were empty spaces all around, my abuses used to echo. It was surreal. Everyone on location wanted to hear my abuses echoing!
It was great working with Kaushik Ganguly. I remember him saying, 'Your acting should never look like you're acting.' I have followed it since that day. I never thought that Khaad would be this big. And I had no idea that the song — Asatoma Sadgamaya (by Arijit Singh) — would become a cult song.
Posto (2017)
I played a mother in the film. Tomorrow if someone brings a script where I get to play a grandmother and the story is about me, I will do it. Even Shibu-da (co-director Shiboprosad Mukhopadhyay) asked me if I would have a problem doing the film since I was a commercial star; I said I didn't care. Working with Nandita Roy and him was a great experience. They are an institution. I had to go through workshops. I had to put on weight. 
Dhananjay (2017)
When the script came to me, I hated the person. I was afraid we were fictionalising a real story. Later on, Arindam-da (director Arindam Sil) showed me the research that had gone into the film to make it as authentic as possible. That is when I agreed to do the film. It was a difficult role. I was shooting with four cameras for the first time. I had long monologues. I had to speak like a lawyer. One of my toughest roles.
Mini (2022)
Mainak (director Mainak Bhaumik) had written the script keeping me in mind. For the first time, I was part of a film where the narrative revolves around the character I was playing. Even though people appreciated my part, I was extremely disheartened because the film did not work. There are few people who clap for your success, a lot of people who clap when you fail. I could hear those claps. But the film's failure has led to a close friendship with Mainak.
Khela Jawkhon (releases on December 2)
The film came to me four years ago; it went through a lot of problems. Back then, it was supposed to happen with SVF, but didn't. Later, I said to Shrikant-da (Mohta), 'Please take the film because it's my baby.' As an actor, I have given my heart and soul to this project. In the trailer, you see that I'm shattered because I've lost my child. My pet dog Chickoo passed away in April. We were shooting the film in August. I could feel the pain of loss. I have been told that pain makes you evolve as an actor. I didn't believe it when I was 22. Now, 10 years later, I believe it. Pain enhances you as an actor.
I have never done such a dark film where I am talking and my face is in the shadows. I had a problem with that. I don't know if I'm comfortable with it even now. Arindam-da kept telling me that this is a different process. I trust him.
Talking of Quentin Tarantino (to whom this film is a nod), my favourite is Kill Bill. I remember each and every scene of the film. I am a big fan of Uma Thurman!
Khela Jawkhon is a script that came to me and I loved it. Yes, there has been talk (of actress Sayani Gupta being the first choice for the film), but I turned a deaf ear to it. Whenever a female-centric film is written, people have a tendency to approach actors like Taapsee Pannu (she was approached for Khela Jawkhon). She is definitely a good actor, but what is Taapsee's box-office record?! I believe that in Bengal we have a lot of good actors and we should trust them and give them a chance. 
Bollywood vs Tollywood
I have just completed shooting Posto in Hindi. It is a tremendous experience working in Bollywood. Most of the creative people working in Bombay are Bengalis…. The budget is humongous. They hardly shoot two scenes a day. We shoot 18-19 scenes a day in Bengal. In Bollywood you get to sleep, take care of yourself, take breaks in between. In Bengal you don't have that privilege. The money that we get here is peanuts. I think the attitude has to change.