Mika Di Vohti runner-up Prantika Das on not being Mika Singh's bride but his friend
The ex-student of St. John's Diocesan School and Heritage Institute of Technology tells TT Online about being on a reality show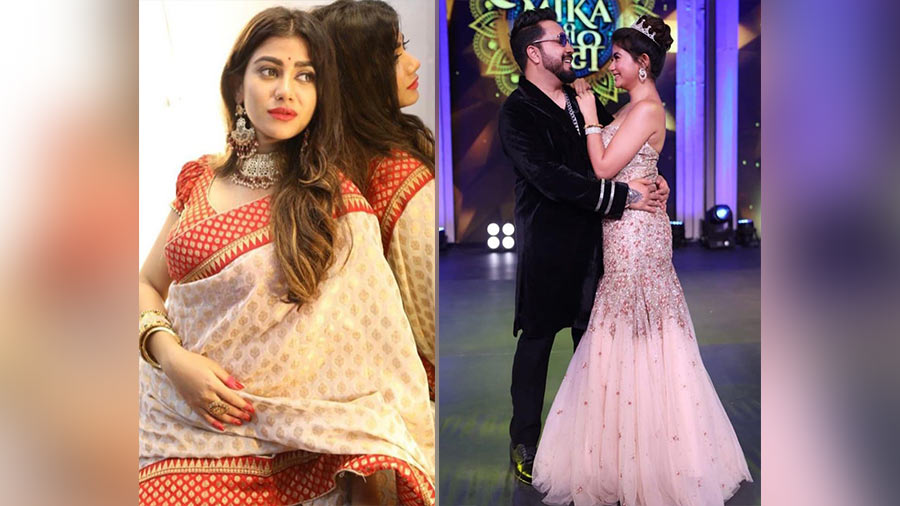 Kolkata girl Prantika Das on 'Mika Di Vohti'
@_prantika_/Instagram
---
Calcutta
|
Published 06.08.22, 03:31 PM
|
---
Kolkata girl Prantika Das has been recently in the news for her stint in Swayamvar: Mika Di Vohti. The model-turned-actress ended up as a runner-up
on the Star Bharat reality show that had popular singer Mika Singh looking for his prospective bride. Prantika, who lost to another finalist Akansha Puri, was last seen in the Bengali film Kishmish, starring Dev and Rukmini Maitra, which released on April 29 this year. We caught up with Prantika to know about her experience on the reality show and how was it losing the man of her dreams and more.
How did you bag the show Swayamvar: Mika Di Vohti? Was there an audition? 
Prantika Das: I did not see it coming. I was born and brought up in Kolkata and had been to Mumbai only for ad shoots and promotions but never thought of participating in a reality show. The opportunity came through someone in the casting crew, who knew I really liked Mika Singh. So, I gave it a shot. There were three-four rounds of auditions. It was after a week or 10 days that I received a call from the show's team, informing me that they would come over to my place for a shoot, and then I'd be travelling to Mumbai. I could not believe I was selected! The shoot at my place happened right after the release of my film, Kishmish.
Did you consult anyone in Tollywood before joining the show? 
Prantika Das: No, I did not. At the end of the day, it was a reality show and I had to portray who the real Prantika was. I took permission from my parents, who supported my decision.
Tell us how you got into acting…
Prantika Das: I come from a middle-class family with no connection with the film industry. I went to St. John's Diocesan Girls' HS School and then did my BCA from Heritage Institute of Technology. Modelling happened when I participated in the beauty pageant Dabur Gulabari Golap Pari in 2019, during Durga Puja, and won it. My first ever project was a Telugu film, Lakshman K. Krishna's Sadaa Nee Premalo, which was released recently. I have worked with various Bangladeshi brands; then Kishmish happened and another Bengali film on Disney+Hotstar, Ipshita Choudhuri's A Day in Winter.
How was your overall experience on Swayamvar: Mika Di Vohti? 
Prantika Das: It was amazing. Although sometimes, we used to shoot for 16-18 hours, I think all of that made it very special. It was my first experience of working in Mumbai and that too with Mika Singh! I learnt a lot from my fellow contestants. It was a neck-to-neck competition and I enjoyed it.
Were you a Mika fan? 
Prantika Das: I always felt connected to him through his songs. I think I got more than what I expected. I wanted to go there and become good friends and see what happened. God gave me a lot more than I could ask for. I might not have won the show but I got a friend for life.
Have you been in touch with Mika after the show?
Prantika Das: Yes, definitely. He is very caring and keeps checking whether I am fine. He is a very sweet person.
What made you think he could be your husband? 
Prantika Das: There is definitely good and bad in all of us, not just him. I felt I should know him in person and then judge. He is a kid at heart. Even though I am like him, I'm mature where I am needed to be. If you look at our chemistry, a lot of times the child in him has come out — the one that likes to sing, make faces, feed. We were a good match as friends and that we will be forever.
What does it take to participate in a reality show where such a major decision of life is involved? 
Prantika Das: If you keep thinking 'oh my god, I am going to a show' or 'I'll meet so many people', you will be anxious. If destiny wants you there, you will be there. Just put your best foot forward and pray that you succeed. 
This show has given you national exposure. How do you plan to make the most of it?
Prantika Das: I am going to use my experience. If projects come to me organically, I will accept them with my arms wide open.
One often hears that reality shows like this are scripted. What's your take on it? 
Prantika Das: Audiences have a thing that all reality shows are scripted. But technically, it was not. Five minutes after entering the set, we were told who all were going to come as guests. We went to the set, saw Farah Khan and Raveena Tandon entering, and then our creative team said we could ask our questions. We were not given our phones during the shoot days. It has been tough for us, and it has been real. The emotions shared by all the girls were real and none of it was scripted for sure.
Have you followed the previous seasons of Swayamvar?
Prantika Das: Honestly, I hadn't before. But before joining the show, I did, to get an idea. I only watched Rahul Mahajan and Dimpy Ganguli's Rahul Dulhaniya Le Jayega because Dimpy was the winner and she was from Kolkata.
You can watch the reality show on Disney+ Hotstar