Mayar Jonjal is a must watch for urban, complex, contemporary Bengali cinema lovers
'Indranil Roychowdhury is here to tell you a simple ballad of an ugly city, which is deeply moving, perhaps even sentimental in its truest form'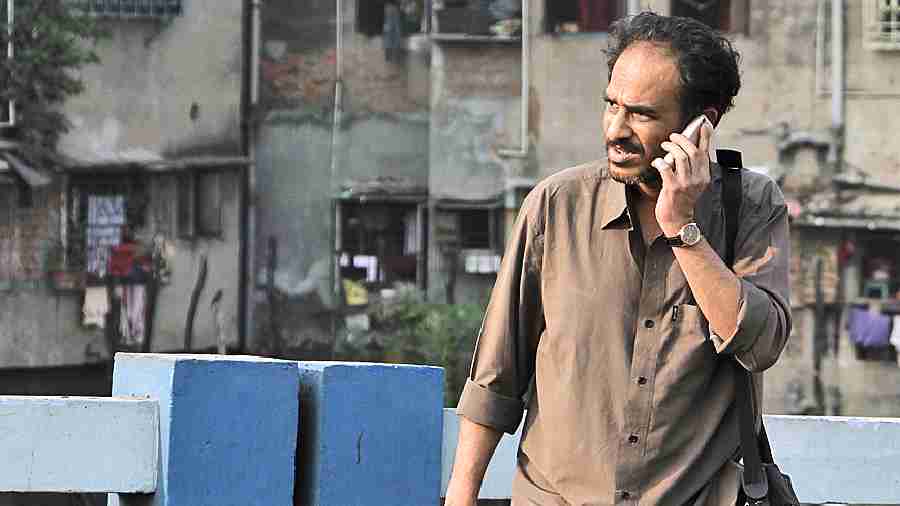 ---
Published 27.02.23, 02:49 PM
|
---
Those who long for Bengali cinema that is truly urban, complex and contemporary, go for Mayar Jonjal in the theatres as soon as possible. Those who are tired of melodrama, overacting or dated narrative and want to soak in the magic of our dirty yet beautiful city, go for this movie on the big screen. The best thing about Indranil Roychowdhury's film is that it refuses all the cliches of contemporary Bangla cinema and makes a multi-story into one single whole. Where all the dirty people are actually beautiful.
I must salute the cinematographer Indranil Mukherjee for showing ugliness so beautifully. I have worked with him in numerous of my films and feel that this is one of his best works. Shot almost without any big closeups, almost totally mid-shot or long shots, the film captures the people in their environment and the action gains a poignance. Though I will opt for big close-ups in my own work, this is an extremely relishing treat which is so rare. An absolute wow. The static camera with highly saturated colours in almost every shot manages to bring out the "beautiful" in a story that is about "dirty" people. With extremely well-lit each and almost every frame, the film becomes an album of a society and city where what is ugly is actually rather beautiful. To me, that is what the story is about. People are essentially not just good but beautiful.
Very loosely adapted from two Manik Bandopadhyay short stories, Bishakto Prem and Subola, what attracts me to Mayar Jonjal is its human dynamics. I will not get into any political analysis of marginalised life purely 'cause it's passe. I believe that whatever politics, if at all, the director Indranil wanted to convey, is actually secondary to him.
Director Roychowdhury's strength is his visualisation. The dialogue is essentially daily ramblings that do not verbalise what is being shown. Though the dialogue is extremely well written by the writer duo Sugata Sinha and Indranil, it is finally unimportant. The action thereby becomes far more pertinent. I only wish that the dialogue about our damaged planet in the scene between Paran Bondopadhya's Shudhamoy and the house help Shoma (Aupee Karim), could have been less on the face. The scene between the two of them during their first morning walk had actually said it all.
The problem with great images is that you tend to fall in love with them. Editor Sumit Ghosh could have been a bit more ruthless. The Purohit episode, in the beginning, could have been tighter or rather more "sexy". The drone shots of Bratya Basu and Beauti travelling in the car, though extremely beautiful, seemed superfluous. Yet, the flashback drone shot of Chandan and his wife at the seaside works brilliantly. Perhaps I am being a bit too finicky, but a film loaded with just enormously good visuals also needs pace. That pace, I thought, was missing at certain places. Mayar Jonjal is essentially two stories which get finally connected. The story of the thief Satya and the whore Beauti he loved but tried to kill for her money. The story of a drunk, irresponsible Chandan and his wife Soma who is forced to become a household help in a rich highrise. Yet numerous sub-stories and characters are juxtaposed, making the film a kaleidoscope of urban pain and passion. The editor who has the guts to dazzle us by cutting almost arbitrarily from one story to the other could have carved more lean meat and not fat.
All the indoor bed scenes between Shohel Mondal's Satya and Chandreyee Ghosh's Beauti are simply electric. To me, they are like straight out of an early Inarritu. Shohel is an actor to look forward to. I wonder why Chandreyee is not given her actual due by the audience and industry just for her superbly sultry persona.
Yet, Ritwick Chakraborty's Satya steals the show simply because of his immense capacity to hold you by the neck by doing perhaps nothing. Satya and Soma's story becomes the pillar of the narrative.
Ritwick is undoubtedly one of the finest actors in the country who I can watch numerous times. His shamelessness is still so antiseptic and pure. The scene in the shopping mall where he begs for a job and cries is good enough for any of you to go to the halls twice. It's high time any critic worth his salt gives some time to actually explain why Ritwick is so beautiful as an actor. It's his ability to merge with the other not-so-good co-actors, yet take control of the scene without any dialogue. His ability to silently offer that tiny bit of the character no matter where you place the camera. The scene with his son in the restaurant, where he gazes into the boy hungrily eating with kindness, joy and a lurking sadness, lifts the sequence to a superlative height. Ritwick has the rare quality which helps him transform from a great actor into a non-actor by acting. He, therefore, becomes the character. His strength is his ability to be completely effortless. Now, this takes a lot of inner effort to actually become somebody else without any faking. As an actor, I take a bow.
Director Indranil Roychowdhury's talent, among others, lies also in his casting. His ability to make all actors in his film, big or small, look and become equally good. Mayar Jonjal gives you wonderful characters who revel in their situations. Characters who are brutally real but represent our city and are somewhere beautiful. Why I repeat the word "beautiful" is for you to realise when you watch the film.
There is nothing beautiful about thieves, whores, drunk husbands, wives who are forced to become house help; rich wives who employ servants, poor drivers of rich people's cars, brutal police officers, a decadent fish supplier, low-down gangsters; an elderly man who is concerned about farting in front of a woman or a mad scrounger. Similarly, there is nothing apparently beautiful about the people and lives sung in the ballads of Kabir Suman or myself. Yet, you find an Alibaba or Petkati Chandiyal, Samson or Chena dukkho chena sukh beautiful. Don't you? If you do, then Indranil gives you a great opportunity cinematically. After a long time, he offers you cinema that celebrates the beauty of dirty people in their crazy city. A city where a thief can try to drug and steal from a prostitute but ends up taking her to a hospital knowing that he will go to prison. Indranil executes humans with such detail that Bratya Basu's Ganesh, a decadent fish supplier, becomes a sad and helpless man. That is exactly why Paran Banerjee's Sudhamoy becomes worth caring for.
Mayar Jonjal is a film that any audience with a heart will love if you believe that cinema is a place to relax, watch and enjoy. I know that there are many who go to cinemas for an adrenaline rush. To them, I say, there are many cheaper ways to get that. Try not to use cinema which has spent money, technical and creative effort to make you cry.
Let's leave the legendary Bengali filmmakers aside. Bengali audience in their time failed to fill the halls because they were not interested in the beauty of urban middle-class decadence. Hailed at festivals, films like Mohanogor, Jana Aranya, Ek Din Protidin, Kharij… did not draw audience to the halls. They were hailed in retrospect for reasons we all know.
Years have passed. Many filmmakers dealing with reality and offering Bangla cinema that is not traditionally arty have met with a similar fate. My question to those who complain that Bangla cinema is dated is, is it not high time we celebrate a Bangla film that is trying to not conform to the average bull? I have and will face brickbats for not conforming to what is being passed off as formula. Formula also changes. Finally its formula and many audiences who are behind time.
Indranil is here with total control over the medium to tell you a simple ballad of an ugly city which is deeply moving, perhaps even sentimental in its truest form. Not as snappy or quick as the plot-driven urban flicks from Mumbai. Inherently visually poetic since we Bengalis are poetic by nature. It is that poetry that Indranil is offering you for an engaging entertainment they had made over a long period of time. Let's accept the fact that what works at a film festival can also work in Bengali theatres. The whole world has and is still proving it. You only have to flick your OTT apps to realise that you also enjoy what is totally outside the parameters of formula. Why should our cinemas be denied that enjoyment? Will you as a Bengali care to look into that deep darkness of our Bengali soul?
As a critic, my job is to tell you not what I would like to make or should be made but to inform you whether Mayar Jonjal is good, bad or indifferent cinema. I genuinely feel that it is highly passionate for any and everybody. Again for lack of words, it's "beautiful".
Kindly, do not ignore it. 'Cause, like smoking, ignorance kills.