Maska with Manisha
Actress comes back to Netflix this week, looks forward to different characters & growing as an artiste in 'phase 2.0'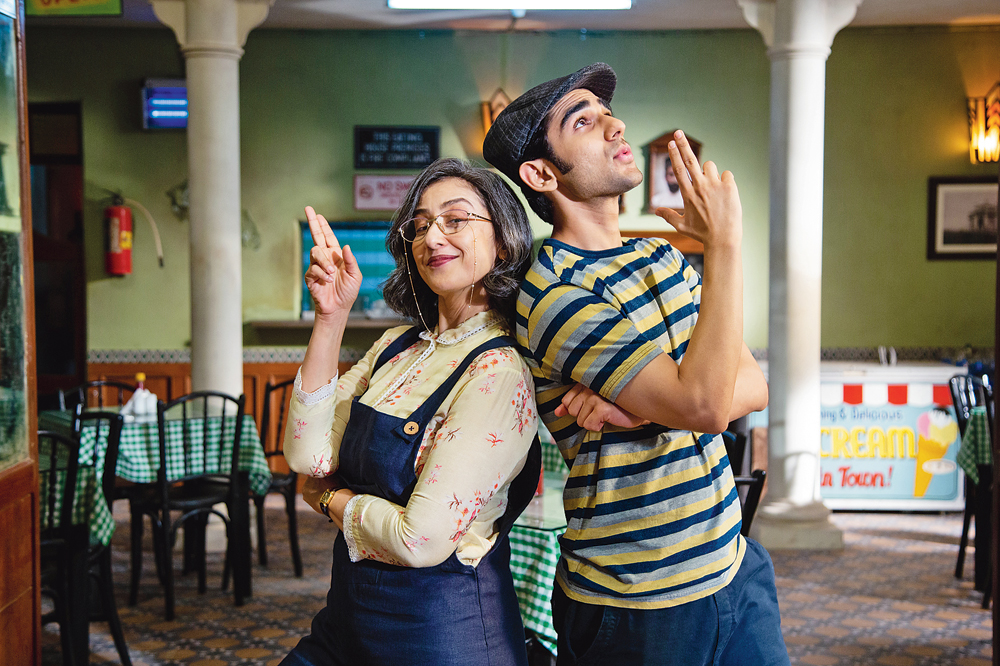 ---
Published 23.03.20, 11:55 AM
|
---
Manisha Koirala is returning to Netflix this week with Maska after starring in the streaming platform's 2018 anthology, Lust Stories. Streaming from March 27, the young coming-of-age Netflix Original follows the story of a confused guy (Prit Kamani playing Rumi Irani), who aspires to be a movie star and considers turning his back on the beloved Irani café run by his family for generations. That is, until a summer romance with a clear-headed girl helps him discover the fine line between dreams and delusions. The Telegraph caught up with Manisha, who plays Rumi's mother Diana, for an exclusive chat.
You're playing a Parsi character for the first time in your career. What nuances did you bring in order to portray it authentically?
The language of course, the Parsi Gujarati diction. Then, her body language, there's a limp because she has a problem with her knee because she has run around so much, she's running around looking after the restaurant. The kind of clothes she wears as a working mom... I worked on all that. She's a single mother who raised a kid... so her mind frame, her backdrop, her dreams, ambitions, her inner world would reflect in her outer look.
Talking about that outer look, your character looks very different with the glasses and the salt-and-pepper hair. What was kept in mind while creating that?
The salt-and-pepper hair came from the fact that our producer Seher (Latif) has salt-and-pepper hair (laughs). So when I saw that, I was like, 'Why don't I have that?' We tried different looks, we tried different wigs but we definitely wanted salt-and-pepper. My hair and make-up person also tried different lipsticks — certain red, maroon and purple shades. Eventually we settled for something else through trial and error.
What attracted you to the Maska script?
The first narration was very impressive. The writer-director was there (Neeraj Udhwani) and he read it out along with the whole diction and I was like, 'wow!' First of all, it's a very heartwarming story, simple and beautiful. Every character has a lot of heart in it. It's also very relatable for today's generation — the confusion, the ambition, the dreams, the struggle. Plus, it's very relatable for the elderly characters as well, who want to put their kids on the right path and the conflict of that. My character is eccentric and yet so lovable, when I heard all that in the first narration itself, I was sold.
Have you been to any of these Irani cafes in Mumbai yourself?
The one that's really popular is Kyani's. It was my diction coach Monaz (Ranina), who's a Parsi, who took me to the Parsi community and introduced me to various things. She and I went to Kyani's and had maska pav.
What was the vibe on set like?
I had a blast shooting this film, we all had a crazy time. I had a lovely time portraying Diana Rustom Irani. I remember when my son in the film is dressed like Gandhiji, that entire scene where Diana is disappointed with her son's choice of becoming an actor who sometimes even does Ram-Leela, was really funny while shooting.
What can your fans expect from Maska?
Over the years I have noticed this and it may sound a cliché but it's actually not a cliché — that your fans are very important. They've watched you in various things, so they expect certain qualities from you and I feel responsible towards that. I don't want to disappoint them and myself. So whatever project I take on, I've to be really responsible for that. I hope Maska touches everybody's heart and it's a beautiful family-oriented heartwarming story. The way we all have put our best foot forward in this project and the way we have enjoyed doing this film, I hope people also love it and enjoy it the same way.
You've another Netflix film Freedom coming up, directed by Dibakar Banerjee…
Yes, I finished shooting for my part. It's a very interesting, very Dibakar kind of a film. Maska has a much simpler and linear narrative whereas Dibakar's film goes back and forth, it's really complex. It has three different time zones and my character comes from the 40s to the 70s to the 90s… so it had huge space for me as a performer.
After Lust Stories and Maska, Freedom would be your third project with Netflix. Are you now enjoying working in this digital space?
Absolutely, I'm loving the digital space. I wanted to be a part of it but I didn't know I would get such good opportunities. I'm grateful for this. Actually, when Lust Stories happened, I didn't know it'd be digital, I thought it would be a part of Bombay Talkies but it became a part of Netflix. And today, Netflix is one of the topmost platforms in the world and I'm grateful to be a part of that.
What do you like binging on Netflix?
I keep on binging on something or the other. Recently, I watched Yeh Ballet and Guilty. Money Heist is something I'm totally addicted to and I have to stop myself from binging on it. There's a comfortable sofa and a comfortable pillow and I just keep on binge watching (laughs).
It has been more than two decades for you in the industry. How do you view your journey now?
It's been a great journey and I'm hugely grateful. I started the journey when I was a teenager and I'm here in my late 40s. I've done so many movies, learnt so many things and I've had this huge career span. I'm grateful.
You're one celebrity who has always been very vocal and spoken extensively about your recovery from cancer. Is this Manisha Koirala 2.0 now?
I think a part of me has always been bold and honest and have been out there. I've spoken some necessary, some unnecessary stuff (laughs). This is who I am, I accept my flaws as well. Today, I think it's a new me.
What kind of roles are you looking forward to doing now?
Different characters, a role that helps me grow as an artiste, a role that I've not done before, a role that makes me proud as an artiste and that makes me work harder, learn new skills like maybe a different language, a different world.