Makeover man
How Calcutta boy Aki Narula sketched his Bollywood success story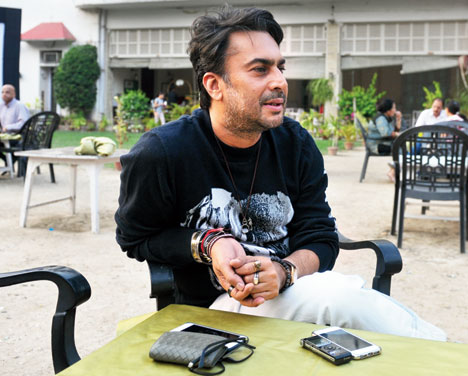 ---
Published 22.04.18, 12:00 AM
|
---
We walk into The Saturday Club on a late Tuesday afternoon and find a spot on the lawns. Aki Narula looks relaxed in a graphic black sweatshirt and sporty white pants that match his salt-and-pepper hair, a string with a seahorse pendant and a big smile on his lips.
It's a little past 5pm and Aki suggests we have Pataki, a club special fresh lime soda. The Wood Street hangout is his old haunt because Aki — one of Bollywood's most sought after stylists — is a para boy. "When you enter the gate, you smell the pool... the chlorine and memories of summer camps come up.... And that's my house," he points out, a stack of adornments on his wrists, all "memories of journeys and holidays — Tulum (Mexico), Malindi (Kenya), Hua Hin (Thailand)."
We were supposed to catch up with Aki on phone after the release of Baaghi 2 — where he has styled Tiger Shroff — which didn't happen. Instead, the surprise adda, as he's home on a hurricane trip. "There is something called destiny and it rolls out in the most unexpected circumstances. Always," he says, smiling.
Wood Street to the "quiet green lanes of Saint Francis Avenue" in Khar, Mumbai — destiny has indeed rolled out the most unexpected path for Aki Narula who turns 50 this September. The son of an engineer and a homemaker who grew up on Clark Street and then Wood Street, Aki went to La Martiniere for Boys and then studied commerce at St. Xavier's College. He worked in client servicing at Lintas for a year after college, and pursued cost accountancy, chartered accountancy and marketing management. He took off for Arizona State University to study communications and has taught at JD Birla Institute and iNIFD (Chandigarh). "I was trying to do a lot of things and not knowing what to do," he adds. Till he followed his heart and started fashion designing.
"For me it was a fascination with clothes. I always knew it I had it in me. Moving to Delhi and setting up my workshop and supplying my label all over, there was never a Plan B for me to come back. I feel that till you don't burn a bridge, you never really cross it," he says.
A good part of the 18-odd years in fashion has been spent styling for films, a journey that started with Bunty Aur Babli in 2005. "It's films more than anything else that drives me. I think I am having a good time here. There are multiple projects happening at the same time, and I am required to be on set and travel. I don't miss fashion designing but I often think about it. Fortunately, in some of the films, I do get an opportunity to create my own line. I miss my label and the shows, but for me to do that would be missing out on whatever I am doing for the next two-three releases that I am going to have this year." Oh yes, he is busy. There's the Shah Rukh Khan-Anushka Sharma-starrer Zero, Namastey England with Arjun Kapoor, a project with Tabu.
"My design baby has helped my film baby. I think my design baby is letting films grow and turn into the hero of the family and it knows that I will probably get back to her very soon. Hundred per cent," he says. So, who's winning the battle? "I think my heart is!" Aki laughs, pushing a plate of Masala Chips towards us.
We suggest he takes us back to how it all started — a Calcutta boy breaking into the Bollywood big league — and Aki is game. Over to him.
First brush with designing
There was an ad in the paper for Damania Fashion Awards... 1994 as far as I can remember. I was making a couple of shirts for my friends. It was just a hobby. There used to be a tailor who used to come home to take things from my mom.... So I sent in some entries with a couple of my friends wearing a couple of things of mine. That's when I got selected, made a line, won an award and started retailing at different stores in 1996.
First time I decided to leave Calcutta
I moved to Delhi in 1997. That's when fashion weeks started. From 2000 to 2008, I was a part of Lakme Fashion Week. I showed at Selfridges for two seasons. I was selling at 18 stores in India and a couple of stores abroad.... It seems so long ago! Then I moved to Bombay and films happened. I started consulting with Sheetal Design Studio in 2001. There was something about Bombay that was calling me.
My dad is very proud of me now, back then he was very uncertain. But he didn't stop me. I was dabbling in this and he saw the seriousness. When I said this is what I wanted to do and move to Delhi, he said, 'You have to go for it.' For me, that was the biggest encouragement… to let me go. There was fabulous support from my dad... from being single here and do everything to encourage his son.
I am a big sucker for memories. Food brings back a lot of those memories of Calcutta. Russell Street phuchkas, Biryani and Mutton Chaanp from Shiraz or Aminia, a Bengali lunch at 6 Ballygunge Place or Bhojohori Manna.... The best journeys are the ones that take you home.
First Bollywood break
My first Bollywood film was Bunty Aur Babli. I got a call from Adi Chopra (Aditya Chopra). Shaad (Ali, director) had seen a couple of my collections on the ramp and had told Adi. He said he wanted me to do the costumes for Rani (Mukerji) and Abhishek (Bachchan). Aishwarya (Rai Bachchan) came in later. I was told it's going to take over my life. My base was still in Delhi. I was like, how crazy and different can it be? Then Bunty Aur Babli happened. It just took out eight to nine months of my life. And I was like, I don't know if I want to do any more films! Bunty Aur Babli turned out to be this big hit.
First retail experience
We started with Taj Khazana, Taj Bengal, over here. Then there was Zenon here and Ogaan in Delhi, Melange in Bombay. Because of my mum, there was a lot of creative conversation at home. But I lost her very early, when I had just about started college, and that creative medium suddenly went missing.
All the practicality came in... of studying this and that. Gradually when the stores started asking for my collections and the pieces started selling well, people around noticed that this seems to be serious. It all seemed alien to the family… suddenly this person talking about fabrics, colours, clothes!
First time I became a Bollywood stylist
I think one gets spoilt, to be honest, with success. Even before Bunty Aur Babli released and the promotions started, everyone started talking about Rani's kurtas and look. It didn't sink in at that time at all. I was still working on my label. There were stores like Ensemble in Bombay and Melange and Ogaan who wanted the Rani kurtas in spite of the rip-offs being sold all over.
There is a thing called this beautiful rut of moviemaking. It sucks you dry but in a beautiful way. Abhishek called and said there is a film called Bluffmaster! that his friend Rohan Sippy was making. I had literally made up my mind of not doing it and move back to Delhi and reorganise my workshop, which was still running. I was still very passionate about my label. To actually move base to Bombay and be only doing films, I didn't think that it would actually pan out that way.
Before I could convince myself, the phone was ringing non-stop. It would have been foolish to say no. And I have never really done something that I have not really wanted to do. I don't sleep well if that happens. When you are doing fashion, you are your own boss, in terms of what your next collection is going to be like. When it comes to films, there is a script, a character and your clothes have to revolve around the character. It is very important to be in sync with the director of photography. How certain colours are going to look in natural light and how certain colours are going to look in winter and summer and how the green will look in Kashmir as opposed to how it would look like in Calcutta.
Fabrics that appeal and work better on screen are very different to fabrics that you wear in real life. So, there was a very different kind of a technical understanding. For me, that is a different understanding and not the understanding of fashion. Your script is your boss and your director is your creative head. So, do I really want to do that?! Then as I said, there is a baseball called success that slaps you on the face and you start enjoying it even more and you take it upon yourself — yes, I am going to turn it around and create a whole new Aki story.
Then Don happened. Gradually, it was like I am sure I am doing something right for the biggest banners to be calling me, for the biggest actors wanting to work with me. It was a big risk but there is a lot of faith. When that transaction happens… of faith, love and passion, there is no going back. It's been beautifully insane!
First person to have faith in me
I think Adi Chopra. The kind of faith he had and the way he stood by me through Bunty Aur Babli.… I did a lot of back-to-back films with Yash Raj Films — Bachna Ae Haseeno, Ladies Vs Ricky Bahl or Tashan, my first film with Kareena (Kapoor Khan), Rab Ne Bana Di Jodi.… Even if it is not a film with Yash Raj, I often think Adi will be very happy with this.
First fanboy moment
The biggest star I have worked with is Mr (Amitabh) Bachchan. He has an amazing sense of humour and is full of heart. I have done Jhoom Barabar Jhoom, Bunty Aur Babli, Paa. Fanboy?! I don't know how many times I took his measurements!
LAST BLOCKBUSTER ASSIGNMENT: BAAGHI 2
The film came as an offer on my birthday last year. I got a call from Sajid Nadiadwala with whom I had just completed Judwaa 2 and he wanted me to come on board for this film. I was already in the middle of Anand Rai's Zero where I am styling Shah Rukh (Khan) and Anushka (Sharma). So I was a bit hesitant to take this up. But there is fabulous equation that I have with Sajid Nadiadwala. So, I got on to it and this is my eighth film with the banner.
It was a fantastic ride with this film. It was an amazing bound script, a packed schedule. There were a lot of opportunities to do this makeover for Tiger. To be very honest, we knew we have something special, but did not think the film was going to be so huge.
THE TIGER SHROFF TRANSFORMATION:
Sajid Nadiadwala and Ahmed Khan (director) briefed me that it's going to be the new Tiger. We were going to give him a haircut which — as far as films are concerned and especially actors and actresses are concerned — is as crucial, challenging and daunting for the actor as much as changing one's physique. It is even more drastic than Botox!
The challenge was to bring out the vulnerability of Tiger's Ronnie in college, so that the second half becomes even more challenging for him to seek out and take revenge and turn into this gun-toting hero. To build up to that was very challenging.
In the first half, he is like a college boy. There is a lot of sportswear. There were a lot of references from the LA school of basketball… big basketball shorts with tights underneath with high-top sneakers, oversized vests. We tried to keep it very young, in terms of shorts and track pants... we did not go into the typical route of leather jackets and jeans. There were different kinds of cargo pants and sleeveless hoodies.
In the second half, it's about six years later that we see this fun-loving frothy college boy who goes to serve at the border and then comes back to help his ex-girlfriend, you see a certain maturity in terms of colours first. There are a lot of these navy blues, olive greens, dark greys and blacks.
I have also styled Tiger for the promotions, which I generally don't do. When we did suits, we teamed it with oversized T-shirts, just to make it a little more grunge and street. We gave a lot of sneakers too with suits. We did a lot of formal blazers with cargo pants. We flipped the normal. And, he can carry it off... with that kind of a body and attitude, it is a good canvas to work on. The biggest spark in him is his ability to learn.
AKI LOOKS BACK
Bunty Aur Babli: Pehla nasha.
Don: Retro tribute, Aki style.
Dostana: My first with Karan Johar.
Badrinath Ki Dulhania: As Karan Johar said, 'rural heartland is up my alley' and my success story with Varun Dhawan begins, leading to Judwaa 2.
Rockstar: Heartbeat with Imtiaz Ali begins. Filmmaking with Imtiaz is a different ball game. It's just not about making clothes. It's living the characters.
Jhoom Barabar Jhoom: As Adi Chopra said, 'You have created a different world.' All my love to him for this incredible journey. Jhoom Barabar Jhoom kind of knocked on that corner in my head that spoke about kitsch, pop art and colours.
Bluffmaster!: Abhishek (Bachchan) called me after Bunty Aur Babli and I will never ever forget that. Thank you AB!
Tashan: Thank you Adi Chopra. The journey with Kareena Kapoor starts.... Kambakkht Ishq and Kurbaan. Kareena is a very dear friend. There is a certain understanding that we share which is beyond films. I'll fly back to Bombay tonight if another film with her happens!
Bachna Ae Haseeno: My first with my favourite RK... Ranbir... and many more to follow... Rockstar, Barfi!, Tamasha.
Highway: The wind beneath my wings.
Ladies Vs Ricky Bahl: Ranveer Singh at his stylish best.
Dear Zindagi: The sexiest and hottest look of Mr Shah Rukh Khan.
Tamasha: The best journeys are the ones that take you home... my first film I shot in Calcutta... super proud and emotional.
Coming up
• A film with Tabu. I have known her for years but never worked on a film with her. This is being directed by Akiv Ali, his first film.
• Namastey England, starring Arjun Kapoor. He has great sense of humour... very dry.
• Zero: I am styling Shah Rukh Khan and Anushka Sharma. It will be small-town style as never seen before.