The road to silence
Instead of a gush of words on how it felt to return to direction, Mahesh Bhatt has sneaked into an OTT platform in the hush of self-imposed radio silence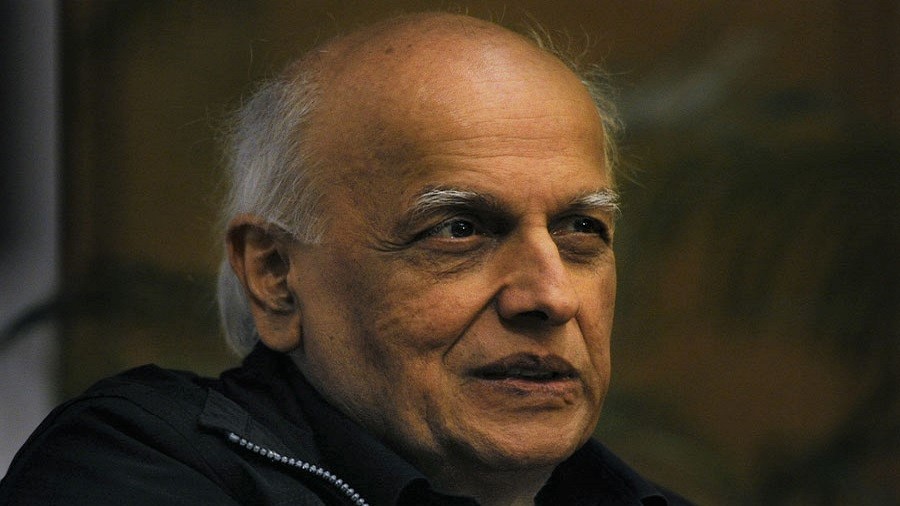 FIlmmaker Mahesh Bhatt
File picture
---
Published 30.08.20, 01:00 AM
|
---
I would hate to be in Mahesh Bhatt's shoes today.
Twenty one years after abdicating the director's chair and swearing he'd never again helm a film, when he did a U-turn with the sequel to one of his career's biggest commercial hits, vintage Mahesh Bhatt would have been all over the place.
But, instead of a gush of words on how it felt to return to direction, his new film, Sadak 2, has sneaked into an OTT platform in the hush of self-imposed radio silence. Self-imposed but necessitated by circumstances; "sneaked into" because not even a screener was given to the media. Once called "Dial-a-quote Bhatt" for unabashedly airing his views on a range of subjects, it is eerily deafening to hear pin-drop quietness from the Bhatt camp instead of a blitzkrieg of pre-release interviews and stories.
But it's entirely understandable. Imagine giving chirpy sound bites on your new film when there is a tragedy at the core of television studio cacophony. And there has been a rise in decibel as "news" has swung from nepotism, mental illness, abetment and suicide to murder, the underworld and the drug mafia.
Add to it sleaze and the casting couch. A soft-porn tinge has been affixed to every photograph and video clip featuring Mahesh with Rhea Chakraborty, Jiah Khan or even his daughters. The M.K. Gandhi stance of leaning on young shoulders on either side of him has always been Bhatt's way of posing before the camera. But suddenly that pose has come to represent the public flaunting of immorality. From avuncular adviser to male and female protégés, he's transformed into one of Mario Puzo's lead characters.
Irrespective of how unwatchable his latest film has turned out to be, instead of hearing at least a few loyal "cheers", he drew jeers long before it was even dropped on Disney+Hotstar. Wikipedia states that the trailer of Sadak 2 is the second most disliked video on YouTube.
It's not the most comforting of situations for a 71-year-old man to find himself in.  
Over the decades, there have been occasions when one has been thrown by Mahesh's behaviour.
The first time was when a soft-spoken colleague had gone to interview the amiable Bhatt, who was at the peak of his career with more films on hand than he could handle. The scribe had come back shaken because when she'd politely asked him if he had signed on too many films and perhaps couldn't give fair attention to all, he'd erupted quite unreasonably. Months later, the indifferent fate of almost all those films had proved that her question had hit a raw nerve.
But his anger had been both unexpected and unpleasant.
In the public space is a video of his speech at an Islamic conference that happened years ago. He had ranted against George Bush and called for Muslims of the world to unite. His fury and choice of words were alarming.
There is also a video going around of the Bhatt family on stage at daughter Shaheen's book release. Alia is seen squirming uncomfortably as Mahesh once again gives in to verbal rage over a discourse on depression.  
One has also had differences with him over politics, ideology and sometimes, his films too. Like he and I disagreed over Citylight and Begum Jaan. But it's always been a pleasant, two-way acceptance of differences.
The new Mahesh Bhatt that is being sketched in TV studios is not the man one has known professionally. After wild youth and flirtations with LSD and liquor, it was a wiser Mahesh who guided daughter Pooja into giving up alcohol. It doesn't fit the picture of a drug-dealing godfather who's being trashed and thrashed today.
For all the noise around him, Mahesh himself hasn't uttered a word since June 14 this year. It was brother Mukesh who said something about mental illness on that tragic day before he too zipped his lips.
Silence isn't a Bhatt trait. But life has changed since June 14.
What hasn't changed is perhaps Mahesh Bhatt's standard dress of blue jeans and black shirt. What will change forever is the way he poses with any woman — even if she's his daughter.