Rules of the game
To even attempt to link her death by diabetes with the tragedy of June 14, 2020, is not #JusticeForSushantSingh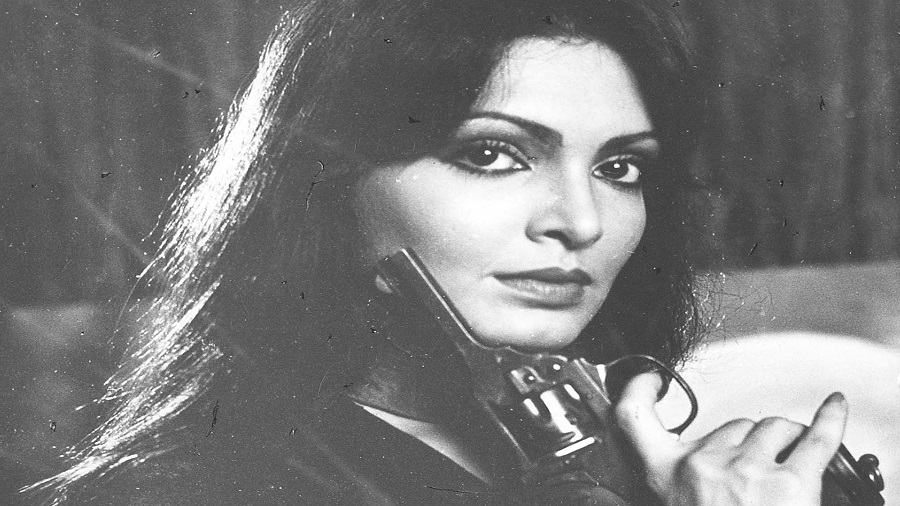 Parveen Babi in the film Bond 303
File picture
---
Published 09.08.20, 12:44 AM
|
---
I knew Parveen Babi.
Right from the time she made her debut opposite cricketer Salim Durrani in the B.R. Ishara film Charitra (1973) to the time she slipped away, unnoticed, in 2005.
Morals were rigid and trespasses were socially bashed in the 70s when I ventured to ask her if the stories about her and Danny Denzongpa bothered her.
She truly was different. Parveen first yelled at her hairdresser for cautioning her against smoking, continued to drag at her cigarette and told me that it was absolutely true that she was in a relationship with Danny. So no, she couldn't be bothered if people talked about it.      
I was witness to the gradual mental breakdown of this spunky, great-looking actress who was better at her craft than a similarly westernised Zeenat Aman. They were contemporaries and competitors but while Zeenat lived in south Bombay, Parveen was a part of what was known as the Juhu gang.
Shabana Azmi, Shekhar Kapur, Mahesh Bhatt, Kabir Bedi and Protima were all members of this vibrant group of new talents. They were actually the first "disruptors", a word that's considered a compliment today as it stands for iconoclasts who live, work and set new rules for social behaviour and for making a daringly different kind of cinema.
At a special screening of Manzilein Aur Bhi Hain (1974), Mahesh Bhatt's and Kabir Bedi's debut film which was banned by the censors on moral grounds, the tall articulate actor who'd walked into films from the advertising world addressed the media. Kabir and Mahesh were fighting this battle together: their first movie was being banned because the heroine (Prema Narayan) had nonchalantly slept with both the men in the film (the other was Gulshan Arora, who went on to become a villain for a while).        
It was such a closely-knit bunch of enthusiastic youngsters that it was almost incestuous when Kabir broke up with Protima Gupta (a fashion model who had raised eyebrows on her own too, and later turned an Odissi exponent) to move in with Parveen Babi, and then Parveen moved on to Mahesh Bhatt.  
But it wasn't the unabashed morals of the day, it was the fragile mental breakdown of the actress that one really noted. Parveen suffered from paranoid schizophrenia, she began imagining that someone would crawl out of the carpet to kill her. Mahesh Bhatt was one of the first to see her illness surface.
Once Parveen went off the rails and disappeared from the film scene, leaving behind incomplete projects, one heard that there had been similar mental illness in her family too.
When she returned, ostensibly cured after spending much time with philosopher J. Krishnamurthy (who was Mahesh Bhatt's spiritual guide), Parveen slipped back into the studios with ease. I remember visiting her on the sets of Ramesh Sippy's Shaan (1980) in which she made her comeback.
But I also remember meeting her much later in her Juhu apartment and telling my colleagues back in the office that she seemed edgy, that all was not well with her. Pretty soon, she broke down again and leaving behind unfinished work such as Amjad Khan's Ameer Aadmi Gareeb Aadmi, Parveen vanished once more. Zeenat later replaced her in Amjad's film.
By the time she returned, unrecognisably bloated, highly diabetic and still clearly ill, there was no question of a film career for her. I'd often meet her by the Holiday Inn poolside wearing dark glasses and reading a book. She'd greet me by my name and begin a coherent conversation before lapsing into a paranoid, "See, he's trying to stop me from talking to you." She had become paranoid about Amitabh Bachchan (not Mahesh Bhatt as television channels today insinuate). He was gentlemanly enough not to say a word, understanding her delicate mental condition.  
When Parveen died, it was neither suicide nor foul play. She was discovered dead 72 hours later, when people from her society noticed undelivered milk and newspapers outside her door. All three men — Danny, Kabir and Mahesh — were at her funeral.
Let her rest in peace in the Santa Cruz cemetery.    
To even attempt to link her death by diabetes with the tragedy of June 14, 2020, is not #JusticeForSushantSingh.