Floor No. 23 of Taj Lands End in Mumbai was alternatively a picture of frenzied chaos and quiet calm last week. Team Sacred Games — whose much-awaited Season 2 drops on Netflix on August 15 — was walking in and out, interacting with a flurry of journalists about the show that stormed in last year and quickly climbed the popularity charts. Based on Vikram Chandra's 2006 novel of the same name, Sacred Games pitted Nawazuddin Siddiqui's Ganesh Gaitonde — a gangster past his prime — against a down-and-out cop called Sartaj Singh, played by Saif Ali Khan, in a ticking time bomb of a premise.
In Season 2, the pace gets frenetic and the stakes become higher (t2 has watched the first three episodes of the season), with Anurag Kashyap continuing to direct the Gaitonde bits with Masaan man Neeraj Ghaywan taking over from Vikramaditya Motwane to helm the Sartaj portions. Motwane does duties as showrunner this season. Season 2 also introduces a set of new characters, primary among them being Pankaj Tripathi's Guruji, Batya Abelman played by Kalki Koechlin, Amruta Subhash's Yadav and Shahid Khan played by Ranvir Shorey.
We chatted with Anurag Kashyap, Neeraj Ghaywan, Vikramaditya Motwane and writer Varun Grover on what to expect in Season 2, their approach to the season and their favourite characters in the ensemble.
What's the difference in tonality and treatment between Season 1 and Season 2?
Anurag Kashyap: Season One was about asking and setting questions. Season 2 is all about searching for answers.
Neeraj Ghaywan: I think what differentiates the two seasons is definitely that the stakes are higher. At the end of Season 1, the last we saw of (Ganesh) Gaitonde (Nawazuddin Siddiqui) was that he was in jail. In Season 2, his arc expands significantly, including him becoming a big don outside India. The seamless convergence of Sartaj (Singh, played by Saif Ali Khan) and Gaitonde's tracks is going to be the highlight of Season 2. New characters like Pankaj Tripathi's Guruji and Kalki's (Koechlin) Batya bring in a different perspective to the show.
Sartaj moves from the emotional space of Season 1 to one of more responsibility. The set-up is a lot bigger for Sartaj. In Season 1, it was just about him getting that phone call from Gaitonde… now it's about protecting the country, protecting the city. It's become that big. So has Gaitonde's world. During the course of the season, you will get to know that Gaitonde has everything — power, money — but he experiences a sense of pointlessness in his life and that's when he goes to Guruji's ashram.
Anurag: So Gaitonde goes from being God to finding God! (Laughs)
You have a huge Season 1 behind you... is there any nervousness given how big the show has become?
Vikramaditya Motwane: Every time I have been asked this question over the last few days, I've realised I am not really nervous. Maybe it's age… or experience. Or both! (Laughs)
Varun Grover: Not really nervous, but more nervous than I was in Season 1.
Vikram: Ya?! I am more curious to see the reactions this season.
Varun: In Season 2, I have three other writers with me — Dhruv (Narang), Pooja (Varma) and Nihit (Bhave) — and it's their first show. They are a bundle of nerves right now and subah shaam they keep asking me, 'Kisi se kuch bhi pata chala hai kya? Kisi ne dekha hai kya?' (Laughs) So now, I am feeling the nerves.
We are slightly more ambitious this season in terms of themes. In scale, we've gone international, which was a part of the original book too. Gaitonde, after a point of time, goes outside India and expands his stronghold and we had included that in our script. Thankfully, we got the budget and the resources to take it to that level. We didn't have to cheat and pass off Goa as Nairobi! (Laughs) We were so ambitious that the first scene we wrote for this season — it was one of our cheap thrills — was set in Antarctica!
Vikram: I didn't even hear about this… you guys clearly cut it out even before bringing it to me!
Varun: Well, that scene we wrote happens somewhere in Episode 8, but obviously not in Antarctica!
Anurag, was it even more of a blast getting into Gaitonde's world given how much bigger the stakes are and that the show will now criss-cross countries and continents?
Anurag: There is a lot more in Season 2... so many more layers that I had to understand and grasp it all myself before I could put it out there. It was a journey. My work always alters me, and this one definitely did. Working on this season has made me understand a lot of things. For instance, when does one seek religion the most? When there's nothing else going for them. The question then is, do people find religion to blame something on it or to find peace in it… it only happens to those who are constantly looking outside of themselves. This season is very, very deep and the writers have gone into spaces that they didn't get into in Season 1.
How would you essentially define Gaitonde's world and Sartaj's world and how does it change from Season 1 to Season 2?
Vikram: When we set out to make Season 1, Anurag and I had many discussions on how we plan to treat the two worlds. Tonally, we decided in broad strokes that Gaitonde's world is about personality and Sartaj's world is about plot. Gaitonde's world is built around the chaos that's brought on by his personality while Sartaj's world is more about, 'Something is wrong, I have to set it right'. It's a lack of personality, in a certain way. And that's how Sartaj was essentially established in the initial episodes of Season 1 — loser, non-performer, frustrated…. So it's two very different worlds.
We saw Sartaj achieve something at the end of Episode 8 in Season 1 but there's still a massive mountain left to climb for him. So in Season 2, it's more of the same for him… chipping away bit by bit by bit at this mystery and trying to figure it out. Gaitonde in Season 2 is about carrying forward that personality but also acquiring another dimension to his personality and how that influences him to the extent that his and Sartaj's worlds end up colliding.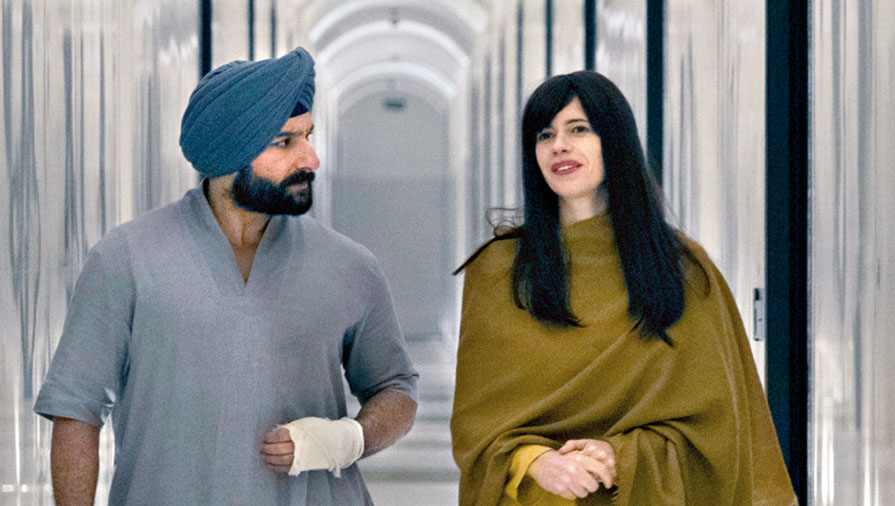 Saif Ali Khan as Sartaj Singh and Kalki Koechlin as Batya Abelman in Sacred Games 2 (Picture: Netflix)
Neeraj, you pick up the directorial reins from Vikram this season. Was the idea to go with the vision of a show that's already created such a deep impact on people's minds or to come in with a new vision?
Neeraj: The show has almost become cult now. I had to live up to those expectations. Personally, the challenge was to match up to something that my friends, my mentors, my producers had come together to make in Season 1 and not let down these people — Anurag and Vikram — whose worldview and filmmaking skills I admire. For me, that failure would have been a big one to take. That created immense pressure on me and made me work very hard on the show.
Anurag: He was trying very hard to impress us! (Laughs) I think he's done a great job. You have to see it to believe it. Neeraj Ghaywan has gone out of his comfort zone as a filmmaker. He has forced himself to continue from where Vikram left off, a space which isn't his comfort zone, and he's very successfully done that. He's completely changed his thought process. And when it gets into the thriller zone, there are some incredible things he's done. So, bachcha pass ho gaya! (Laughs)
Vikram, what was it like having Neeraj take over as director?
Vikram: It was liberating in a way because it is Neeraj. If I had been forced to hand it over to a director I didn't know, I would have probably said, 'Nahin, main hi karunga'. I love directing, so I would have given anything to be on the sets every day. There was too much work to take care of as showrunner. But it was great to see all of it come together on the editing table. I had much more objectivity this time than in Season 1 because I wasn't directing. It's not that I love my own work… I am extremely self-critical, but here I could do stuff like, 'Yes, this works, this doesn't work… throw this scene out, extend this scene…'. It made that process much easier for me.
Neeraj, was it intimidating to get into such a huge set-up of a near-cult show in what is just your second project?
Neeraj: See, it was important for me to take up this project because I wanted to be shaken up. It wasn't about asking myself how I would match up to Masaan… in fact, the pressure was completely the opposite.
I wanted to forget Masaan completely. I had reached a stage where I would start distancing myself from conversations around Masaan. I stopped going to parties, I became a social recluse….
Seriously?!
Neeraj: Yes, I just couldn't deal with it.
Anurag: I can't deal with any conversations about anything in the past.
Neeraj: Exactly! So, I went into that phase and came out of it only when Sacred Games happened to me. Everyone knows me as someone who likes to dabble in the emotional space… Sacred Games made me do action, mafia, crime, a lot of police procedural…. I developed a taste for it and I really liked it.
Anurag: And the best thing is he's planning to continue on this journey of rediscovering himself… that's why he's doing a sex comedy next! (Winks and laughs)
Neeraj: With Anurag starring in it! (Laughs)
Anurag: In just a towel! (Laughs)
Given the prevailing climate in the country, did you find yourself constantly walking on eggshells while making this season? Saif Ali Khan has said in a recent interview that the team was "more cautious" this time around…
Anurag: We are always walking on eggshells, to be honest. It's not that we have an intention of creating any kind of controversy… the problem is the perception. This year, more than anything else, we are being seen as a threat. Totally out of context and without knowing the truth. We were walking on eggshells even before, it's not an entirely new phenomenon. If you want to tell the truth, you will be constantly fighting. I have fought governments from 1998 (smiles). I fight a government, I don't fight a political party or an ideology. I fight for my right to fight.
Neeraj: In my case, it's amplified more because I have an identity to hide or not to hide (Neeraj is a Dalit). Anurag has found the courage and the freedom to express his angst. But I am so conditioned to not speak that it becomes very difficult for me… the eggshells become more thorny in my case….
Varun: That's not a new thing for India. I have been writing for 15 years now and we have always been careful to not cross certain lines and still say what we want to say and that's the balance we have tried to find in both seasons of Sacred Games. See, it's anyway based on the book. So there's nothing in the show that will catch anyone who's read the book by surprise. And the book came out in 2006.
But the impact of the visual medium is far more and we are in testing times right now…
Varun: I think we are quite responsible and our first commitment is to art and to storytelling and we've done all that which aids our storytelling. We have no control over unpredictable things that can happen. But yes, we have been responsible.
Vikram: I agree. I think, by and large, the audience is pretty responsible and we have done whatever we have to do within the reason of why we have to do it in the first place. None of it is controversial for the sake of being controversial. As long as it's being done in the service of the story, it's fine. There will always be people who will want to outrage anyway, but I think for most people, common sense prevails most of the time.
Anurag, is there anything you wanted to do differently in Season 2?
Anurag: Not in the conventional sense. But yes, I tried out humour to say certain things. You constantly have to find humour to say things, especially in the times we live in.
Neeraj: I feel I should have directed better….
Now when you look back, why do you think Sacred Games became such a rage?
Vikram: If I have to answer in a line… it's the writing that worked. What the Season 1 writers — Varun, Smita (Singh) and Vasant (Nath) — brought in was compelling characters that the audience wanted to go back to and keep watching. Not just Sartaj and Gaitonde, but also characters like Katekar, Kukoo, Anjali, Subhadra…. Also, I think the graphing worked very well. The show starts off with such a small personal story of a cop who gets a call from a gangster and that suddenly explodes into this story about politics and religion. The intrigue just got bigger and bigger and bigger….
Do you have a favourite character from the show?
Anurag: Season 1 was about setting up Gaitonde… Season 2 is about bringing out Sartaj. My favourite character is Sartaj. There's a whole range of things that Sartaj does in Season 2, and I also believe that this is Saif Ali Khan's best performance… ever! He's outstanding!
Neeraj: Of course I would pick Sartaj because I have lived and breathed that character with Saif. But the most fascinating character for me in Season 2 has been Majid (played by Aamir Bashir). He undergoes a tremendous arc and speaks through his silences. He also deals with his Muslim identity and that brings about a lot of layers and conflicts this season.
Vikram: Unabashedly and unapologetically, I would pick Katekar (played by Jitendra Joshi) as my favourite. I am not making any bones about it! (Laughs)
Varun: For me too, it would be Katekar in Season 1 and in Season 2, I would pick Jojo (played by Surveen Chawla). She has a tremendous character arc. Surveen has done a fantastic job and I hope she gets noticed. Her journey doesn't really intersect with that of Gaitonde or Sartaj, but is a story in itself. I remember Jojo had only one scene in Season 1 where Gaitonde shoots her and Vikram was directing that day and he isn't someone who shows much emotion, even if actors kill themselves! (Laughs) But for that take, he immediately said, 'Wonderful'. I hope in this season, Jojo lives up to that promise.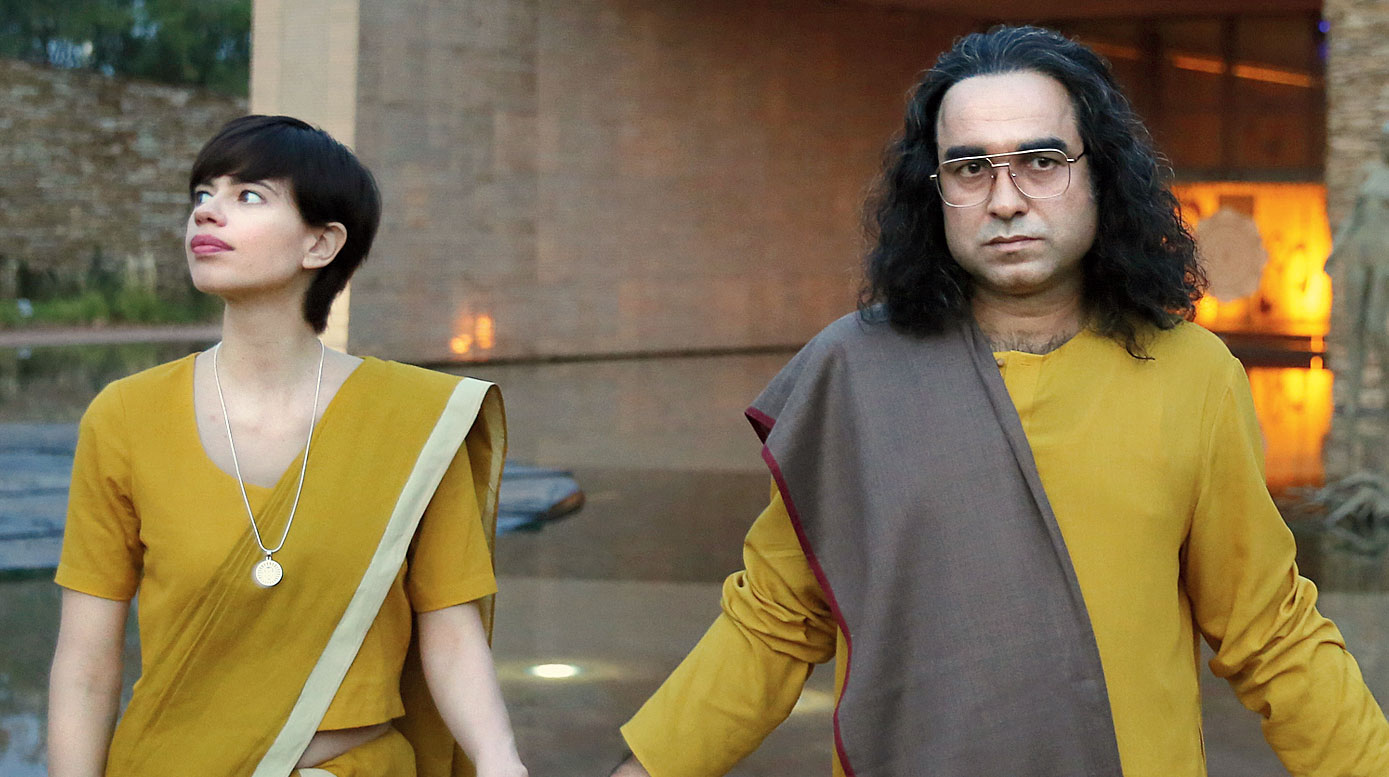 I am not like Batya in general, but there are definitely things from my personal life that I picked and used in playing her. I used the French accent a little bit even though she tries very hard to blend in… she wants to be exactly like Guruji -- Kalki Koechlin (Picture: Netflix)
'The Season is about mind games'
Kalki Koechlin steps into Season 2 as the compelling Batya Abelman, an ambiguous character with shades of grey.
What is it about Batya Abelman that made you sign on?
It's an interesting character in an already interesting show. I loved the first season and when I got called for the audition, I wasn't going to say 'no' (smiles). The character has a very strong history. Her mother's Palestinian and her father's Jewish… she grew up in France and ran away to this ashram in Croatia where she found Guruji. That background really adds to who she is. Her conviction and passion to believe in something which is quite alien to her, given where she comes from — being abandoned, handling conflict at home, wanting to find a family and a religion to be part of — adds a lot of layers to her.
Did the fact that she hails from such a diverse background resonate with you?
For sure. I have French roots and I was born in an ashram in south India and now I work in the Hindi film industry. I hope I am not like Batya in general (laughs), but there are definitely things from my personal life that I picked and used in playing her. I used the French accent a little bit even though she tries very hard to blend in… she wants to be exactly like Guruji. I used to copy Pankaj Tripathi's walk and actions, but there is also the trace of her past that she can't escape.
What sets apart Season 2 from the first season?
It's much more about the 'sacred' than the games'. Season 2 is more about the psychological aspect… the mind games that people are playing. In Season 1, the action is already established… there is a bomb that's going to explode that needs to be stopped. Here, it's much more about how vulnerable these people are… people who we think are tough.
Given its themes of religious strife and political powerplay, how relevant do you think the show is today?
Writers and filmmakers are inspired by what's happening around us. I am sure that when Vikram Chandra wrote the book he was inspired by what he saw around him. I think the creative freedom that we get, especially in a web series, allows us to depict reality in a raw, believable way. And when it's raw and believable, it kind of touches a nerve.
Had you read the book?
No. I still haven't. Sorry, Vikram! (Laughs) I didn't need to read the book because the first season had already established so much. And also, I don't know how much these guys have gone off the book, you know. Batya, as far as I understand, is not even a character in the book. I think me getting into Season 2 wasn't difficult at all because there were already characters that were fully fledged. There was just pressure while I was auditioning because I really wanted the part! (Laughs) But once I was on set, I knew my script and character.
You've had a long association with the makers of the show, having worked in many projects with them. Did you just take on from where you left off?
All the ADs (assistant directors) now are younger than me, which is downright depressing! But Anurag (Kashyap) is older than me (smiles). He hasn't changed at all… he still works very spontaneously and as an actor, you have to be very alert that he may change something at the last minute. But he knows how to use an actor very well. I have started making these origami birds in my spare time and Anurag actually used them on the show. I hadn't worked with Neeraj before. He's the opposite of Anurag… extremely calculated, believes in discussing things to the T. What they each do works very well for the sections they have directed. Anurag's doing the Gaitonde bit… and Gaitonde is all about chaos! While Sartaj is the cop who is doing it by the book, so Neeraj was best suited for that.
You've successfully mixed mediums over the last few years. Is that the way going forward too?
Yes, I now also have a podcast and I am doing many more plays. I've never really worried too much about the medium. I am more interested in what the content and character is. I am in a happy space as far as work is concerned. This year has been a good year… I had Made in Heaven, Gully Boy and now Sacred Games. I am doing a web series with Zee5 that I am now shooting for in Shimla. I play a novelist who suffers from PTSD (post-traumatic stress disorder). It's a great role. I am happy.