La Martiniere boy makes Calcutta proud
Ninad Samaddar's journey in theatre might have happened by chance but he continues to push boundaries and remain passionate about the art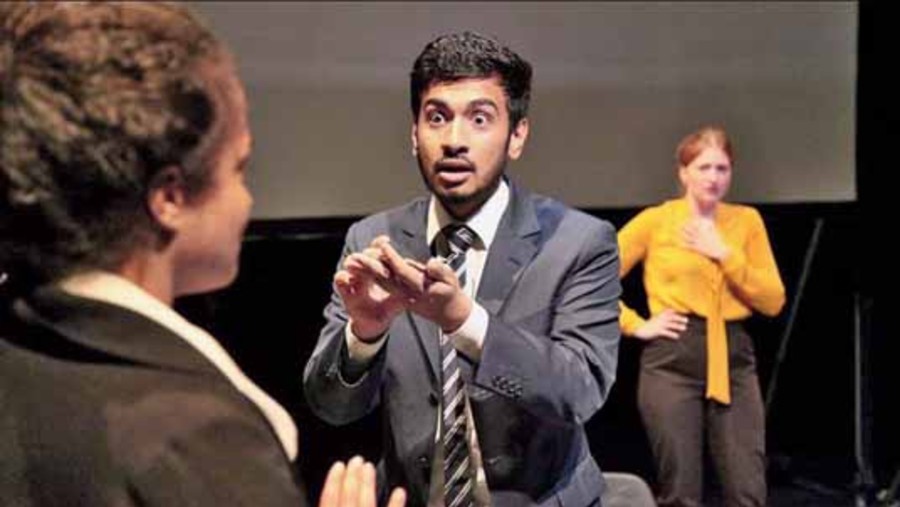 ---
Published 26.07.21, 02:53 AM
|
---
For Calcutta boy Ninad Samaddar, theatre happened by chance. The La Martiniere for Boys alum went to Drama Centre London and came back in 2019 only to open a show called Every Brilliant Thing at Prithvi Theatre in Mumbai, directed by Quasar Padamsee. Since then he has done multiple things while also doubling up as the teacher-practitioner at Department of Performing Arts at CHRIST University, Bangalore. He primarily teaches movement, voicing, studies and acting, while also taking care of international collaborations for the university.
"Even while in school, it was the co-curriculars I was more focused on, having been a national-level kick-boxing player since the age of three, winning five national-level gold medals, 13 state medals and a bunch of zonal and district level recognition," he told The Telegraph on a call recently.
His passion for martial arts was the stepping stone into the world of performance art and have shaped him and his dedication towards movement craft. As a history student at the very university he now teaches at, pursuing theatre full-time was not even remotely on his mind. However, that was the year CHRIST University introduced the course of theatre studies, communication and media and English, and for Ninad, there was no looking back.
Almost wanting to drop out, he pursued his degree, switching majors from history while also starring in the university's theatre performances. Alyque Padamsee happened to be in the audience when Ninad performed as Michelangelo in Irving Stone's The Agony and the Ecstasy and reassured some of the performers an internship at his son's theatre group in Mumbai.
"I landed that internship and my relationship with Quasar Thakore-Padamsee and Thespo (The Youth Theatre wing) has only been growing since. From stage managing for a few years to eventually heading to London, I owe my craft to my experience there," he added.
During his final production with Thespo, another chance workshop with course coordinator Paul Goodwin of Drama Centre London changed the course of Ninad's life. "It was purely fate because I had only applied to US colleges and faced rejection from the second round of Juilliard, which had been my top priority. Paul told me to open up my horizon and apply to the UK," he laughingly added.
He saved himself the time and money by auditioning at the Thespo festival itself to Paul, using Prithvi Theatre's stage to facilitate the 'most nerve-wracking audition of his life'. His Macbeth monologue landed him a place at the institution. Two years and a rigorous training spanning across UK and Moscow later, Ninad's theatre career had taken off.
Since then, he has been the lead in Alberta Ballet's Bollywood spectacle Taj Express, for which he toured parts of the world before committing to his job as a teacher-practitioner at CHRIST.
The proscenium is changing shape and no better than young blood like Ninad to make the transition to versatile forms of expression that go beyond the conventional stage. "I am glad I entered the stage, not as an actor but as a stage manager and having experienced both sides of the stage, it makes me an asset of an actor to deal with," admitted the Calcutta boy and we can't wait to see how much he continues to push boundaries and remain passionate about the art the of theatre.