'Kuttey' has too much tribute and too little originality
It's easy to take refuge in the comfortable world of cliches when writing about 'Kuttey'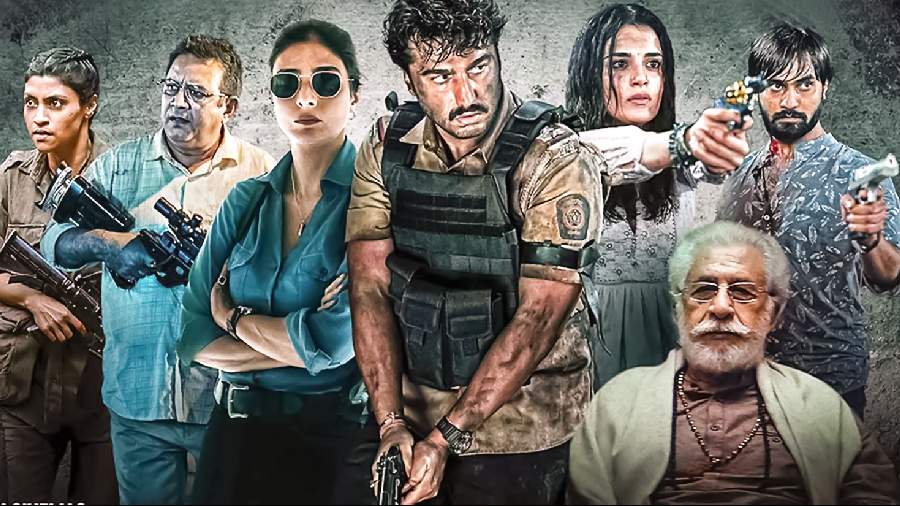 The ensemble cast of Kuttey
---
Published 17.01.23, 12:41 PM
|
---
It's easy to take refuge in the comfortable world of cliches when writing about Kuttey. Watching the film two days after release and not the obligatory first day-first show on Friday gave me the rare opportunity to read some bits of the criticism (and I mean that quite literally) that has been written/ said for the first big (relatively speaking) Hindi film of 2023. 'All bark, no bite' has been a firm favourite, as is 'dog-eat-dog world'. But one can't blame the critics for being predictable. Kuttey, itself, embraces every kind of stereotype that films of this genre are often guilty of rehashing, rewinding and referencing, sometimes even as a badge of honour. What they forget to do is bring in originality even when paying homage; they fail to root their story in some amount of credibility even in situations that call for a (willing, and that's important) suspension of disbelief.
Aasmaan Bhardwaj is too much of a fanboy to have an original film-making voice. To be fair, Kuttey is the young man's directorial debut, and we hope he will find his own groove sooner rather than later. Aasmaan, in fact, doesn't have to look farther than home to figure out how to cut through with novelty even when giving a hat-tip to the films, and film-makers, one respects and reveres. Vishal Bhardwaj, his father, has done that time and again, rooting Shakespeare in the Indian hinterland; setting his films around the politics of the here and now, but making the conflicts that arise from it universal; contextualising places, plot and people, but making them relevant and relatable across distance and demographic.
FAMILY TIES
Vishal's imprint, of course, is visible all over Kuttey. Arjun Kapoor, who plays Gopal in the film, has said on record that Kuttey and Kaminey could be considered companion pieces, their characters free to move within the universes of the two films. However, apart from a possible homage to Dharmendra's on-screen vocabulary of abuses (pardon the attempt at a poor joke), there is very little of the kinetic, dramatic, explosively well-acted energy of Vishal's Kaminey (featuring Shahid Kapoor in twin-terrific performances) in Kuttey.
Too much of Kuttey is manic without meaning, crazy without context. While one doesn't always need to have a method to the madness on screen, the key lies in making it look that it is out of control, but with the director having total control over his craft. Aasmaan fails to bring that to Kuttey. Here, chaos is merely a breeding ground for incoherence. Focusing on a world of scoundrels — each more dirty and rotten than the other — has been a trademark of Vishal's films, and Kuttey deals with that core idea. The film opens with a context-less scene of a wounded Naxal leader (played by Konkona Sharma, clearly in the film for the Bhardwaj factor), narrating an ultimately pointless story about a goat, a dog and a lion to a cop (Kumud Mishra) who has nabbed her. According to her, the lion in the tale is the system, the goat is she and her comrades and the dog, aka kuttey, are the cops. After sometime, someone narrates a fable of a scorpion and a frog (the same one as in last year's Darlings); a shootout, with Gopal at its front and centre, happens in full public view at a party; there are chases galore, on foot, in cars, often accompanied with abuses; a monsoon gunfight takes place. All of which is as random as the sentence that you just read before this.
TOO MUCH TRIBUTE, TOO LITTLE VOICE
Aasmaan is clearly a huge Quentin Tarantino fan. Kuttey is also structured like several of Tarantino's films, divided into chapters and bookended by a prologue and an epilogue. Kuttey aims for the pulpy crime fiction ambition of Django Unchained or Inglorious Basterds, but Vishal and Aasmaan's script is too muddled— and surprisingly too maudlin — to achieve that. The setting is also pretty incoherent, with the film feeling like a noir set in the Mumbai underbelly at one point, and then becoming rootless and without context in the next.
The central idea is of a pack of dogs — aka a band of corrupt cops — colliding, and sometimes colluding, to lay their hands on a truckload of cash. That, of course, has touches of many a Guy Ritchie film, with everything from Snatch to Lock, Stock and Two Smoking Barrels being referenced. Unnecessary violence and the use of cuss words have become the mainstay of Indian films, particularly Hindi, which are set in the world of cops and criminals, their moral ambiguity giving the viewer very little to demarcate them. Kuttey is a prime example of the kind of film that has such little meat that it attempts to pad itself up with sensationalistic elements, most of which contribute nothing to its wafer-thin plot.
While shows like Mirzapur and Paatal Lok and even Vishal's own Omkara could carry off gratuitous blood and gore because they had both story and craft to fall back on, Kuttey doesn't have enough of any to belong to that category. Characters pop up at random, with the film being only marginally interested or invested in where they come from and where they go, something that ultimately sets Kuttey off on a directionless rollercoaster ride that doesn't thrill or engage. The fact that the characters are sitting on a ticking time bomb — in this case, a literal hand grenade — really doesn't translate into the kind of nervous energy that films of this genre, if done well, manage to conjure. FAILS TO FIRE
One of the major problems with Kuttey is that despite having such stalwarts on screen — Vishal's favourites, from Naseeruddin Shah to Konkona, Radhika Madan to Tabu — line up, the film never feels compelling enough to be watched on the basis of its performances alone. It's only the towering Tabu, as expected, as well as a delightfully uninhibited Radhika Madan who manage to make the proceedings a trifle likeable.
Other Vishal aides also do well. Gulzar with his words, A. Sreekar Prasad with his scissors and the vastly talented Farhad Ahmed Dehlvi with his lens. Or for that matter Rekha Bhardwaj's deeply affecting voice cutting through Faiz Ahmed Faiz's Yeh galiyon ke awaara bekar kuttey, ki baksha gaya jinko zauq-e-gadai in the closing credits.
But in the end, Kuttey, to quote Aasman's favourite film-maker, compels you to nudge it often and say, "Are you gonna bark all day, little doggie, or are you gonna bite?" Well, I did get predictable. Guess the film did that to me.