Kirti Kulhari and Angad Bedi on their new short film The List
The short film is now available on Amazon miniTV and has been released as part of the Mini Movie Festival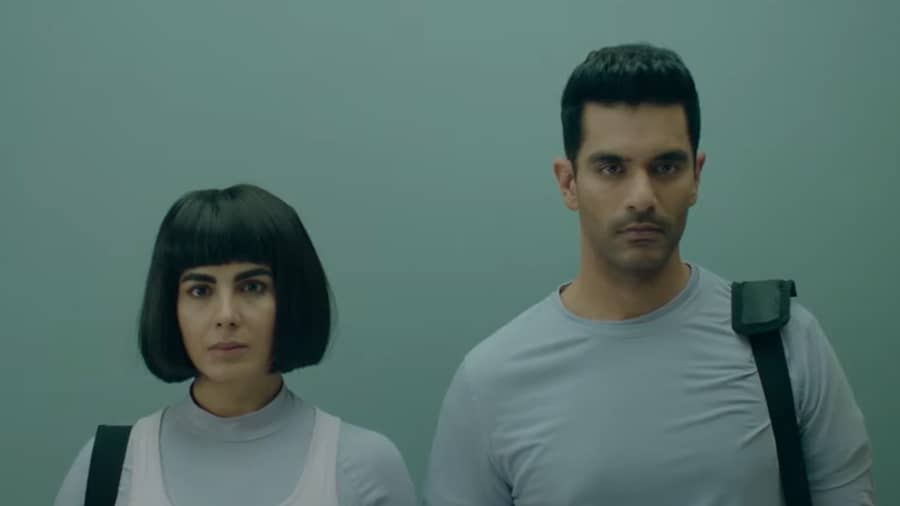 A still from The List, available for free on Amazon miniTV.
YouTube
---
Calcutta
|
Published 24.09.22, 04:12 PM
|
---
Kirti Kulhari and Angad Bedi's short film The List, written and directed by Gaurav Dave, delicately points out the things that have become integral to our existence over time, depicting how we have forgotten to live without external stimulation provided by social media, gadgets and other new instruments of consumerism.  
The List has been presented by Roy Kapur Films, which also backed Pan Nalin's Last Film Show (Chhello Show), India's official entry to the 95th Academy Awards in the Best International Feature Film category.
Gaurav's short film has been released on Amazon miniTV (free on the Amazon shopping app) as part of its Mini Movie Festival. We spoke to Kirti and Angad about working together in The List, where they play a couple from the future, after Aniruddha Roy Chowdhury's 2016 film Pink. Gaurav, who was present during the chat, also chipped in about the film. Here are excerpts from the conversation. 
Kirti and Angad, the concept that went into the making of The List is really intriguing. Isn't the thought scary that we don't know where we are headed? 
Kirti: We follow a list and aren't really aware of it! Slowly and steadily, we are turning into machines, moving away from humanness, which is getting lost in consumerism and technology. Everything is now for instant gratification — that is not okay. We need to feel human again. This concept behind the short film intrigued me as we haven't heard anything like this in the Indian industry. 
Angad: Well, I don't think it's scary. We just have to find the right balance. There needs to be a line drawn somewhere. For instance, I value time with my wife and children, but I also spend time on the phone — it's a bad habit. Though some people may say such reliance on technology is sad, we're okay with it. We are not sitting on the fence. It's to each, his own. The pandemic didn't help. It made us feel okay to do things in isolation. Now when we are out, we are more busy capturing the moment than enjoying it. The List is about a couple and how they deal with it in life. It deals with what happens in reality. Kriti, have you ever had a moment in life when you had to fight your demons? 
Kirti: Cinema tells one what is wrong and what is right. The job of cinema is to make one aware. Awareness is a rare commodity — it directly tells you what should be changed if things aren't working. There are pros and cons to everything, but the answer is balance. If one is on the phone or constantly shops, it needs to stop. After all, it is just a part of your life and can't become your whole life. You should be able to do it with or without any external stimulation that supposedly makes you feel good. 
We are going away from our rootedness. I believe we are turning into machines by constantly losing touch with our emotions. It's scary! I have had those moments. I have often been a person who has been taken over, but I have always been woken up by a person, a book or a situation in life. Not many have woken up among us. A lot of people are back to the same madness. The List helps you to ponder on things that might be important to you. Good cinema is never only for entertainment; it always has a purpose. 
After Pink, you two (Kriti and Angad) are back in a film together? How do you look back at the journey? 
Kirti: An important film like Pink remains very close to both our hearts. Angad and I reconnected after six to seven years for The List. It was nostalgic talking about the Pink days, how our journeys have been and how much our lives have changed since then. I like meeting people after a long time to understand who they were before and who they are now. Angad is a fun person and a simple guy at heart. Pink was emotionally heavy, but The List is a film devoid of emotions.   
Angad: I just feel that we started from where we had left off. Our journeys began with Pink in September 2016 and that's why the film stays very close to my heart. Before that, Kirti had done films like Shaitan and I did Dharma Productions's Ungli, but Pink put us on the map of performers. People started seeing us in a different light only after that movie. Kirti's lovely voice can convey a wide range of emotions — she is fascinating as an artiste. We are in different phases of our lives now. There was never a point where we felt that we had to start afresh as we had the same warmth for each other.
It's like The List is holding a mirror to us where we can see our lives on screen. What do you feel, Gaurav?
Gaurav: It's relatable. All of us follow some list or the other. We live a structured life — there's a predefined list of things such as school, college, marriage and job. And then there's a list of our daily work from the time we wake up in the morning. Now, it's important to introspect whether we should follow a list or listen to our free will? This question has a certain existential streak that explores whether what we are doing is going right in our lives.